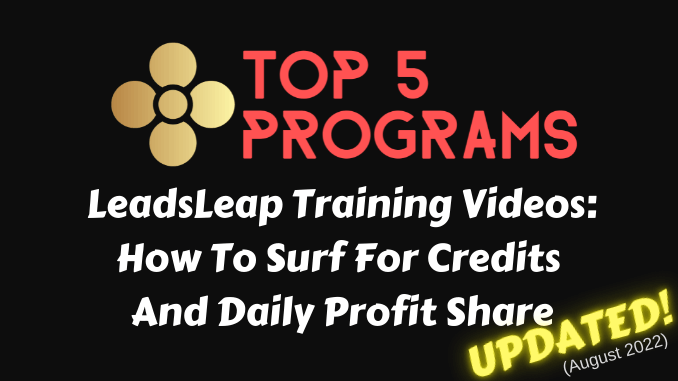 On 16th August 2022 Leadsleap owner Kenneth Koh announced some adjustments to the Credit Reward program in side Leadsleap.
In other words, he has made some a some changes to how we earn credits from viewing ads, and the rate at which we can earn them.
3 Key Changes To Leadsleap Surfing and Credit Earning
Firstly, we no longer have to give ads a star-rating to earn our credits.
Secondly, Kenneth has tweaked the credit earning rate so that we earn more when viewing ads, provided we view each ad for between 5 and 60 seconds.
Thirdly, he has lowered the percentage we earn from downline ad views. It seems that the aim is to keep the TOTAL amount of ad credits we earn from downline activity approximately the same as before. Now that everybody can earn more from their direct ad views, a slightly lower percentage of override credit earnings should yield a similar amount of actual credits earned from each downline surfer.
Read all about it on Kenneth Koh's Leadsleap blog:
https://leadsleap.com/blog/important-changes-to-our-credit-system/
Video Update
Because of these changes, I felt I ought to make this video to update the second video in the series of Leadsleap training videos, which was about how to surf for credits and earn daily profit share.
Here is the video update:
The Original Leadsleap Credit Surfing Training Video
The original video, which still has some useful info in it about surfing for ads on Leadsleap, is still available on YouTube and I will leave it up as most of the information in it is still relevant and useful:
Check out the supporting blog post here:
David Hurley
View All My Leadsleap Training Videos
#InspiredFocus