The programs I listed here on 7th January 2021 are so reliable, useful and profitable that they remain my Top 5 Programs for 2022! They are:
Prosperity Marketing System

SFI

Wealthy Affiliate

Click Track Profit

LeadsLeap
All of these programs have been around for several years and are tried, tested and respected in their field, and I have been an active and upgraded member in each of them for several years now.
Here is a quick overview of each program
1

. The Prosperity Marketing System

How would you like to have the ability to completely customize your very own marketing funnel system with programs of YOUR choice?
Yep, just delete the ones you don't like and add your own. Then, promote your system and earn 100% commissions, paid straight into your Bitcoin wallet, at the same time.
Multiple streams of income and downline growth is the fastest way to online wealth, and now you can have the control over which downlines to grow while you brand yourself independently of any of them.
Attracted by the clean design and flexibility of the system, I joined PMS in 2009. It worked well for me, but a couple of years later some changes to the compensation plan made it less attractive. However, in 2020 I noticed that the plan had been greatly improved and now included those 100% Bitcoin commissions, so I reactivated my account and have not looked back since! 🙂
Read my details review of PMS.
2. SFI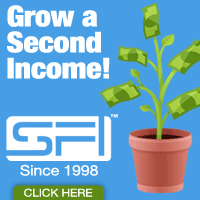 I've been with SFI since 2007 and the program has been consistently profitable for me – it was the first program that actually worked for me as a "newbie" back then.
In 2021 SFI completely revamped their compensation plan and business structure, making the Internet's biggest free-to-join affiliate program potentially even more lucrative than ever.
3. Wealthy Affiliate

I've been with WA since 2015 and host all my WordPress blogs on their SiteRubix WP managed hosting service.
Wealthy Affiliate provides excellent training and tools and a vibrant forum community to support you and help you turn your ideas into profits on the Internet!
Their affiliate program is also very profitable!
4. Click Track Profit
Click Track Profit originally launched back in 2011, which is when I signed up! CTP offered a fun way to go through step-by-step training mainly focused on working with traffic exchanges and viral mailers. While that aspect is still there, the new CTP is much more focused on social media branding, blogging and working with crypto currencies.
CTP now has its own crypto token (CTP Token) that is tradeable on the crypto market.
What is even more exciting is their new blogging platform, CTP Talk, where you get paid in crypto tokens simply for blogging, commenting and "upvoting" other people's blog posts or comments.
To see what it's all about, check out my CTPTalk blog at:
5. LeadsLeap

LeadsLeap is an excellent traffic generation program with some useful tools to help Internet marketers become more effective.
I have been with Leads since 2008. Here are the reasons why I like this system:
1) It offers a free list management system called SendSteed. For upgraded members of LeadsLeap, SendSteed it works as a fully functioning autoresponder service for no extra cost. So you get all the advertising benefits that LeadLeap delivers to upgraded members, plus a professional quality autoresponder service. Awesome.
2) It has a unique ad tracking system that ensures that your ads are really watched, not just getting clicks. Its link tracking system is top-notch. It can tell you if you're getting real visitors or just bot clicks.
3) You can get SEO traffic from its Social Review system.
4) You can get traffic from hundreds of other traffic networks without having to join each of them.
5) You can earn daily profit share and PPC ad revenue as well as 50% recurring affiliate commissions.
6) In 2020 a pdf file storage service was added so you can now store your ebooks securely online and provide your readers with an easy access link.
7) But the main reason why Leadsleap is one of my Top 5 Programs is because it is my #1 source of referrals, sales and upgrades.
David Hurley
Top5Programs.com
#InspiredFocus