As of 25th April 2019, my Top 5 Programs are:
SFI
Wealthy Affiliate
Aweber
AdKreator
LeadsLeap
All of these programs have been around for several years and are tried, tested and respected in their field.
All five of the programs have Paypal as one of their payment options.
I work with all five programs to build my online business.
These tried and tested programs work very well together. Use them to break free of the rat-race. Create a fully integrated professional and profitable online business that you can run from anywhere that's connected to the Internet.
Here is a quick overview of each program:
1. SFI

Launched in 1999, SFI has grown to become the Internet's most popular and innovative free-to-join business program. I joined in April 2007. Two years later, SFI launched their Tripleclicks online store, adding thousands of new ways to generate commissions.
Over the last few years I have built up my residual income and an active team of affiliates. SFI is also an excellent source of referrals into my other programs. That's why, for me, everything begins with SFI…
2. Wealthy Affiliate

Wealthy Affiliate has been providing top quality Internet business training and secure WordPress web-hosting services since 2005.
Wealthy Affiliate trains you to start, manage and promote a business blog in whatever niche you prefer. (Actually, you can build up to 50 WordPress blogs in as many different niches if you wish!)
I joined WA in October 2015 and built Top5Programs.com on their SiteRubix WordPress hosting platform. 🙂
3. Aweber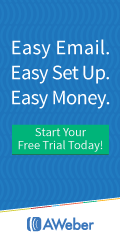 Aweber has been delivering professional autoresponder and list building services since 1998.
I have been with working with Aweber since 2012, not as a member myself, but for my clients who use Aweber as their autoreponder of choice. When it comes to professionalism, Aweber is second to none. I switched to Aweber in April 2019.
An autoresponder is one of the most important online business tools you can have if you are serious about building a successful online business. It is also an excellent service to recommend to aspiring online marketers. 
4. AdKreator

AdKreator is an online ad creator service that makes it easy for you to make your own unique ad pages and banners. AdKreator works very well with Aweber. You can create landing page opt-in forms and embed your Aweber opt-in form code into them to build your autoresponder mailing list.
I have been using AdKreator since 2012 to create unique squeeze pages, banner ads and other graphics for my ad campaigns and blogs.
5. LeadsLeap
LeadsLeap is an lead generation and link tracking program with some useful tools to help Internet marketers get targeted traffic to their ads.
Also, LeadsLeap offers several ways for you to earn in addition to the residual affiliate program (50% commissions for upgraded members). For example, if you click ten LeadsLeap member ads per day, you'll receive a share of the daily profits. LeadsLeap shares 5% of their profits with free members and 10% with upgraded members. 
I have been with Leads since 2008 both as a free and upgraded member. LeadsLeap is my #1 site for promoting my online business.
David Hurley
Top5Programs.com
#InspiredFocus