As of 24th June 2018, my Top 5 Programs are:
SFI

Wealthy Affiliate

Trafficwave

Real Specific

AdExchangeElite
Three of the programs – SFI, Wealthy Affiliate and Trafficwave – have been around for several years and are tried, tested and respected in their field.
Real Specific is a "new kid on the block." I believe they offer great value for anybody wanting to manage social media campaigns and find content for their blogs.
AdExchangeElite is also a relatively new program which I'm using to build traffic to my offers, i.e. to the sign-up pages of my other four programs – and I'm getting paid to advertise my offers on this site! (See below.)
All five of the programs have Paypal as one of their payment options.
I work with all five programs to build my online business.
These tried and tested programs work very well together. Use them to break free of the rat-race. Create a fully integrated professional and profitable online business that you can run from anywhere that's connected to the Internet.
Here is a quick overview of each program:
1. SFI
Launched in 1999, SFI has grown to become the Internet's most popular and innovative free-to-join business program.
I joined in April 2007. Two years later, SFI launched their Tripleclicks online store, adding thousands of new ways to generate commissions.
Over the last few years I have built up my residual income and an active downline through multiple generations. SFI is also an excellent source of referrals into my other programs. That's why, for me, everything begins with SFI…
2. Wealthy Affiliate
Wealthy Affiliate has been providing top quality Internet business training and secure WordPress web-hosting services since 2005.
Wealthy Affiliate trains you to start, manage and promote a business blog in whatever niche you prefer. (Actually, you can build up to 50 WordPress blogs in as many different niches if you wish!)
I joined WA in October 2015 and built Top5Programs.com on their SiteRubix WordPress hosting platform. 🙂
3.

Trafficwave

Trafficwave has been delivering professional autoresponder and list building services since 2000.
I have been with Trafficwave since 2012. It was a good decision to switch to Trafficwave because my list has grown to over 2,000 subscribers, but I just pay a flat monthly fee of $17.95.
An autoresponder is one of the most important online business tools you can have if you are serious about building a successful online business. It is also an excellent service to recommend to aspiring online marketers. Here's how I do that with Team Atlantis Rising. It makes promoting Trafficwave is easy to do and will add an extra stream of residual online income to your business portfolio.
 Click Here to go directly to Trafficwave
4. Real Specific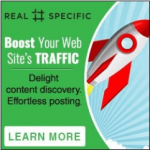 Real Specific is a recent addition to Top 5 Programs as I joined in April 2018.
It's a web-based service that makes social media and content marketing easy and fun to do. 
Real Specific finds the top viral and niche content from both popular sites and niche sites for you. From the Discovery dashboard you can easily publish to both your social accounts and your blogs. Save time by scheduling multiple posts to appear whenever you want. You can even fully automate the discovery and posting processes to completely eliminate manual work.
5. AdExchangeElite

As a Premium Elite member, I also have the option of purchasing $37 ad packs that come with a daily profit-share that pays back $50 per pack. In other words, I'm getting paid to promote my Top5Programs! Very nice.
NOTE: The profit share side of AdExchangeElite is only for Premium Elite and higher upgraded members.
It costs $67 to upgrade to Premium Elite, but here's the thing… Sign up as a FREE member and you'll be offered a $27 OTO Lifetime Premium Elite membership.
Even if you don't take up the OTO, use the promo code welcome and you'll Receive…
5 x Text Links with 5000 Impressions ($25 Value) 

5 x Banner Ads with 5000 Impressions ($25 Value)
Join AdExchangeElite FREE Here!
David Hurley
Top5Programs.com
#InspiredFocus