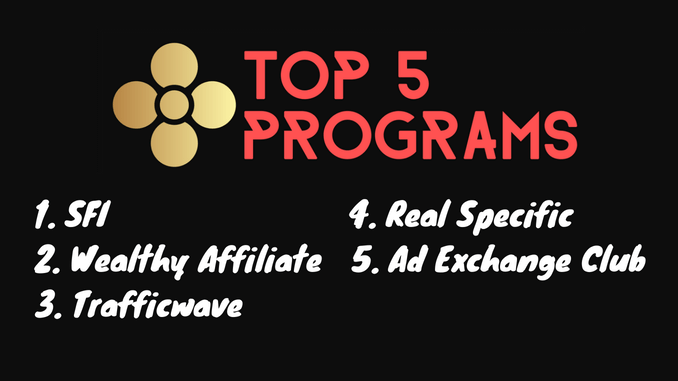 Hello and welcome to Top5Programs.com. My name is David Hurley. I started this blog with one aim in mind: to help you make money online by following my steps. Stick with me and I'll show you my top 5 affiliate programs and how I earn from them.

These are all 5 Star Programs that are tried and tested and have proved to offer great value both in the services they provide as profitable programs to promote as an affiliate.
Once you know what my top 5 affiliate programs are and how I work with them, you will be able to follow my steps and start making money from them too.
The Rule of "5"
After a decade of affiliate marketing I have found "the rule of 5" to be very useful. It gives me the ideal balance between the two virtues of "focus" and "diversity".
One of the biggest blocks to succeeding in affiliate marketing is that we can end up joining and promoting too many programs. The more programs you promote, the more you are dividing your attention. If you try to promote too many programs you will spread your resources of time and money too thinly. As a result, you will struggle to make the breakthrough you are seeking.
So it makes sense to keep your focus narrow.
On the other hand, have seen too many "big" programs crash and burn over the last few years. There is no guarantee that the program you are working with today will still be there tomorrow. If you put everything into a single program, your income  could be wiped out if the program suddenly shuts down.
So it makes sense to diversify.
And for me, I have found the ideal balance between focus and diversity to be five programs. That is why I put most of my effort into promoting my top 5 affiliate programs.
So What Are My Top 5 Affiliate Programs?
SFI – Build an online income with the Internet's #1 free-to-join affiliate business.
Wealthy Affiliate – This is my "blog platform" and business blog training service.
Trafficwave – This is how I convert my leads into subscribers and customers.
Real Specific – Simply the best content discovery and curation tool with an easy to use publishing platform to skyrocket your traffic while saving hours writing and posting content.
AdExchangeElite – Get massive exposure for your sites even as a free member. Take the Platinum Elite OTO when you join and get an opportunity to earn profit share as well… 
Why Did I Choose Those As My Top 5 Affiliate Programs?
SFI
It all begins with SFI…
SFI has been the Internet's top free-to-join online business for over 16 years now. It is also one of the most innovative, with constant new developments and improvements. There's so much good stuff going on that sales, success, and commissions just flow naturally. 
SFI's e-commerce store, TripleClicks.com is one of the fastest growing and most popular e-commerce sites currently onine. Starting from your very first day as an SFI affiliate, you can share in the profits of EVERY sale at TripleClicks.
Thousands of products from all over the world, 24-hour penny auctions, and a variety of great online games are just part of what makes TripleClicks so special. TripleClicks has something for everyone. And that makes building an online business with SFI both fun and profitable.
Click this link to find out more about SFI.
Wealthy Affiliate
This is where I host my WordPress blogs and get excellent Internet Marketing training.
Wealthy Affiliate was launched in 2005. It is a training site for people wanting to build an online business. It is simply the best training site I have been involved with.
For newbies and advanced marketers alike, the focus is on teaching you how to create a successful, long term online business.
Your membership includes high quality secure and reliable WordPress web-hosting through their Site-Rubix hosting platform. (That is where Top5Programs.com is hosted.)
Wealthy Affiliate is a service you can promote with pride and confidence. It is also a lucrative source of residual income.
Click this link to find out more about Wealthy Affiliate.
Trafficwave
Trafficwave is what I use to brand myself and promote my business. It is a professional autoresponder service designed to get you conversions like you have never seen.
First, Trafficwave helps you get leads. Then it helps you get those leads to know, like and trust you through its automated email follow-up and list broadcasting services.
Plus, you can build an additional stream of online income simply by showing other marketers the value of Trafficwave. Click Here to see the affiliate program.
Unlike other autoresponder services, with Trafficwave you can build as many lists as you like, and grow each list as big as you like, all for a fixed monthly subscription of just $17.95.
But I don't want you to subscribe until you have tested the system FREE on me. CLICK HERE for a 30 day free trial. 🙂
Real Specific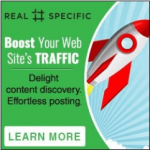 After setting up your WordPress blog, organic traffic begins to trickle in slowly but surely. As time goes on, the organic traffic only increases and the trickle becomes a steady flow.
If you want to get things moving more quickly. the secret is to hook in your social accounts to get Likes, Shares and social engagement. When you combine blogging and social media they reinforce each other more than doubling the effectiveness of your marketing. 
The foundation of everything is finding the right content and getting it online and in front of your visitors and fans. Real Specific helps you find the content you need, and enables you to schedule it to appear on your social media platforms and/or on your blog. If you've ever paid for a content scheduling service such as Hootsuite, you will love Real Specific. It does more for much less. If you're quick, you may be able to lock yourself into a lifetime membership for a a low one-time only fee…
Click here to find out more about Real Specific 
AdExchangeElite

When I joined AdExchangeElite I took advantage of the $27 OTO Lifetime Premium Elite upgrade (which costs $67 on the inside). As a Premium Elite member I get a ton of extra advertising credits and – even more exciting – I earn $50 on every $37 advertising share package I purchase. In short, I am effectively getting paid to advertise with AdExchangeElite.
You can get paid to advertise too, simply by joining as a FREE member and taking the OTO when you log in for the first time: Join AdExchangeElite FREE Today!
Putting It All Together
My Top5Programs all work seamlessly together to create a dynamic online business with a single focus and multiple income streams.
My primary product is SFI – everything else I do supports my SFI business.
Wealthy Affiliate gives my my blogging platform – Top5Programs.com – and provides me with excellent online business blogging training.
Trafficwave pulls my blog and squeeze page visitors onto my mailing list. Once on my list, Trafficwave automatically contacts my leads with a series of compelling email newsletters. Those newsletters work to build trust and convert my subscribers into affiliates in one or more of my Top 5 Programs.
I use Real Specific to promote my blog content and drive traffic, likes and shares from social media.
Meanwhile, AdExchangeElite is where I post banner and text ads and send out solo emails to generate even more traffic to my offers. It's also where I get paid to advertise as a Premium Elite member.
If you have any questions about how any of this works, feel free to contact me any time via the contact form elsewhere on this blog.
David Hurley
Top5Programs.com
#InspiredFocus