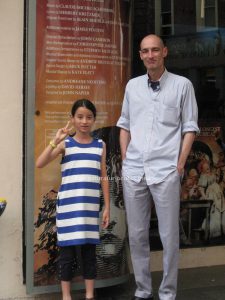 Hello and thanks for popping by. I'm David Hurley, the owner of this blog. I guess you're here because you want to know what Top5Programs.com is all about.
First, here's a bit more about me:
I'm a fifty-something British bloke. I live in Hiroshima with my wife. Our daughter is no longer the little girl you see in the photo. She's now at university down in Nagsaki.
Sorry, we don't have any pets, so no pet photos here… 🙁
I'm a bit of a chess nerd – the Japanese word for "nerd" is "otaku" by the way…
But that's not really what you came here to find out, is it?
You landed here to find out a bit about Top5Programs.com…
I guess you're here because you're looking for a way to start an online business, or to learn how to make money online.
Or perhaps you're already set up and looking for ways to improve your online business results.
That's great, but…
Top5Programs.com won't help you if you're trying to get rich quick…
If you think you can make a ton of money on the Internet without putting in a lot of WORK, you may as well click away from here right now.

And if you're looking for "the latest shiny object" to make it big with… sorry but there's nothing for you here.
I've seen too many people crash and burn while trying to make it big with the latest gimmick.
That's the OPPOSITE of what Top5Programs.com is about.
Top5Programs is where I blog about how to build multiple income streams with five tried and tested programs. My three buckets are:
system building
content creation
traffic generation
The secret sauce to the system is something called "engagement." (Hit me up and see if I respond.)
Top5Programs.com is about showing you what's been tried and tested in the past, works today and will continue to work for you over the next decade and more.
So, if you're still with me…
If you're willing to WORK to build a solid and legitimate online business that will LAST…

If you're looking for programs that have stood the test of time and that will help you grow your business…
…then we can work together to build tried and tested marketing funnels and business systems with those programs. Check out my products page to see how we can work together to get your business moving.
In the meantime, here are some answers to your questions about Top5Programs.com:
What the heck is Top5Programs.com again?
It's a blog that shows you how to work with a limited number of tried and tested online business programs to build a viable online business.
I have been working with four of the programs for several years now. In the case of the newest program, launched in January 2022, I know (through the Internet) and trust the program owner.
The five programs all help you build a successful online business. You can use these programs to:
Host your WordPress blogs and get top-quality online-business coaching. (Wealthy Affiliate)

Offer a "funded proposal" to generate fast front-end profits. (Prosperity Marketing System)

Earn fast with a "micro-continuity offer" & generate a stream of buyer-traffic. (The Click Engine)

Generate leads, conversions and sales & manage your mailing lists. (Leadsleap)

Automate your safelist mailing campaigns and boost your marketing efficiency (Traffic Zipper)
2. Why Top 5 Programs? (Why not Top 10?)
After years of trying to build "multiple streams of online income" I realized I needed to find a balance between "multiple streams" and a tight "focus."
Too often I'd end up chasing too many "opportunities" and going nowhere "mighty fast" like the Starship Enterprise on Warp 10!
What I needed was an online profit formula that I could rely on to generate profits month in and month out.
I found that working with five programs gave a good balance between "focus" and "multiple streams." Yes, I do work with other programs, but these five programs deliver a cohesive portfolio of marketing resources together with lucrative earning potential to help me build a successful online business.
If Top5Programs.com teaches you just one thing, let it be to FOCUS on your core, tried and tested, programs.
If you have any questions, feel free to post a comment below, or drop me a line and I'll get back to you.
All the best,
David Hurley
Top5Programs.com
#InspiredFocus