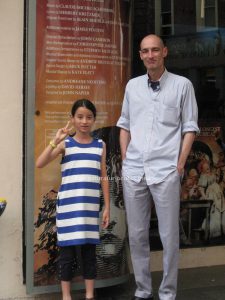 Hi, I'm David Hurley, owner of Top5Programs.com.
Thanks for popping by! I guess you're here because you want to know what Top5Programs.com is all about.
I won't try to do what most "About" page writers do and blather on about "David Hurley" in the third person.
Actually, David Hurley did try to do that in a previous version of this page, but it felt weird and sounded fake.
So instead, I'll write this as if I was writing to you as a friend.
First, then, here's a bit about me:
I'm a fifty-something British bloke. I live in Hiroshima with my wife and daughter.
Sorry, we don't have any pets, so no pet photos here… 🙁
I'm a bit of a chess nerd – the Japanese word for "nerd" is "otaku" by the way…
But that's not really what you came here to find out, is it?
You landed here to find out a bit about Top5Programs.com…
I guess you're here because you're looking for a way to start an online business, or to learn how to make money online.
Or perhaps you're already set up and looking for ways to improve your online business results.
That's great, but…
Top5Programs.com won't help you if you're trying to get rich quick…
If you think you can make a ton of money on the Internet without putting in a lot of WORK, you may as well click away from here right now.
And if you're looking for "the latest shiny object" to make it big with… sorry but there's nothing for you here.
I've seen too many people crash and burn while trying to make it big with the latest gimmick.
That's not to say money wasn't there to be made, at least in the beginning… But just as you feel as if you're actually getting somewhere, it's like, "pop goes the weasel" and the program crashes and burns.
That's the OPPOSITE of what Top5Programs.com is about.
Top5Programs.com is about showing you what's been tried and tested in the past, works today and will continue to work for you over the next decade and more.
So, if you're still with me…
If you're willing to WORK to build a solid and legitimate online business that will LAST…
If you're looking for programs that have stood the test of time and that will help you grow your business…
… here are some answers to your questions about Top5Programs.com:
1. What the heck is Top5Programs.com?
It's a blog that shows you how to work with a limited number of tried and tested online business programs to build a viable online business. I have been working with each program for at least two years, and in one case (SFI) over ten years now.
The five programs all help you build a successful online business. They are time-tested and recognized by Paypal. I use these programs to:
Host my WordPress blogs and get top-quality online-business coaching. (Wealthy Affiliate)
Build mailing-lists and communicate with prospects and clients. (Trafficwave)
Create squeeze-pages and splash pages for your promotions. (Wealthy Affiliate)
Track my ads, create pop-ups, promote my offers on other blogs. (Leadsleap)
Build a team, promote my products and services, offer digital rewards. (SFI)
Deliver targeted traffic to my offers. (Leased Ad Space)
2. Why Top 5 Programs? (Why not Top 10?)
After years of trying to build "multiple streams of online income" I realized I needed to find a balance between "multiple streams" and a tight "focus."
Too often I'd end up chasing too many "opportunities" and going nowhere "mighty fast" like the Starship Enterprise on Warp 10!
I found that "five" is a good balance between "focus" and "multiple streams."
I do use other programs, such as safelists and traffic exchanges, but I do NOT invest my time in promoting them.
If Top5Programs.com teaches you just one thing, let it be to FOCUS on your core, tried and tested, programs.
3. What else is Top5Programs.com?
Good question! Top5Programs.com is where I offer tips and actionable strategies for you to grow your online business.
I offer tips and then offer my products and services.
Yes, I want to sell you my stuff, and introduce you to online business tools and programs that you can trust, and promotional techniques that actually work.
Let's face it, you're here because you want to learn how to sell more online, right?
I can help you by offering you value-packed e-books, marketing campaigns, blog posts, traffic generation services and more.
Perhaps the most valuable thing I can offer you is my experience – over ten years as an online affiliate marketer. So I know what works and what doesn't.
Every product and service I create is in line with the easy-to-follow tips I teach on Top5Programs.com.
And here's my first "sales pitch" to you – one that's FREE! Yay!
I recently created a program called EliteDownlineBuilder.com and is designed to promote my Top 5 Programs all from a single URL – and it's FREE to join.
Use it to laser focus all your traffic on building multiple streams of online income in 5 reliable programs that you can be proud to work with.
You can also promote YOUR OWN programs to members of Elite Downline Builder – and you can pick up $50 worth of free credits when you enter the Promo Code TOP5 after signing up!
Join Elite Downline Builder FREE Today!
Look out for the 100% Commissions OTO after you join! You can earn up to $97 commissions every time your referrals become JV-Diamonds. Yes, you get 100% and I get ZERO: It's like owning YOUR OWN program, without having to do any of the work to set it up or maintain it!
Join My Mailing List
If you enjoy the content on my blog, consider opting in to my mailing list. There's an opt-in form in the right column of the blog.
Or hop onto my mailing list here and I'll send you a free copy of my latest e-book, How To Create An E-Book For FREE, & Get More Online Sales.
If you ever need a hand or have any questions, feel free to leave them below and I'll be happy to help you out.
All the best,
David Hurley
Top5Programs.com
#InspiredFocus