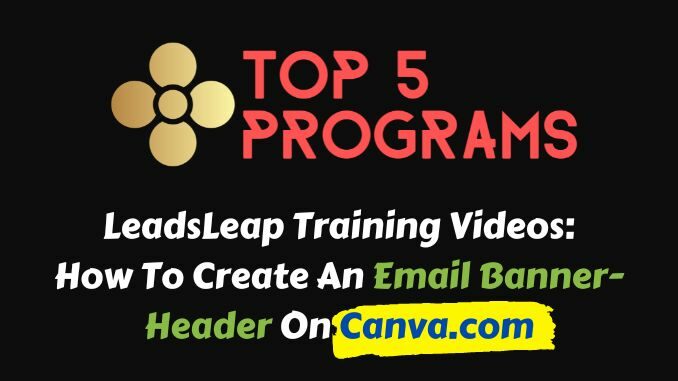 In my Leadsleap Training Video 16 and Video 18 I went over how to add a header-banner to the top of your Sendsteed autoresponder email letters, but I didn't show you how easy it is to make your own unique, personally-branded header-banner.
That's what I show you in this training video. 🙂
Let's Go To Canva To Make A Header Banner
Today we are going to head over to the free graphic creation service called Canva.com to make a banner header for our Sendsteed autoresponder email series.
It's both free and very easy to create a decent looking, personally-branded, header banner that you can have automatically showing at the top of every email you send out on the Sendsteed autoresponder…
I'm not a graphic designer, but here's the header banner I knocked up in less than five minutes for my Leadsleap Training Video email series:

If you'd like to receive my training videos and related updates in your inbox, hop on board to my free newsletter:
And here's how to create a header banner:
Canva
Canva.com is an amazing free resource. I use it to create all my graphics, not only email headers, but also the blog post images you see on this blog, banner ads, explainer graphics, and a lot more.
Check it out here: https://www.canva.com
Not yet a Leadsleaper?
Get started with Leadsleap free here:
https://leadsleap.com/?r=hirohurl (affiliate link)
All the best,
David Hurley