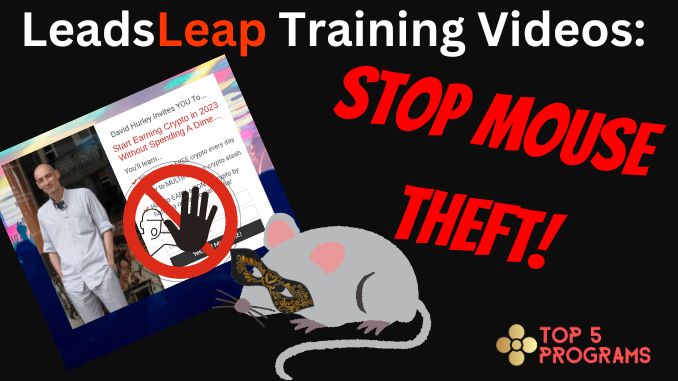 This is a quick and easy-to-implement training that will improve the security of your Leadsleap landing pages.
New Page Option: No Right Click, No Drag, No Select
In Kenneth Koh's latest blog post he announced a new option to improve page security when creating landing pages on Leadsleap.
You can now stop people stealing your content by disabling mouse functions such as right-click, drag, and copy-text.
It's very easy to set those extra security parameters as I demonstrate in this training video.
Leadsleap Training Video 26
Video Transcript
Hello folks, David Hurley of Top5Programs.com here bringing you another LeadsLeap Training Video.
In this video, we're going to have a look at the latest update from Ken on his blog. No right-click, no drag, no select is a new feature.
What's it all about?
Well, some people have been asking Ken how they can stop other people copying their pages. And as Ken points out here, there's no way really to stop determined people from copying your pages. But if you don't want them to do that, you can make it more difficult for them.
The way to do that is to click the "Edit" [icon] on your page, and you've got these new options down here. No right-click, no dragging, no select for all contents,or no select for image only. If you have your own unique image on your page, you may not want people to copy that image, so you can prevent them from selecting the image.
Testing One Of My Landing Pages
Okay, let's have a look at how that works on one of my pages. So, I'll have a look at this page – my crypto earning page – start earning crypto in 2023. And let's apply.
So right now, I suppose we can simply save image as something or other. Here it comes. So I've just downloaded my image straight from the page. There it is now on my hard drive. And so let's see if we can stop that happening. So, Beginners Crypto Course. Hit the Edit button, and here are the new settings.
So, you notice to copy that image, I… well, you probably can't see, but I right-clicked on the image. So let's say no right-click, no dragging. At the moment, we can drag images and other elements. We can drag our mouse over, right-click, copy and paste the content straight into a note file and simply rip off somebody else's page. So no right-click, no dragging, no select all, and no select image only. Let's do all of that.
Okay, there's a choice here. So it's no select or no select image only, no select all contents. It says "Disable contents: select so that users cannot copy text, image, and other contents by selecting." Right. Let's save that. Okay, changes saved. Let's come up here, refresh the page. Now let's see.
It Works!
Hey! It's not right-clicking. Let's try to drag. It's not dragging. Let's copy, let's steal my text. I can't do it.
The question is, can I still opt-in?
Well, yes, you can still opt-in.
So that's that. To make your pages a bit more secure from lazy stealers and thieves, those are the steps you can take. No right-click, no dragging, no select all contents or no select image only.
Okay, folks, I hope you found that useful for boosting up your page security. That's it for me until the next exciting Leads Leap video update. David Hurley of top5programs.com [NOT .net LOL!].
Oh, don't forget to click the bell, click the s…, give it a thumbs up, subscribe, hit the bell, and all that stuff so that you stay updated with these and other exciting videos about how to make millions on the internet.
Cheers!
David Hurley
#InspiredFocus