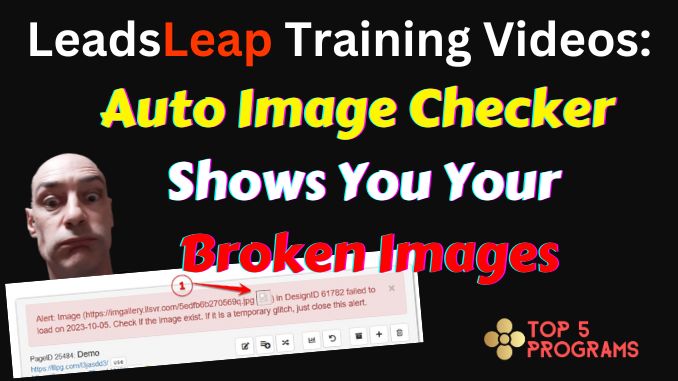 Leadsleap owner Kenneth Koh has just added a very useful improvement to the Page Manager: the Auto Image Checker.
The Auto Image Checker will automatically search all your pages for broken image links. If it finds a broken image it will post the page at the top of your page manager with a message showing you which image link is broken. This is very useful, as you may have pages promoting your offers on the Internet that you do not check very often. Now you will immediately see any page that has a broken image and can quickly fix it.
In the video, this was the page that had a broken banner image: https://lllpg.com/7jvvmr76
Watch the Training Video
Video Transcript
Hello folks! In this Leadsleap training video  we're going to have a look at a new feature  that Kenneth has just added called Auto Image  Checker. And it's a very useful little update because it automatically searches through your  pages in the Page Manager, and it will find any  page which has a broken image and it will notify  you of that when you come into Page Manager as  I found out when I popped over to Page Manager  earlier today.
So here we are in Page Manager and  right at the top it's brought up a notification  of a broken image – this red panel here – and it  shows you the link.
And I'm very pleased to  have found this because the Top Five Bitcoin  Faucets is one of my newest pages and it's a page  that I share with people who joined that list, so  it's not very good if it has a broken banner  image on it.
Let's just have a look at the page  and see if we can find the broken image… So, that  one's okay, that one's okay… Here it is FireFaucet.win that is a broken image.
Now I wouldn't have  noticed until the next time I happened to check  this page which may have been  a few weeks from now, unless I'd heard from  somebody who wanted to use it, so this is very useful.
Now, why is this link broken? It's broken  because I shut down the blog which was hosting this image. I only shut it down a couple of days  ago. So now now what I'm going to do is retrieve  that image from… I guess I made it on Canva, and  then I will upload it either to the image host  here on Leadsleap… (Where is the image host… the uh,  image manager… Here we are!) … on Leadsleap, or to one of  my WordPress blogs.
So that is it really, just that  little notification. You will quickly know if  you have any broken images on your pages and  you can then go about and fix them very quickly.
Okay folks, that's it from this very short and  very useful I think Leadsleap Training Video until  the next exciting Leadsleap Training Video update.
David Hurley
#InspiredFocus