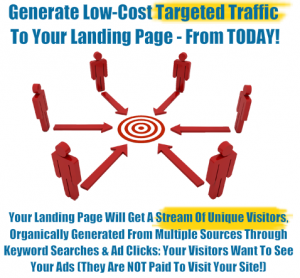 For business bloggers, knowing how to buy bulk website traffic is a useful supplement to building traffic through SEO.
If you are in a home biz niche you can expect your traffic to convert at somewhere between 2% to 10%.
Of course, it mainly depends on the quality of your campaign, your offer and your traffic source. If you use relevant, long-tail, action-oriented keywords, you can expect traffic to trickle in and convert at the higher end of that spectrum.
So, for every 100 clicks, perhaps six to ten visitors will take some kind of further action, such as click a Google ad, subscribe to your newsletter, or click through the your sales page.
Therefore, even with the best SEO practices in place, you need a load of traffic to generate enough clicks for a steady flow of subscribers, sales and commissions.
It's not easy to generate that many clicks quickly and consistently using conventional SEO traffic generation methods. This is where learning how to buy bulk website traffic comes in handy!
What Is Bulk Website Traffic?
Bulk website traffic is a specific quantity of website visitors sent to your online offers through a traffic generation service. Traffic services generate this traffic using various methods ranging from banner ads, contextual links on blog networks, video and mobile ads, pop-unders, exit redirects and so on.
Bulk traffic is normally sold in packages which specify the quantity. For example packages can be in multiple of 5,000, 10,000 and so on. The best packages should however provide targeted traffic that's specific to your niche.
How To Buy Bulk Website Traffic Without Getting Scammed
However, there are also scam "services" which generate fake, software generated traffic. Such "services" will give you bogus visitor counts, which are nothing more than bot-generated impressions hitting your site.
One of the easiest ways of identifying bot traffic is to check the delivery pattern. Legitimate traffic will be generated over a number of days or even weeks. If you get a traffic package of say 10,000 visitors delivered within an hour, you may want to check that source closely. Chances are that a machine is sending you fake impressions.
A genuine bulk website traffic broker will give you the source IP address of every single visitor sent to your site.
Some genuine traffic brokers even provide details of which pages were surfed by each visitor they send. That can be a useful way of seeing which of your page links attract more clicks.
Bulk Traffic Is Only As Good As It's Source
Like any other traffic, how you get the visitor onto your page determines whether they can be converted. If someone was trying to access a sports website and winds up on your dating site, conversion might be tricky. But if the same visitor lands on an alternative sport related page, they will be more likely to take action. This is what determines whether the traffic package you are buying is targeted or not.
If you're serious about getting bulk traffic that's targeted, you definitely need a package that generates traffic using keywords. Your keywords will be used either to directly generate traffic or to select relevant traffic sources. Either way, you get traffic that is more likely to convert.
Why Bulk Traffic Packages?
As I mentioned earlier, generating quality traffic consistently is no quick and easy feat. That's why bulk traffic packages are particularly useful for lead generation. To get a healthy flow of leads into your funnels, you need a continuous supply of targeted traffic.
You can achieve this by clicking for credits on safelists, traffic exchanges, or similar traffic generation sites. But this method also takes time. Besides, you'll be limited to that particular site's members or visitors, who may not be the most suitable audience for your landing pages. (Check out my ebook, TE Traffic Storm to find out how to work with traffic exchanges.)
By purchasing a targeted traffic package, you simply cut to the chase. Perhaps the biggest advantage over clicking for credits is that your traffic sources reach beyond a particular site. That means you increase your chances of marketing to new people who would not otherwise find out about your website.
Does Bulk Traffic Work?
Once you know how to buy bulk website traffic, the short answer is "YES!"
However, that answer needs to be qualified and put into context. There are a few ground rules you should keep when dealing with bulk traffic.
As long as you do the following you should see positive results:
Avoid bot traffic

Purchase legitimate website visitors (real humans visitors) from a trusted source

Get keyword-generated targeted traffic

Send the traffic to a simple, tested landing page (see my next blog post on how to use bulk website traffic.)
David Hurley
Top5Programs.com
#InspiredFocus