Whether you buy bulk traffic packages or not, an online marketing myth is that traffic is your top priority. While traffic is definitely important, it's only one piece of the puzzle.
Delivering a million visitors to a poorly designed webpage is almost as bad as having a well-designed webpage which no one ever visits. Therefore, when you buy bulk traffic you want to squeeze every ounce of benefit from your investment. So you want to be aware of the various factors that can help you increase conversions.
First, Here's What To Avoid…
No matter the source of the bulk traffic package you buy, there are several reasons why you may fail to get conversions. These reasons are similar whether you're working with TE traffic, Safelist clicks, PPC advertising or organic traffic. Avoiding these mistakes is the first step towards maximizing your traffic package investment returns. Here's what to avoid:
Don't send traffic directly to a sales pitch. You need to build up to the actual pitch. And you cannot do that right at the first encounter.

Avoid sending bulk traffic to your network marketing program sign-up page. You will experience extremely low conversion rates from this kind of cold recruiting.

Target your landing page offer to the type of traffic you are working with. Promoting the 'wrong' kind of offer for your traffic will not yield results for you.
7 Tips For Best Results When You Buy Bulk Traffic Packages
Now that we've gone over the don'ts, here are some of the ways to enhance your experience with target traffic packages.
1. Buy From Trusted Sellers
Scams are all over the internet; the bulk traffic business is not spared. To avoid wasting your cash, buy bulk traffic packages from trusted sellers only. Remember, bot traffic isn't the only scam in the business. You can still get real visitors but without clear tracking systems, you can easily get less than you paid for.
2. Get Keyword-Generated Traffic
The best traffic packages are able to laser target your traffic using keywords. Some will also allow geo-targeting in addition to keywords, but that's only important if your offer is location-sensitive. Keywords are a great way of creating targeted traffic packages out of regular bulk traffic.
3. Use Squeeze Pages
Sending traffic to a random blog post will not do much for your conversions. Squeeze pages are especially designed to capture attention and persuade visitors to take quick actions. They simply highlight a benefit and tell the visitor how they can access that benefit, usually for free.
4. Focus On Building Your List First
Though you can get results generating other types of actions with your targeted traffic packages, list building is the best. It stands out because it's the only way to guarantee future interaction with the same prospect. Other actions, such as downloading a file and watching a video cannot give that guarantee.
5. Run A/B Split Tests, Then Scale Up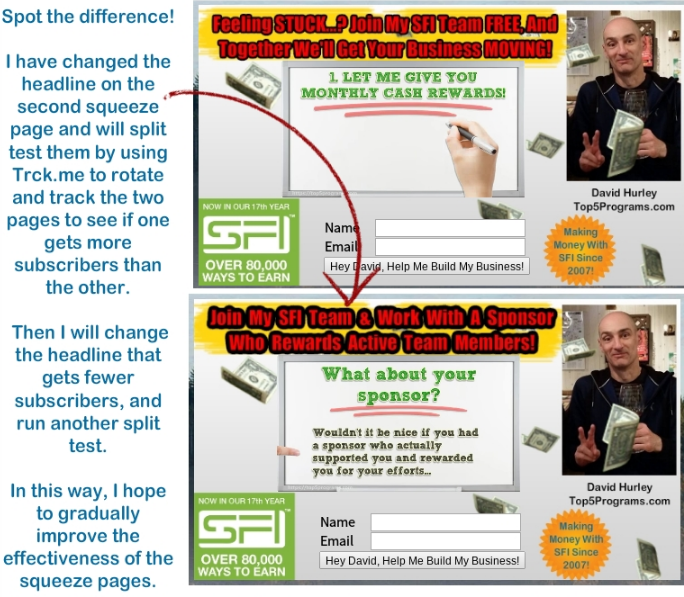 If you expect off-the-charts conversion metrics with your first targeted traffic package, you may be disappointed. Even with the best traffic, you need to find optimum factors which create the most conversions. A/B split testing is the technique you use to achieve that optimum point.
What this means is that there'll be costs before results. Marketing isn't an exact science, so campaigns will be tweaked and changed before they become winners.
That process may take a few targeted traffic packages, which may not necessarily give you an immediate return. The key is to test, test, test each element of your squeeze page against a similar squeeze page with ONE element (such as the headline) changed. It may take a while to find significant improvements between elements, but when one squeeze page does significantly better, use that headline on both squeeze pages and run a second split test, this time testing different elements to find a new "winner".
Keep doing that and your results WILL improve over time.
6. The 80:20 Rule Actually Rules
Or is it 90:10 rule? Whatever it is, understand that the bulk of the visitors may not take action. That's just a reality of marketing online. Just because the package delivers targeted traffic doesn't translate to automatic sales and income. That's why you must maximize your impact on the ones that take action by funnelling them onto your lists.
7. Track Everything
If you've so far let your ad campaigns fly blind, it's time you applied a professional tracking service such as LeadsLeap to your ad campaigns.
When you add bulk traffic to your marketing, you cannot afford to run without a tracker. You need to measure everything from conversions per traffic package to the best converting offers.
With a tracker, you have a firm basis for scaling campaigns and building realistic expectations around them.
Activate The Benefits Within Targeted Traffic Packages
As long as you're not getting bot traffic, you should be able to convert a decent percentage of your package. What you need to do is to build a smart, well targeted, campaign which meets the expectations of the people on the other end of the transaction, i.e. your prospects!
David Hurley
Top5Programs.com
#InspiredFocus