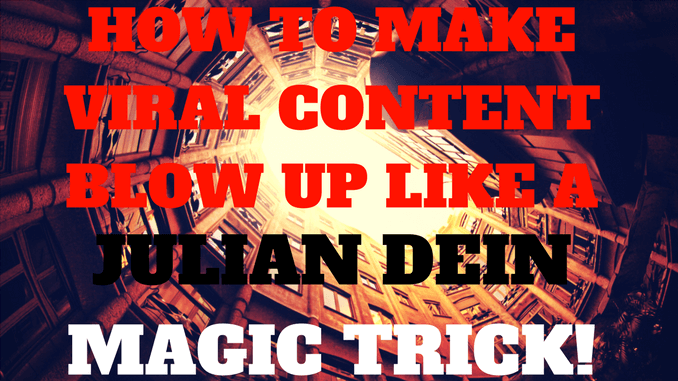 I bet most online marketers would love to know how to make viral content that blows up the Internet.
Just like a Julius Dein magic trick, or his crazy impromptu London pillow fight that recently went viral on YouTube:

LOL! Online marketers are obsessed with how to make viral content that gets a hundreds of Facebook likes, YouTube shares, or retweets on Twitter.
Yet it remains a dream for most marketers. The big question is: How the heck can do I get my stuff to go viral on the internet?
How To Make Viral Content In 9 Easy(?) Steps…
1. Make It Super Fun or Super Valuable
It's not enough just to be different. Julius Dein's videos are different AND fun to watch the value they offer us is laughter.
You also will have to uniquely appeal to your audience. You may have a serious message to deliver, but to make it go viral you will need to make it fun and add value by making it super relevant to the needs of your target audience.
2. Dare To Be Different
Anything that has been shared virally on any online platform steps beyond the norms within its class.
People love and notice uniqueness. While you can seek inspiration from videos that have gone viral, avoid doing what everyone else is doing.
If you want to imitate something you saw on a viral video, seek to give the idea a new twist. Step out of your comfort zone and explore new ideas.
Remember, viral content is extraordinary. If you really want to know how to make viral content, don't be ordinary, don't just copy, but create something fresh and new.
3. Think Video
If content is king, then video is his throne. In this age of social media, I cannot think of a better way to package viral content than video.
Video is the media where creators like Julius Dein come into their own. They focus on ONE EXTRAORDINARY OUTCOME, tell you what it is and then go and do it.
The video goes viral because we see the creator engaging ordinary people with extraordinary content.
To go viral, a video doesn't have to be long. And it certainly doesn't have to appear "professional" – keep the professionalism for the editing and distribution.
Short, fun videos quickly make their point of shocking or delighting the audience while they are still paying full attention.
4. Plan Meticulously
Success is deliberate. There's absolutely nothing random about it. Those Julius Dein magic and prank videos look like a lot of fun. And yes, they ARE great fun. But a lot of planning and preparation goes into their creation and distribution.
You must plan every stage of your viral content. There is a pertinent article about how Julius Dein does this with his content which you should read, titled:
What Digital Marketers Can Learn From Viral Video Maker Julius Dein (And His 1 Billion Video Views)
5. Great Content + Good Distribution = Viral Content
If you don't have a good distribution strategy for your great content, forget about it going viral. As mentioned in the previous tip, viral content is usually created specifically to go viral.
You need to push your amazing content through an established distribution network. This can be a through market influencers such as authority sites, huge Facebook pages, and so on.
Don't be afraid to collaborate with other YouTubers or content distributers and help each other by cross-promoting each other's content. Time spent building relationships with market influencers will be time well spent when it comes to seeking collaboration for one of your viral projects.
6. Understand The Platform You Want to Be Viral On
It's important to be clear where you want to be viral. That means, for content to spread like a raging bush fire, it must be created for a specific audience and platform.
Though they are all social platforms, Facebook, Twitter and Whatsapp are all different. There are different content rules. People access them on various devices and different age groups use them differently. You get the picture?
Content that's not made for a specific platform isn't likely to go viral on any of them.
7. Influence People's Reactions
The viral effect actually depends on the audience's reaction. No matter how awesome the content, it counts for nothing if it doesn't stimulate a "need to share".
You've probably watched videos which expressly ask you to share if you enjoyed it. Though simple and direct, it works.
However, the most shared content is that which naturally feels too good not to share. This is stuff which stimulates people's emotions.
Once people start commenting on the content, you can respond and create an atmosphere of anticipation for your NEXT viral project.
8. Brand Yourself
There are two types of creators of viral content, especially on social media. There's the random guy who shares random content that unexpectedly goes viral for a short while. Then there are those well-known social media celebrities whose content spreads like the flu.
You want to be the celebrity by branding yourself. The next and final tip shows you why.
9. Viral Content Breeds Viral Content
After your first viral piece, people will start to jump onto your future output.
For example, after Lewis Howes had built up a following as a Linked In expert he was able to create even more amazing viral content with his School of Greatness podcasts. When he added YouTube to his distribution strategy, the viral effect was multiplied.
In the affiliate marketing field, WealthyAffiliate.com made a name for itself as a business blogging training program. Later on, the same guys had amazing success launching Jaaxy, their keyword research tool. People had learnt to trust them based on the value they delivered to their Wealthy Affiliate membership. 
Further creations will benefit from your branding efforts because people already associate you with great content. Your future creations have a huge, albeit easier chance of going viral. Thhanks to the power of branding.
Learn From The Viral Content Magician
Anyone who wants to now how to make viral content can implement the tips I have outlined in this article. Yes, you too can create some Julius Dein magic of your own!
But to learn from the master, check out this @LewisHowes School Of Greatness interview with Julius Dein. Lewis draws him out about how he creates amazing viral content.
David Hurley
Top5Programs.com
#InspiredFocus