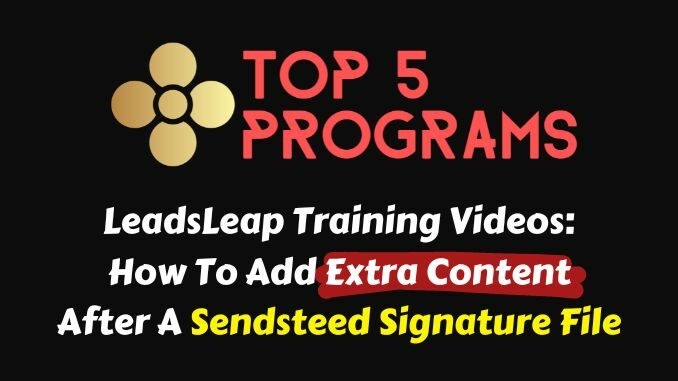 This nice little tweak gives you the option of adding some one-off content to a specific email in your Sendsteed autoresponder series AFTER the sig file.
Such an option was not available until August 2022 when Leadsleap program owner Kenneth Koh received an email from a Leadleap subscriber who wanted to place a P.S. message AFTER the sig file in one of the emails in his email series.
So Kenneth, being a highly responsive program owner, came up with a solution that is now available to all upgraded users of the Sendsteed autoresponder service. (Note, if you are upgraded in Leadsleap, you get the full autoresponder service as part of the upgrade package.)
Having the option to add extra content beneath the sig file is useful if you want to make an offer in the P.S. or footer of just one or two specific email letters in your series, but NOT in the whole series. In short, it gives you some extra flexibility when working with sig files.
Here's my video training for this feature
The original video was about 9 minutes long, but I edited it right down to just four and a half minutes. It includes a recap about how to set up a signature file (which I dealt with in Video 6) as well as how to place the code snippet and add content beneath it.
Kenneth Koh's Blog Post On This Topic
Here is Kenneth Koh's announcement about how to post extra content beneath the signature file:
https://leadsleap.com/blog/how-to-add-a-different-p-s-after-the-email-signature/
If you have a Leadsleap account and could do with some help setting things up, feel free to drop me a line. I will request your VA Password and then log in and check things out for you.
Not yet in Leadsleap?
Try it out free here (affiliate link): https://leadsleap.com/?r=hirohurl
Best wishes,
David Hurley