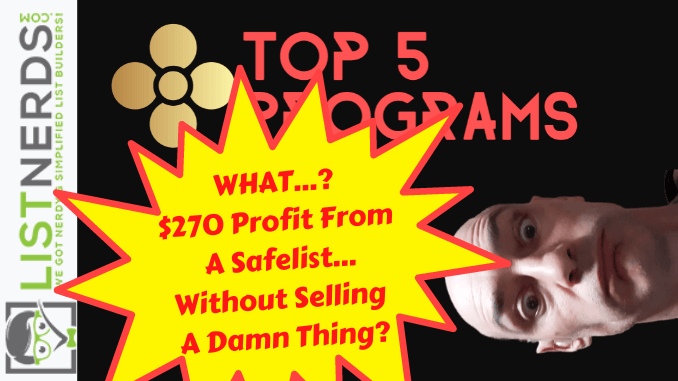 Last month I made approximately $270 with the Listnerds safelist without getting any upgrades or sales.
Yup, I made money even though I referred nobody serious – just a couple of freebie seekers – and sold nothing. No upgrades, no credit purchases. Nothing. Zilch.
Yet, I still earned $270 from Listnerds.com.
How is this possible?
It is possible thanks to the Hive blockchain that Listnerds has been built on. The blockchain makes it possible for every active member of Listnerds to earn crypto – both the receivers and the senders of Listnerds safelist emails.
Don't know the first thing about the Hive blockchain?
Don't worry, this free and easy to understand Hive Guide will show you how Hive works.
You'll also learn how you can earn without needing to promote or sell anything.
What I'm about to tell you in this blog post is just ONE way that you can earn a significant amount of mula on the Hive blockchain.
Okay, back to the main topic: Listnerds!
You Can Use Listnerds As A Basic Safelist Mailer
The first thing I should mention is that at its most basic level you can use Listnerds the same as any other safelist or viral mailer. You do not have to get involved with the crypto side of Listnerds at all. (I think you'd be crazy not to, but "that is just my opinion," as they say!)
You can use Listnerds like any other safelist to do these things:
join as a free member,
click member mails for credits
use those credits to send out your own emails
buy credits
upgrade to earn more credits-per-click and mail several times a week
All very familiar for safelist users.
One nice feature of Listnerds is that all the mail is kept in-house. Unlike other safelists that send a ton of email to your inbox, Listnerds keeps everything on its own servers. To earn credits, log in to Listnerds and go to the "Inbox". You earn credits when you click the link inside the email.
Another thing that people like about Listnerds is the consistently high Click Through Rate. I published a blog post about the CTR rates a couple of weeks ago.
Okay, now let's look at how we can earn crypto with Listnerds…
3 Ways To Earn Crypto With Listnerds
This diagram shows that there are three ways to earn crypto with Listnerds. You can earn as a sender and as a receiver of safelist emails. You can also earn if you become a staker and "stake" your crypto inside the safelist. "Staking" means you are locking away your crypto in exchange for the benefit of earning from it every day.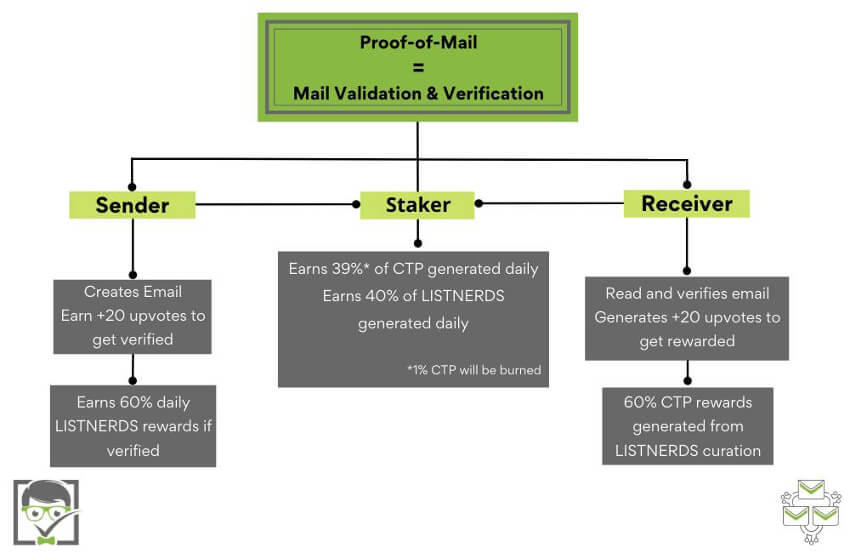 How To Earn CTP Tokens On Listnerds.com
Now that Listnerds has been relaunched on the Hive blockchain we have two more ways to earn CTP tokens:
Read and verify 20+ emails in your Listnerds inbox each day.
Stake CTP tokens on Listnerds.com.
When you log in to your Listnerds account you can check your CTP earnings by looking at the CTP panel at the top of the home page. Click on the CTP panel to go to your CTP tokens page. On that page you can stake, unstake and transfer your CTP tokens into or out of Listnerds.com.
What Are Listnerds Tokens
Just like CTP tokens, LISTNERDS are second layer tokens on the Hive blockchain. were created specifically to serve the Listnerds.com safelist.
As of today, one LISTNERDS token is worth $2.00.
How To Earn LISTNERDS Tokens On Listnerds.com
You can earn LISTNERDS in three ways:
If your email is "verified" with +20 upvotes from readers.
Post solo mails – these are automatically "verified".
Stake Listnerd tokens on Listnerds.com.
At $2 a token, it is the LISTNERDS tokens that brought in the bulk of my income from my activities on the Listnerds safelist last month. Now I'll show you where my income came from.
How I Made $270 Profit On Listnerds.com With $0 Commission!
First of all, I did not make a single cent from referral upgrades or purchases last month. Also, I am not considering any sales that I made from the content of the emails I was sending out. I am only looking at on-site income that came directly from my activities on Listnerds.com.
I started February with 11 LISTNERD tokens, and ended the month with 141 tokens. Here is a screenshot of the "Mail History" panel for a part of February showing the number of LISTNERDS earned per mail: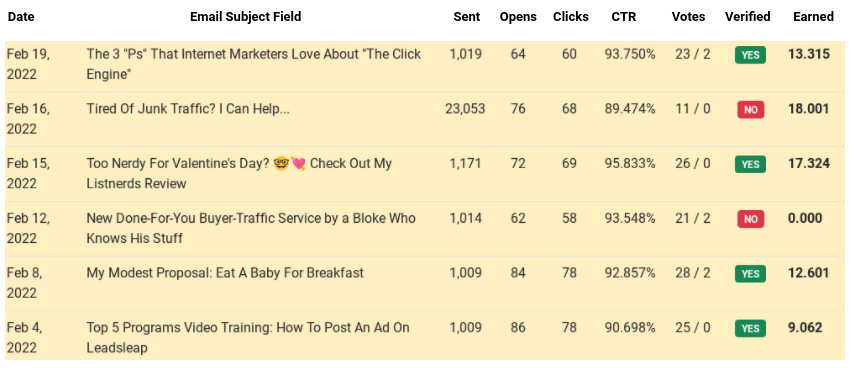 With LISTNERDS holding their value at $2 per token, I earned a total of $260 (141 – 11 that I held at the beginning of the month = 130 x 2 = $260). My earnings came from the verified and solo mails I sent out, and from the daily dividend I received on my staked LISTNERD tokens.
Upgraded Member Benefits
By the way, I am a Premium member of Listnerds so I can probably earn more than a free member. On the other hand, there are now several members such as @jimmy.adames and @mba2020 who have taken the highest level Enterprise upgrade, and who earned a lot more than $270 in February. (Check them out @ https://hive.blog/@jimmy.adames and https://hive.blog/@mba2020.)
Just for the record, here are the level tiers inside Listnerds.com:
Anyway, as a Premium member I was able to earn those tokens by sending out solo emails whenever I had earned 10,000 mailing credits, and by sending out three emails per week. The regular emails that earned enough upvotes to be "verified" also earned be a share of LISTNERD tokens.
I also earn LISTNERDS from my staked tokens. At the moment I am staking every LISTNERDS token that I earn, and am earning between two and three tokens per day in this way.
So $260 of the $270 I earned last month came from LISTNERDS. The remaining $10 or so came from CTP earnings.
That is an approximate figure as I do not have the daily earning figures for the first half of February. I have been transferring CTP out and selling off a portion of them whenever the price has been over $0.017 per token. So my best guess is that I earned $10 in CTP to bring my total earnings inside Listnerds.com to $270 in February 2022.
Even so, none of this should be taken as financial advice. I am not a qualified financial advisor, simply a blogger who has been playing around with Listnerds.com, so do your own research and make your own choice.
Having said that, if you like what you read and want to start earning while promoting your business on Listnerds, sign up via my affiliate link @ https://listnerds.com/@hirohurl and I drop me a line via the Contact Form so I can help you get set up and earning.
Best wishes,
David Hurley
#InspiredFocus
Resources