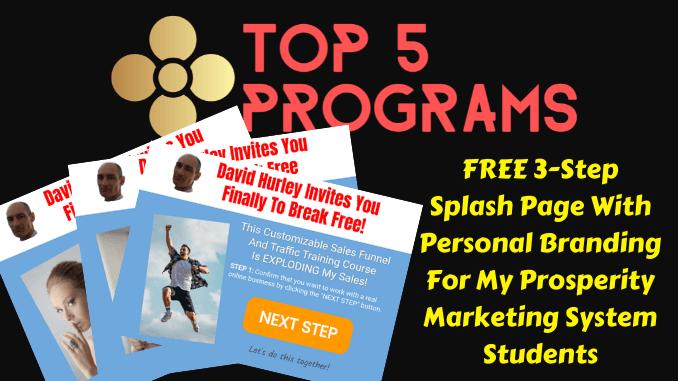 Here is a 3-step splash page that I have made as a free bonus for my Prosperity Marketing System referrals to help them to stand out from the competition when they promote the program.
This Is The "Step 1" Page
Features Of The Step 1 Page
Strong personal branding. (My photo and name in the top panel will be replaced by the name and photo of my referral.)
The blurb informs the visitor that the offer is for a "sales funnel" and "traffic training course" that gets results.
The "STEP 1" Call To Action is a qualifier – do you want to work with a "real online business"?
No form to fill in at this stage, just an easy click to get to Step 2, which opens in a new tab. That makes it ideal for traffic exchange surfers who can clickthrough without leaving the exchange they are surfing on.
The "Let's do this together!" blurb reinforces the idea that we're going to work as a team.
This Is The Step 2 Page: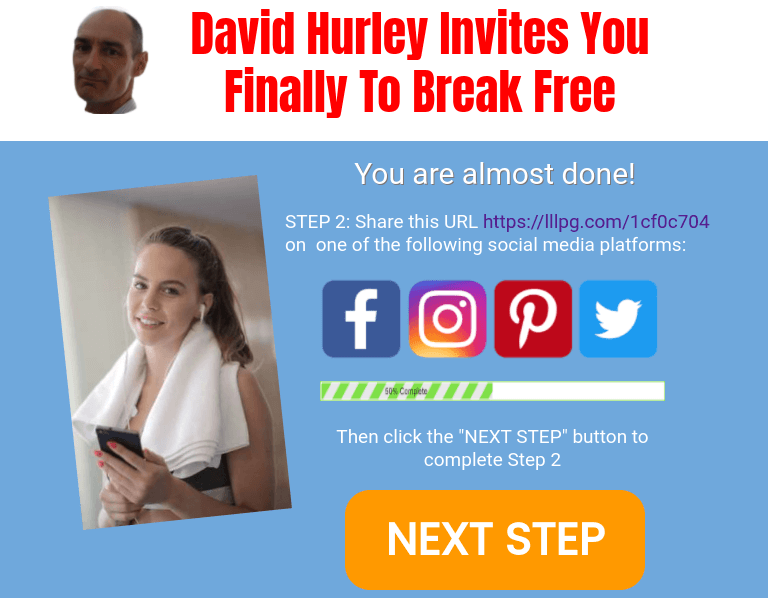 An Invitation Share On Social Media
This page offers a little challenge – or invitation…
Will you share the Step 1 page on social media? (The link is clickable and the Step 1 page will open in a separate tab.)
My guess is that most of the people who click through to Step 2 will click through to Step 3 without stopping to share Step 1 on social media!
But I'm also guessing that some will do it, helping the "viral" effect to kick in…
So it works as a small "engagement challenge", with the embedded idea that those who do us a small favour are said to like us more for having done so.
Well, whether they do it or not, having clicked through to Step 2, I expect most to be curious enough to click the NEXT STEP button…
This is what they will see: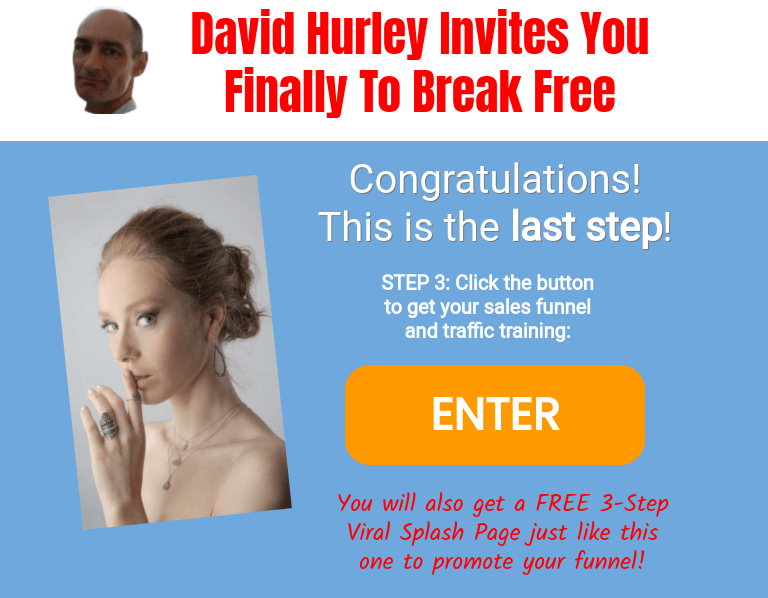 Access Your Sales Funnel And Traffic Training
Hooray, we are on the last step and can now get access to the "sales funnel" and "traffic training".
And here is something new! Something has been added to the offer! You can get the same 3-Step Viral Splash Page to promote your funnel!
I used Leadsleap as my page builder for this campaign.
Here is the link to Step 1 of the splash page so you can see how it works: https://llpgpro.com/1cf0c704/ctpt7mar22
If you are in my Prosperity Marketing System team and would like me to set up this personally-branded 3-Step splash page for you drop me a line and I will get back to you.
Note: Don't worry if I am not your direct sponsor. You can be anywhere in my PMS downline and I will set this up for you – and for all your referrals too!
The Prosperity Marketing System is already excellent value at just $12 a month with 100% commissions. With this personally branded marketing tool and the other bonuses I am giving you – it's now a total "must have" no-brainer!
Let's rock this together!
Cheers!
David Hurley
#InspiredFocus