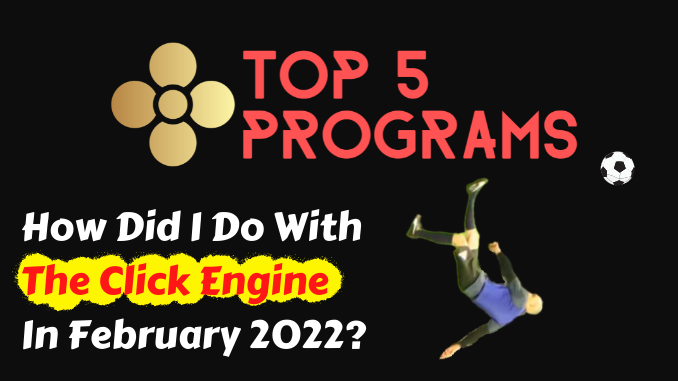 Here's a look at how well I did with The Click Engine in February 2022, its first full month in action since it was launched by Jeff Aman towards the end of January.
If you have been following my progress with The Click Engine through the month you will already know that I had some very positive results. This post is the first of a series of posts that will track my progress from month to month.
First, here is the video:
I Did Better Than I Said In The Video!
I actually did better than I said in the video because I completely forgot to mention the THREE $25 bonus payments I received from The Click Engine creator, Jeff Aman in February!
My actual total profit including the $75 in bonus payments was $264.98. Not bad for a $4.90 subscription program!
I'm Getting Referrals From The Click Engine
I'm also pleased with the results I'm getting from the traffic The Click Engine is sending to my Beginners Crypto Course squeeze page. I got five new subscribers via The Click Engine in February, which made it my second best source for subscribers after the always reliable LeadsLeap which is my all-time best source of referrals and sales.
These are the stats for the last 30 days and have slightly changed since I made the video a few hours ago, but the approximate correlation between "Real" visitors and "Optin" rates for The Click Engine and LeadsLeap still holds. The Click Engine is holding up very well in comparison to LeadsLeap: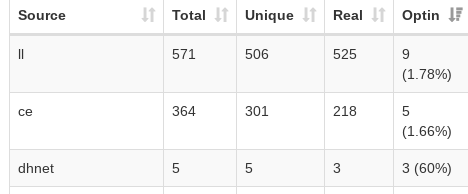 I am pointing the second URL (that I got when I took the OTO) has not had such good results however, so I am going to change the page I am showing. At the moment it is pointing to a splash page for my traffic site, EliteDownlineBuilder.com. Keep in mind, if your page is not getting results when visited by buyer-traffic in your niche, then it is the page that you need to work on or change. I will provide an update on my progress with my second URL in future posts on The Click Engine.
The Click Engine List Thank You Page Also Works For Me
In the video I mentioned another way I was getting referrals with The Click Engine. I created a squeeze page to promote The Click Engine through an email follow-up series. When a new subscriber opts into the mailing list they are redirected to a "Thank You" page. On that page I also invite them to join my own site, EliteDownlineBuilder.com and received several new subscribers by that method. See my blog post about Thank You pages elsewhere on this blog.
Get The Click Engine Working For You: https://warriorplus.com/o2/a/z7kzbt/0
Cheers!
David Hurley
#InspiredFocus