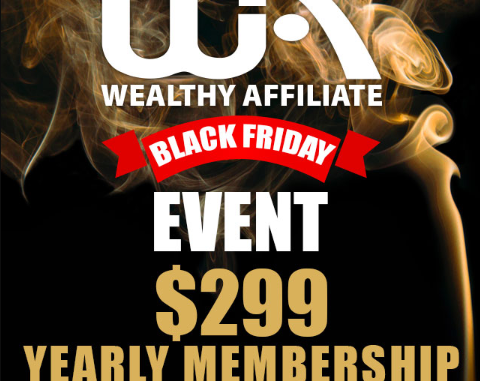 The Wealthy Affiliate Black Friday deal is back again this Thanksgiving season! It starts on Friday 29th November and runs until midnight on Monday 2nd December.
While the standard monthly membership offers great value at $49 per month, or $588 per year, annual membership is cheaper at $359. But the Wealthy Affiliate Black Friday deal massively discounts the annual membership fee to just $299 per year – locked in for as long as you renew your membership each year.
To put it another way, the Wealthy Affiliate Black Friday deal gets you all the benefits of premium membership for less than a dollar a day – just 82 cents per day, a lot less than cup of coffee from your favourite cafe!
Here is a guide to what you get as a Premium member of Wealthy Affiliate, compared to the FREE membership that is also available. (If you click the image, it will take you over to the Wealthy Affiliate Black Friday Deal – the $299 annual membership offer.)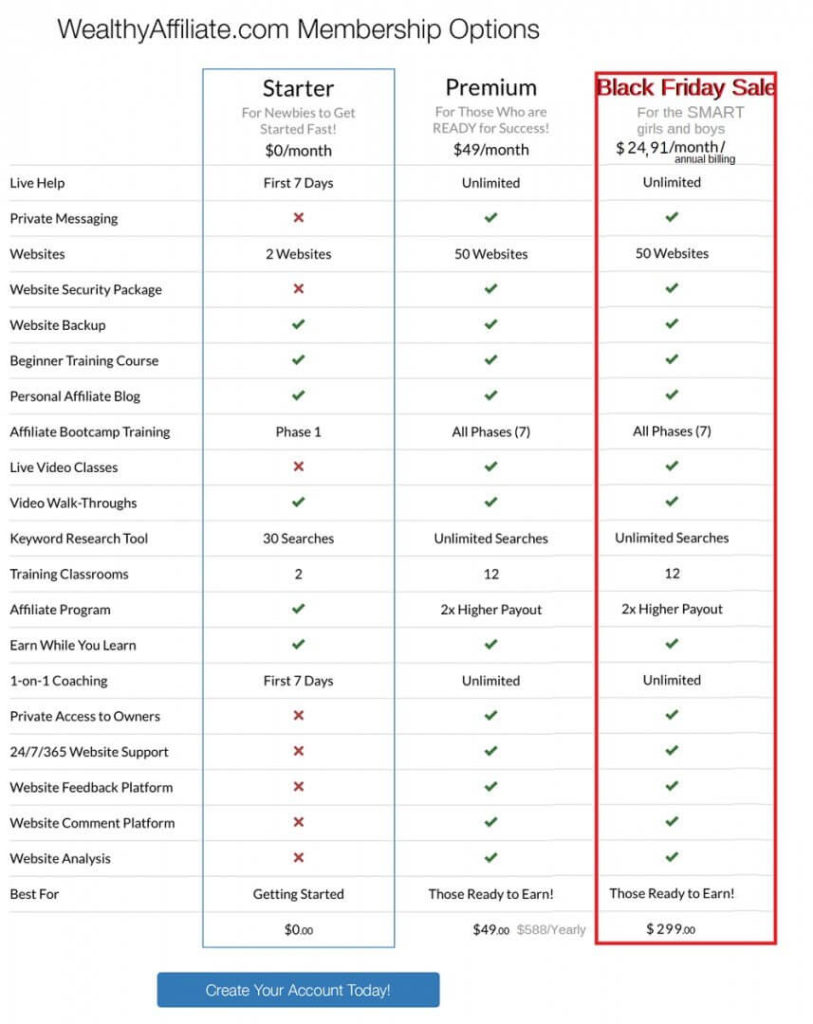 Why I Jumped On The Wealthy Affiliate Black Friday Deal
I joined Wealthy Affiliate in October 2015 and took advantage of the Black Friday deal the following month. Then I renewed my discounted annual membership in 2016 and have done so every year since then.
Once you buy the Black Friday annual membership, you LOCK IN the discounted price for as long as you keep your account active. So it represents a MASSIVE saving as the years go by.
For me it was a no-brainer due to the excellent value my membership gave me access to.
I love the training modules, weekly live-video training, web-hosting and website creation service.
Then there is the online community, the on site blog (which you can use to blog to the membership), and services such as blog-comments and site-feedback all combine to enhance the value of membership well beyond the price you pay.
I log in to the membership site almost every day to engage with the community and learn something new about Internet affiliate marketing.
Safe And Secure WordPress Web Hosting Included
Wealthy Affiliate is also where I host all my WordPress blogs – safely and securely. When you are creating business blogs, site security and download speed matter most of all.
I wrote a more detailed review of Wealthy Affiliates' Site Rubix WordPress Hosting Platform elsewhere on this blog. 
Realistic Training Goals Based On Actual Results
The training is the most comprehensive on the Internet. When you commit to a yearly membership, you are giving your online business the TIME it needs to CREATE relevant, good quality content, BUILD up your traffic and begin generating conversions and sales.
Wealthy Affiliate provides beginner-friendly training that is not based on hype but on real-world expertise. If you follow the training you can predict your potential results as you regularly create relevant, quality, keyword-targeted content on your website.
Kyle, one of the founders of Wealthy Affiliate, offers a scenario in this training module in which you create three blog posts per week during your yearly membership. Here's the kind of targeted traffic you can expect your blog to attract:
One Week Traffic Potential = 3 blog posts using relevant keywords (as taught in Wealthy Affiliate's training modules). Average daily traffic per post = 5 visitors. Total 15 per day = 450 visitors per month.

One Month Traffic Potential

= 3 blog posts per week x 4 = 12 posts. Average daily traffic per post = 5 visitors = 60 per day = 1,800 visitors per month
Six Months Traffic Potential = 3 blog posts week x 26 = 78 posts. Average traffic per post = 5 visitors = 390 per day = 11,700 visitors per month.
One Year Traffic Potential = 3 blog posts week x 52 = 156 posts. Average traffic per post = 5 visitors = 780 per day = 23,400 visitors per month!!
This is entirely realistic, not based on get-rich quick hype, but on the ACTUAL RESULTS of real members who put the training into practice.
Wealthy Affiliate not only trains you to build value-rich niche blogs on their stable, secure and lightning fast premium WordPress hosting platform, they also show you how to convert your growing traffic into sales and profits.
Regular Updates And Improvements Add Amazing Extra Value
Also, the training and the hosting sides are regularly updated with new resources and services all included in the membership price. We have seen some massive updates in 2019. Most noteworthy improvements include:
New Email Platform – New & Improved Email Platform for Your Websites (October)

Video Training 2.0 – Improved Video Training UX and Speed for WA training (August)

Kraken Image Optimization – Industry leading optimization for all website (July)

Affiliate Programs Platform – Search & Find the Most Lucrative Programs (May)

SiteComments 2.0 and Accreditation – The Ability to Earn Through Commenting at WA (March)

Super Affiliate Challenge 2.0 – A 12 Month Step by Step Training To Affiliate Success (January)
In addition, these are some of the updates programmed for 2020:
The Evolution of Keyword, Website & Niche Research

A State of the Art Lead Gen Platform

HUGE Advancements in Websites and Hosting Space

More Personalized Interaction & Help

A Huge Leap Forward in Our Training Platform

A Broader Range of Live Class Hosts

More Full-Time Revenue Opportunities Directly Within WA.

A Streamlined Process for Getting Instant Expert Help

SiteContent 2.0, with a Focus on Design and SEO

A Fresh New Run of Mobile Only Updates

Further Integration Between ALL Aspects of Your Business

Ambassadorship Opportunities and Advancements

Exciting New Writing & Affiliate Challenges

More Affiliate Revenue Opportunities

Brand New Affiliate Tools, Resources & Training

And More!
Black Friday Training Bonuses!
Yes, the Wealthy Affiliate Black Friday deal has yet more to offer! Here are some more bonuses if you lock in your premium membership over the weekend. They include over FOUR hours of live video classes with full Q & A to prepare you for a successful 2020.
Bonus #1: The Path to Affiliate Stardom in 2020 – Kyle Goes AMA (Ask Me Anything) (Live Video Class)

Bonus #2: Build an Incredible Internet Business in 2020, The White Paper. 

Bonus #3: Creating a Thriving Authority Website in 2020 (5 Weeks of Live Training).

Bonus #4: Early Beta Access to our new 2020 training and marketing platforms…
The live video training classes always deliver useful and often unexpected insights into how to improve your business. The live videos alone are worth much more than the annual membership fee.
Don't Miss Out, Try For Free!
The Wealthy Affiliate Black Friday deal runs from Friday 29th November to Monday 2nd December. You can also join as a free member to see if the platform is a good fit for you and then grab the discounted membership offer before midnight on 2nd December.
If you have any questions about Wealthy Affiliate, feel free to drop me a line any time. For me, joining Wealthy Affiliate and taking advantage of the Black Friday deal was one of the best moves I ever made.
That's why Wealthy Affiliate is the #1 recommendation of my Top 5 Programs!
and one of the 5 programs that feature in my EliteDownlineBuilder site.
All the best,
David Hurley
Top5Programs.com
#InspiredFocus