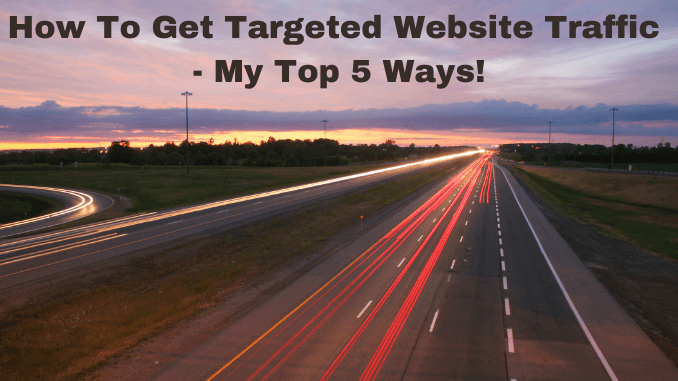 If you are wondering how to get targeted website traffic to your blog or landing pages, this article is for you!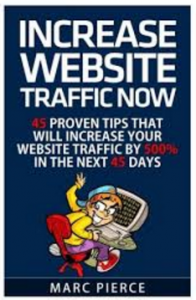 Targeted website traffic is the lifeblood of any internet business. Without it your business is dead in the water because nobody is visiting your website.
On the other hand, once targeted website traffic starts trickling in, you need to maintain or increase the flow. You want a good mix of new visitors and returning visitors.
Most importantly, you want to engage your visitors so that they stay on your site and heed the call to action.
A lot of online marketers struggle to retain a steady flow of traffic to websites or to engage visitors when they arrive.
So I thought I'd share with you my top five methods for generating a regular flow of targeted website traffic. For more detailed information on how to get targeted website traffic see Marc Pierce's book, Increase Website Traffic Now on Amazon.
How To Get Targeted Website Traffic
1. Search Engine Optimization (SEO)
Search engines such as Google.com are a great source of high quality traffic. They deliver visitors who are already interested in your niche market. You only need to optimize your blog posts and pages to rank for targeted keywords in search engine result pages (SERPs).
SEO can drive a massive amount of free traffic to your pages, if you do it right.
However, a common issue with SEO is that it takes time to start seeing real results. And SEO requires that you learn a set of special skills.
I believe Wealthy Affiliate is the best place to learn these skills step by step. They will train you with the help of a community of expert marketers. I have learnt a LOT from them since I joined them in 2015. I also use their excellent keyword research tool to find keyword phrases for my blog posts.
2. Pay Per Click Advertising
If you don't have the patience to wait for SEO to start working, but still want to harness the power of highly targeted traffic then PPC advertising is an option for you.
PPC steps beyond search engines and extends your reach to other sources of targeted traffic. Those sources can include social media sites, popular blogs, forums, traffic exchanges and ad networks.
Two popular PPC services are those offered by Bing.com and Yahoo.com
While PPC can deliver targeted website traffic very quickly, you also risk losing your shirt if you don't know what you're doing. You need to do some in depth keyword research to see any success. Again, Wealthy Affiliate provides a lot of guidance including video training and how-to articles on all aspects of PPC.
Here is a video tutorial about PPC advertising hosted by Wealthy Affiliate.
3. Build A List
Perhaps the most lucrative source of website traffic is an opt in list. By far the best list is your own, which you build from scratch.
Having your own list means you can immediately notify your subscribers of your new blog posts or offer pages.
The big advantage is that a list presents a great opportunity to cultivate trust; and thus generate sales. I recommend that you use a professional autoresponder service such as the SendSteed service offered by LeadsLeap to build and manage all your lists.
4. How To Get Targeted Website Traffic From Safelist Mailers
Of course, you can also 'rent a list' by joining a high quality safelist mailer. The great thing about good quality safelist mailers is you don't need much experience to get good results.
For best results, promote online business-related offers that target the safelist niche.
I've been using safelists for several years to build my list and drive traffic to my blog. I use an "indirect" approach to driving traffic to my blog via safelists. Typically, I make my own landing page with a safelist-targeted offer and my autoresponder opt in form on it. LeadsLeap is where I create and host my landing pages.
I always include my name, my photo and my primary blog address on the landing page. That helps me to brand myself and my blog. Some people will visit my blog simply out of curiosity if they see my landing page enough times.
When a safelist user opts in to my offer, they are redirected to a related page on my blog. In that way, safelists help me to build my own list and send some traffic to my blog.
5. Lead Generation Programs
If you're in the MMO (Make Money Online) niche, you need to be a member of at least one top quality lead generation program.
The beauty of lead generation programs is that they are full of people hungry for new business opportunities to join.
These present you with at least two opportunities. (1) You can get paid signups into your downlines. (2) You can to grow your own mailing list. That makes those programs a valuable source of niche targeted traffic.
In my experience LeadsLeap is the best program in that class. LeadsLeap delivers quality traffic through ads which are syndicated out to thousands of blogs and other sites (a bit like Google ads). The people who click on those ads are doing so because they genuinely want to know more about your offer, so the quality of traffic is higher than on a typical traffic exchange site.
Leadsleap members can also click through ads to earn credits and the right to receive daily and weekly profit share, which keeps traffic delivery flowing smoothly. Leadsleap members can choose which ads to view and how long to stay on each landing page, which means that those who stay for any length of time are much more likely to be engaging with your content than on a typical traffic exchange.
What makes LeadsLeap such an exceptional traffic source is that it is highly affordable and delivers good clickthrough rates. Also, with it's profit sharing and commission structure, it can be a lucrative source of affiliate income.
Content Is Still The King Of Targeted Website Traffic
Whatever you do, creating high quality content remains the determining factor for visitors to return to your pages regularly, or take you up on your offers. Fancy ads will attract visitors to your pages, but it is the quality and substance of your content which keeps them there long enough to take action.
So, if you really want to know how to get targeted website traffic which converts to sales, it begins with great content. All the traffic generation methods will fail if that step is poorly executed.
David Hurley
Top5Programs.com
#InspiredFocus