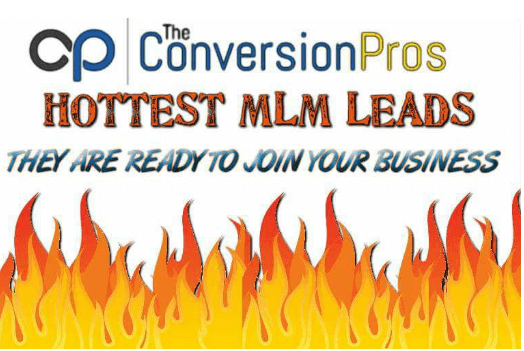 In today's post, The Conversion Pros Review, I will give you my opinion of TheConversionPros.com based on testing the program as an upgraded member in July 2017.
What Is The Conversion Pros?
The Conversion Pros is an Internet marketing system that enables you to create professional-looking marketing-funnel campaigns for whatever program or business you are promoting.
Here is a screenshot of the page you see after logging in to The Conversion Pros website.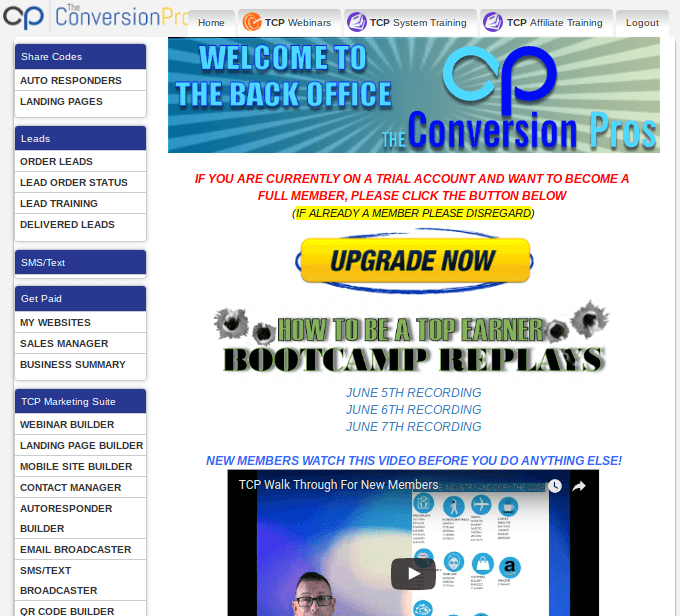 The Conversion Pros enables you to make highly professional and unique squeeze pages. You can include video on the page, or as a dynamic page background.
The pages are easy to make. There are step-by-step video instructions that are easy to follow. It doesn't matter if you have never made a marketing funnel before, The Conversion Pros has made it easy for anybody to do.
Here, for example, is a squeeze page I made the first day I joined the program: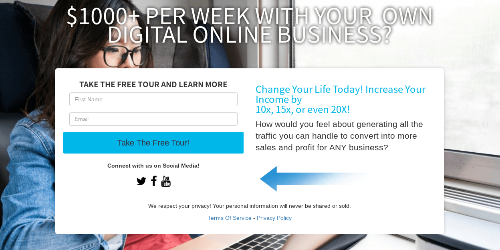 An Autoresponder Is Included In The Package
Another attraction of The Conversion Pros is that they include an autoresponder as part of the package. (Other marketing funnel systems usually require you to work with Aweber or GetResponse, so this is a big plus in favour of The Conversion Pros.)
That means everything you need to create a marketing funnel for your offer is included in one package. It is certainly very convenient.
The only thing is, there doesn't seem to be any way to embed an autoresponder opt-in form onto your blog. Everything is set up to create squeeze page marketing funnels and nothing else. (You can work around that by posting a graphic of your offer on your blog, and linking it to the squeeze page you create with TheConversionPros.)
I also found it difficult to tell if the autoresponder was actually working after I set it up as none of my test subscriptions showed up and I did not receive any email follow-ups. I noticed some other people were asking about this on the programs Facebook group page. That is probably due to my, and their, inexperience with how the autoresponder works.
The autoresponder seems to have been set up with WordPress as the email editor looked similar to the WordPress blogging editor. Whether it is or not, the editor allows you to embed graphics, change the font size, color and style, and so on.
A Large Portfolio Of Marketing Tools Is Also Included
As you can see from the graphic, below, The Conversion Pros offers marketers a lot of useful tools.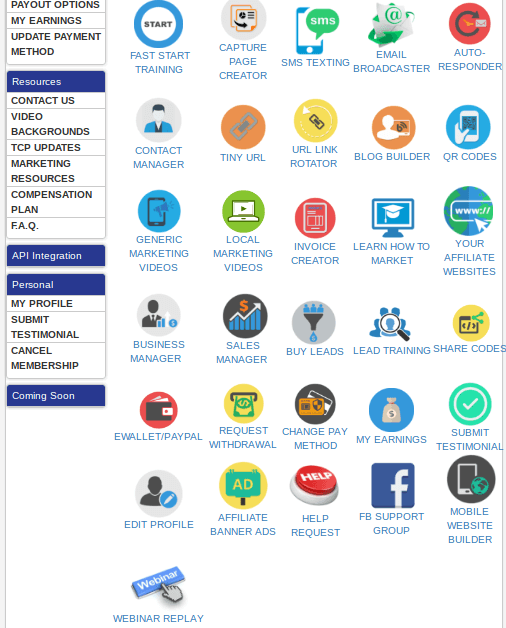 Apart from the capture page creator, and the autoresponder, I think the Tiny Url and URL Link Rotator are very useful.
The URL shortener allows you to track your hits (but not with as much detail as LeadsLeap allows).
The URL rotator enables you to do two things, both very useful for marketers with multiple offers and with active downlines:
to rotate your squeeze pages – so you can either show all your different offers, or run a split test on two or more pages.

to run ad co-ops and rotate the URLs of your co-op members.
The Conversion Pros Compensation Plan
The compensation plan seems to have changed from a two-level plan to a single 50% residual commission plan. My guess is that such a single-level plan is designed to stay within Paypal's terms of service.
As the monthly subscription costs $50, you earn $25 per month per referral. In other words, you need to refer two upgraded members to cover your costs. You'll be in profit with your third upgraded referral.
The Conversion Pros Review: Conclusion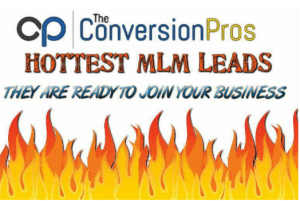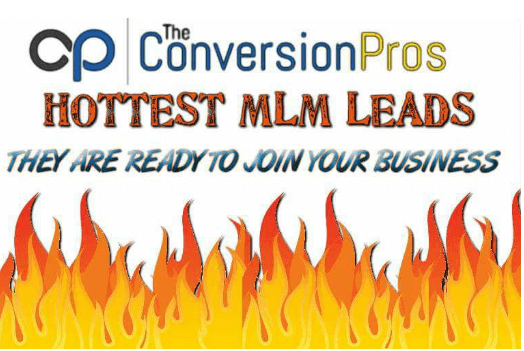 The Conversion Pros offer a nice all-in-one package for anybody wanting to create professional looking marketing funnels with everything in one place.
And yes, they have an attractive affiliate program, so you could make a good monthly income promoting the program.
Their affiliate toolbox is packed with well designed ads, such as the one on the left, which is designed for social media campaigns.
Altogether, The Conversion Pros has a lot to offer its members.
However, I decided not to switch over to the program. When I first wrote this article I was using a separate squeeze page creator and autoresponder service, but the combined cost was still less than the cost of subscribing to TheConversionPros. Today, I have an even better deal to offer, which is simply to use LeadsLeap instead of TheConversionPros.
LeadsLeap = A Lower Cost Alternative To The Conversion Pros

I prefer to work with LeadsLeap which now has it's own professional autoresponder service, the excellent SendSteed included in the upgrade package, as well as a squeeze page creator, advanced tracking software, and hosting for pdf files and images. (You can try ou the LeadsLeap suite and a basic version of the autoresponder for free.)
My subscription to LeadsLeap costs just $27 a month, instead of paying $50 per month for TheConversionPro, and I love the services that LeadsLeap offer so for me at least, choosing LeadsLeap over TheConversionPro is an absolute "no brainer!"
David Hurley
Top5Programs.com
#InspiredFocus