In today's video I'm going to give you a quick update about my progress in promoting and working with Jeff Aman's new program, The Click Engine , which is a "buyer-lead" delivery system.
It costs $4.90 a month and every lead that is sent to you is either a buyer lead or bonus traffic that Jeff is pointing to The Click Engine.
Okay, here's the video:
In this post I'll show you the kind of traffic and opt-ins I've been getting, and also my results promoting The Click Engine as an affiliate.
My Traffic Stats For The Click Engine So Far…
First of all, the traffic: does The Click Engine actually deliver traffic, and has any of that traffic actually opted in to my mailing list?
Here are my tracking results for the last 14 days promoting one of my squeeze pages: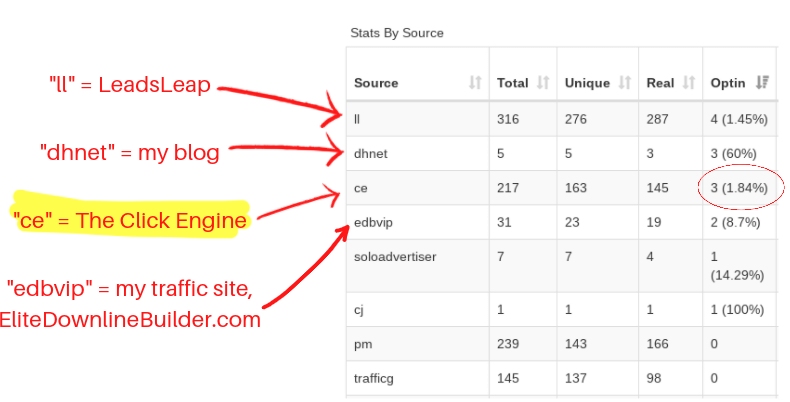 In the timelag between making the video and putting out this blog post today (Sunday) we have gone into a new week and so the stats are a bit different from what you saw in the video. (In the last 24 hours three new subscribers opted into my list from my blog, DavidHurley.net.)
Even so, the results for The Click Engine are promising when you consider that it was launched just over two weeks ago. They compare favourably with the results for LeadsLeap, which has been my all-time best source for subscribers to my traffic site since I launched it in 2018.
[Note (8th October 2023): Since this blog post was written, I have shut down the "traffic site" mentioned here, and replaced it with the Get More Sales marketing funnel. – DH]
What About My Affiliate Sales And Commissions?
The great thing about promoting The Click Engine is that it is a "Micro Continuity Offer". That is, it offers a highly sought-after product (buyer-traffic) for a rock bottom price that is a monthly subscription:
Micro = very low cost ($4.90)
Continuity = recurring commissions for the duration of the subscription.
Offer = a highly valued product (buyer-traffic).
That makes it a very easy proposition to sell to biz-to-biz and biz-op marketers, as you can see from this screenshot of some of my sales (I couldn't fit them all into a single screen).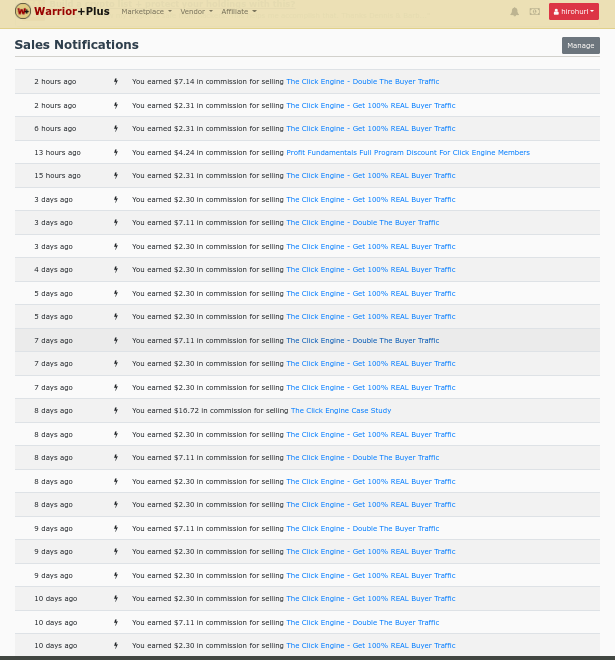 In the last 24 hours since I recorded the video I received a commission for one of Jeff Aman's other Warrior Plus products (my first "non Click Engine sale on Warrior Plus). I didn't promote it. Instead, a customer I had referred found it and bought it. Very nice. 🙂
The only Warrior Plus product I am currently promoting is Jeff Aman's The Click Engine, which now comes with two OTO offers – you make $7.11 on the first one, and $16.72 on the second one.
The first OTO gets you a second URL slot in The Click Engine for a one-time payment.
The second OTO gets you access to Jeff Aman's blueprint for building your own version of The Click Engine.
Claim $25 Bonus Payments Directly From Jeff Aman!
The commissions are very nice, and they come with a cherry on top!
In addition to the commissions, Jeff Aman will send you a $25 bonus for every ten sales of The Click Engine that you generate through your referrals.
To get your bonus, simply drop an email to Jeff letting him know you have made ten sales (not including the OTOs).
So far this month I have referred over twenty customers to The Click Engine and, true to his word, Jeff has sent two $25 bonus payments to my Paypal account. Thank you Jeff!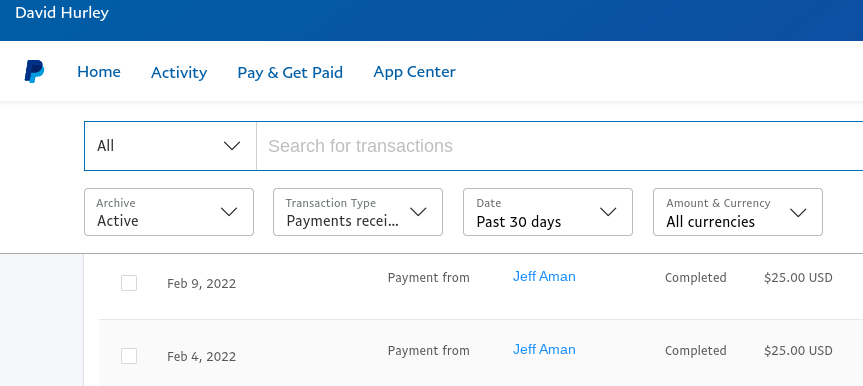 Conclusion
So, as you can see, I am getting good results with The Click Engine both as an affiliate and as a marketer. As more and more people buy into it, The Click Engine will provide marketers with more and more "buyer traffic" to their landing pages. As you refer more and more marketers into The Click Engine, your residual and one-time commission earnings could grow month by month, though this is not financial advice and your results will be different from mine.
But if you'd like to join me on this venture with The Click Engine I'd be happy to help you get started.
Feel free to post any comments or questions in the comment below and I will get back to you.
All the best,
David Hurley
#InspiredFocus