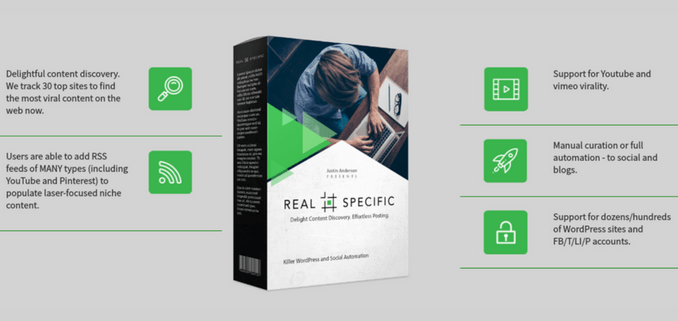 If you are looking for an alternative to Hootsuite for your social media campaigns, this Real Specific review is for you.
Real Specific is an online resource I use to manage my social media campaigns and to find niche-specific content for my blogs.
Real Specific finds and posts relevant content in draft format to my WordPress dashboard for me to curate and publish on my blog. I can then use Real Specific to promote my blog post on various social media platforms such as Facebook, Twitter and LinkedIn.
I've been using RealSpecific.com since May 2018 and am very pleased with how it works. Until late last year I was using Hootsuite. I'm glad I made the switch as Real Specific gives you more options.
Here's a video of my Real Specific review. I take you inside my Real Specific dashboard and show you how the program works:
Now I'll go over some of the features and benefits of Real Specific.
Automate Your Content Research With Site Discovery
Site Discovery is where Real Specific pulls in content for you to share on your blog or social media sites.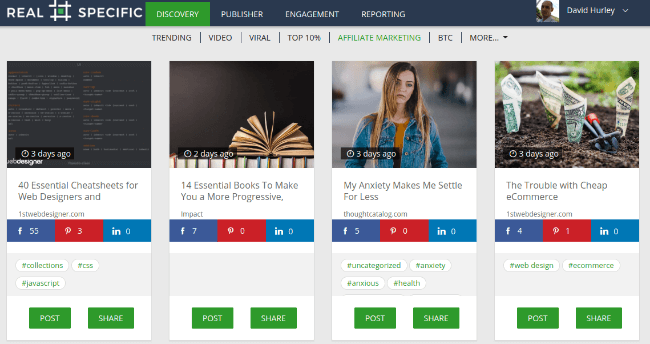 You can use keywords to have Real Specific pull in content that is relevant to your niche. Articles can be filtered by age, "virality," and source.
Another thing you can do is add RSS feeds of blogs whose content you want to curate and share on your own sites or in your social media campaigns.
The Site Discovery side of Real Specific is a massive time-saver. I no longer have to go out and find content on the web to blog about or curate. Instead, I set up Site Discovery to pull in keyword-relevant posts. Now, all I have to do is log in to Site Specific and see what's waiting for me on my Real Specific dashboard.
Run Your Social Media And Blog Campaigns Through Real Specific Publishing 
Posting from the Real Specific Publishing dashboard is super easy…

Simply select the type of post you want to make – either to a blog or one or more of your social media sites. Now type in your message and either post immediately or schedule it for a later time or date.
Monitor Your Audience Engagement & Respond To Comments
The Engagement panel enables you to check any feedback you get from your posts to Facebook and Twitter. You can respond to them directly from your Real Specific dashboard.
Traffic Reports
View your web traffic stats and social engagement data so you can see how much impact your publicity campaigns are having.
Site Specific Offers Excellent Support
There are plenty of training videos inside your Real Specific back office as well as FAQs and a responsive help desk.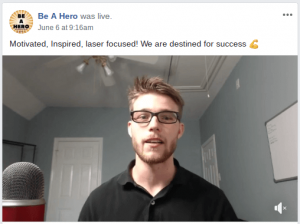 I contacted the help desk to change my affiliate status and they resolved my issue quickly and efficiently. 
Site Specific also has several lively Facebook community pages with regular video updates and training sessions from the program owners, Justin Anderson, Shane Brooks and Simon Warner.
Integrated with the Top Content Spinners
I prefer to edit and modify curated content manually so I do not use the content spinning resources.
However, Real Specific makes it possible for you to put your content curation and editing on 100% autopilot by setting up one of the content spinners that is integrated into the service. So if you're keen on the idea of blogging on 100% autopilot, Real Specific can do that for you.
Powerful, Yet Newbie Friendly
Real Specific is both newbie friendly and super-powerful. I have some experience with social media management tools (such as Hootsuite) and with content curation. But until I decided to try Real Specific I'd never had a service that offers both.
Real Specific combines those two processes so that you do not have to go out and search for content on the Internet.
Here's an example of a curated blog post that was delivered to my inbox by RealSpecific. And here's the original post – a YouTube video that Real Specific pulled in for me.
You will see that I have edited the post and added my own content. I have also credited and linked back to the original post, which is the ethical way to work with curated content.
We are not stealing or plagiarizing somebody else's content and pretending that it is our own. We are curating it and acknowledging the source. That is a very important distinction to keep in mind.
It took me just a few minutes to edit and modify the content before I published it. Curating content delivered by RealSpecific is a massive time-saver as I no longer have to go out and search for topics to blog about.
Real Specific is very easy to work with and is enabling me to pump out much more content than I would otherwise do during a busy working week.
Click Here to check out Real Specific.
David Hurley
Top5Programs.com
#InspiredFocus
P. S. Drop me a line if you have any questions about this Real Specific review or how you can use Real Specific to grow your social following and drive targeted traffic to your site.