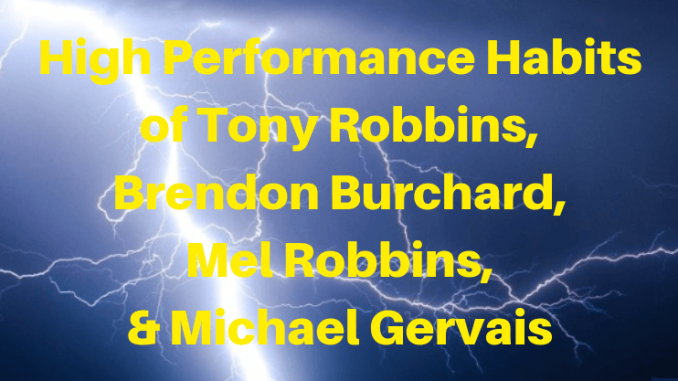 One of the best places to learn about high performance habits free of charge is Lewis Howes' YouTube channel, School of Greatness.
I started listening to his interviews of successful people way back when he interviewed Robert Greene. Robert Green is perhaps the premier writer on high performance habits. He's also the author of The 48 Laws of Power and a string of other books on how to succeed in life.
Lewis published the recording on Soundcloud in August 2013 and it's still there if you want to check it out:

Since then, Lewis has recorded well over six hundred episodes of The School of Greatness. He's shared a massive amount of knowledge and wisdom from some of the brightest minds on the planet.
I listen to Lewis's show every week, but it can be difficult to remember all the tips and advice his guests deliver. So I'm pleased Lewis is bringing us a mashup of some of the best high performance habits he's picked up on the show over the last few years.
Lewis Howes' School Of Greatness High Performance Habits Mashup Video
Check out this mashup video, High Performance Habits of Tony Robbins, Brendon Burchard, Mel Robbins, & Michael Gervais:
Lewis writes,
For this episode I wanted to concentrate of high performance habits that I've learned from such amazing people as Brendon Burchard, Michael Gervais, Tony Robbins, and Mel Robbins.

Each of these guests has reached the top of their game, and the biggest factor in that has been their habits.

They set their mind to achieve something big and found a way to persevere even at some of the worst times. So what makes them different than you?

Nothing.

They aren't super human and they aren't luckier than you. If you take their words of wisdom, you'll find how to overcome what's holding you back. I hope you enjoy these nuggets of information I hand selected so you don't have to dig for them.
Thank you Lewis! Apart from Tony Robbins, I hadn't heard of any of these great people before I stumbled across The School of Greatness.
Where To Find Out More About Lewis Howes
If you haven't watched any of Lewis's videos I recommend that you follow him on his YouTube channel and check out his site at http://lewishowes.com/ .
You can also follow Lewis on various social media sites:
Instagram: https://www.instagram.com/lewishowes/
Facebook: https://www.facebook.com/lewishowes/
Twitter: https://twitter.com/LewisHowes
SnapChat: https://snapchat.com/add/LewisHowes
—–
Lewis Howes' Latest Book: The Mask of Masculinity
P. S. What are the high performance habits you need to grow an online business from scratch to $1000 A Month and more?
Check out my latest book: How To Earn $1000 A Month 

Online – With No Product, No Mailing List And No Paid Traffic 
(written in collaboration with Alex Nordach).