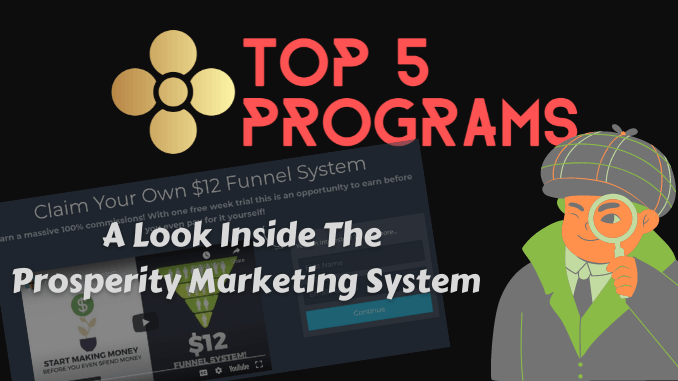 Prosperity Marketing System has been one of my Top 5 Programs since the beginning of 2020 and I have been in profit with the program continuously since then. It is one of the main ways I build my online business, so this Prosperity Marketing System review is not neutral or unbiased, and the links to PMS are my affiliate links.
If you prefer watching or listening to videos, I made a new video review of the Prosperity Marketing System on 30th March 2022. Here's my latest Prosperity Marketing System review in video format:
The First Program I Ever Made A Profit With
I joined the Prosperity Marketing System shortly after it was launched by Darren Ollander way back in 2009.
In those days I used to struggle to generate any affiliate commissions at all as I was still learning the ropes. The Prosperity Marketing System was like a breath of fresh air for me.
For a start, it's a professionally designed marketing funnel that gives you a lot of control over what you can promote. Darren Ollander provides professional-looking landing pages and an easy-to-use editor so you can easily create your own splash pages and squeeze pages.
The Prosperity Marketing System also has some good basic training lessons to help beginners learn how to promote an online business.
When I started to promote the Prosperity Marketing System back in 2009, I actually had people opting in to my mailing list, signing up to the program and upgrading! I even had people join the programs I was promoting on the inside of the system. Wow! That was a new experience for me in those early days, and a real confidence booster. So in my opinion the Prosperity Marketing System is great for beginners as well as more experienced marketers.
My Testimonial On The Home Page
I was so happy with the system that I wrote the testimonial that Darren has kept on the homepage ever since:
Prosperity Marketing System (PMS) is the most effective and most flexible downline building tool I have ever used. I can plug in MY programs and REMOVE any program I don't want to promote. Also, I get a regular flow of cash from the FRONT END, so I make money with PMS whether people join my programs or not. The training courses are very clear and comprehensive so it is an excellent service whichever way you look at it – and PMS was the first "Plug In" program that worked for me.
Student Membership
It only costs $12 a month to upgrade from "tour taker" to "student" and gain access to most of the services that the system offers.
For example, Student members can:
Earn 100% residual and one-time commissions.
Access the training lessons.
Use any autoresponder and build a mailing list.
Integrate any tracking service.
Customize the system by adding or removing up to 15 programs.
Plug their affiliate link into the same primary company as their sponsor.
Become an "Owner" for just $97
Members who buy the one-time $97 Owner Add On get to own the whole system. As an Owner, you can:
Edit any training pages and add your own content.
Create your own pages, which will be seen by your whole downline through unlimited levels.
Change your Primary Business to any company or program you like as often as you want.
Replace the system Autoresponder and Ad Tracker with your preferred tools.
By becoming an "Owner" you cut out all the hassle of building your own system from scratch. You instantly have at your disposal a versatile system that has proven itself very effective in converting visitors into subscribers, buyers and referrals. It's a great way to get on the fast track to building multiple streams of online income.
The Compensation Plan
The compensation plan is a pass-up system. You pass up your second and fourth referrals to your sponsor. After that you get to keep all of your referrals and earn 100% commissions on their Student and Owner upgrades.
Yup, you earn 100% (minus a nominal transaction fee) of the $12 recurring payments on Student upgrades, AND you earn 100% of the $97 "Owner Add On" sales too.
In addition, you will receive 2nd and 4th referrals from your downline.
You Can Choose To Get Paid In Bitcoin
I also like the new option to receive commissions via Bitcoin. I plugged in my Bitcoin wallet address and have already received several payments from my upgraded Student level referrals.
Contact Everybody In Your Downline
Another cool feature of the Prosperity Marketing System is the downline mailer. Once every three days you can send an email to everybody in your downline through infinite levels.
As you can see in the screenshot in the previous section, one of my upgraded "Student" referrals has already referred six people into his downline. Any time I email my downline, those six people will also receive my email. That's potentially very powerful. You can leverage your downline's activity to greatly expand your marketing reach.
What's on the Inside?
Check out my Prosperity Marketing System Review video to see in detail what the members' area is like and what you can do with it. The system is very flexible and can be edited and modified to suit your business needs.
If you have any thoughts or questions about the Prosperity Marketing System, feel free to post a comment below.
Best wishes,
David Hurley
#InspiredFocus