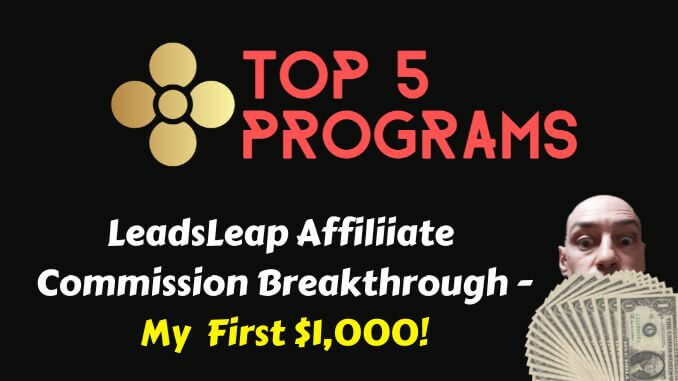 I just made a quick and dirty 3 minute "bragging video" about my progress as a Leadsleap affiliate…
I've been with Leadsleap since 2008.
For several years I just piddled around with it and nothing much happened, but I noticed that the program was regularly being improved by Kenneth Koh the program owner so I'd check in on it every now and then.
I forget when I upgraded, probably around 2017 when I launched my Top5Programs blog because Leadsleap has been one of my "Top 5 programs" ever since I launched this blog.
However, I was not actively promoting the program, and it also took a while for Top5Programs.com to gain much traction.
However, I stuck with Leadsleap based on the quality of the advertising. It's a service that I think is well worth the monthly subscription ($27) even when I wasn't earning any commissions from the affiliate program.
The "Subsidised" Period
Then, for quite some time I had one upgraded referral here and there so my subscription was usually "subsidised" which was nice.
This year, however, there has been a big change!
In Profit Month By Month 🙂
I started to create Leadsleap training videos and to promote them via an opt in form on a landing page I created on Leadsleap, as well as on my blog and in messages to my Leadsleap downline.
The results have been heartening as the number of upgraded referrals has been steadily growing, and the retention rate is very good. After all, if you are happy with the advertising and the autoresponder service, why would you quit?
$1k Breakthrough (The 2nd $1k Will Be Much Quicker!)
A few days ago I noticed that my commission total had busted through the $1,000 mark. Time to make a bragging video! (Well, a video to encourage YOU to persevere with Leadsleap or whatever program you are working with.)
Cheers!
David Hurley
#InspiredFocus
P. S. Check out my free Leadsleap training videos here or get them in your inbox here: https://llpgpro.com/2xm7tzm0/ctp
Find out more about Leadsleap for free:
https://leadsleap.com/?r=hirohurl (affiliate link)