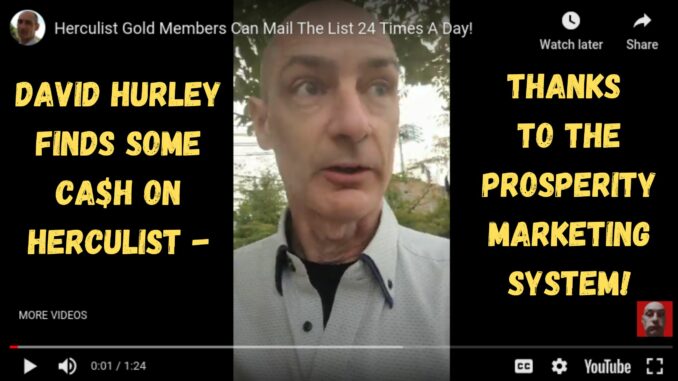 The ProsperityMarketingSystem (PMS) has been one of my "Top 5 Programs" for several years now – and for several very good reasons.
It pays out 100% recurring commissions every month. (You only need ONE "Student" level referral to break even, and two to get into profit.)
You can plug up to 16 of your favourite business and traffic promotion tools into the back-end to create multiple streams of passive online income.
It is the second point that I will talk about in this blog post – the passive earning potential that PMS provides.
Herculist Adds Even More Value
One of the "List Builders" that I have plugged into PMS is Herculist.
Recently, a new feature was added to Herculist which adds a lot of extra value to what was an already value-packed online advertising site. Herculist Gold members can now send out an email once every hour to the whole membership. That's a great boost in value, so I logged into Herculist yesterday to check it out.
Where Did That Commission Come From?!?
While I was logged in to Herculist I noticed that I had received another $37 commission. I was surprised because I hardly ever say anything about Herculist. I use Herculist to promote the Get More Sales marketing funnel and other lead capture pages, but I don't actively promote Herculist itself.
However, Herculist is one of the traffic programs that is plugged into my ProsperityMarketingSystem "back office"List Builder" page. I posted it there because I get good results from my Herculist promotions.
So what happened is that one of my ProsperityMarketingSystem referrals upgraded to "Student" and went through all the traffic programs that I have placed inside the ProsperityMarketingSystem. My referral saw Herculist and clicked my affiliate link on the "List Builder" page, and joined Herculist. Then my PMS referral realized the value of becoming a Herculist Gold Member – it's a one-time-payment only – and bought the package.
So, when I logged into Herculist yesterday, for the first time in about a month, I found that I had earned myself a nice passive commission thanks to Herculist being plugged into my Prosperity Marketing System "List Builders" page.
If you like the idea of earning passive commissions on the back-end (and 100% commissions on the front end), join the ProsperityMarketingSystem and upgrade to Student (just $12 a month). If you do that through my affiliate link, I will send you the share codes for my Get More Sales marketing funnel, which will help you to generate recurring commissions in the Prosperity Marketing System and Leadsleap as it is built on those two platforms.
Action Steps
Cheers!
David Hurley
#InspiredFocus