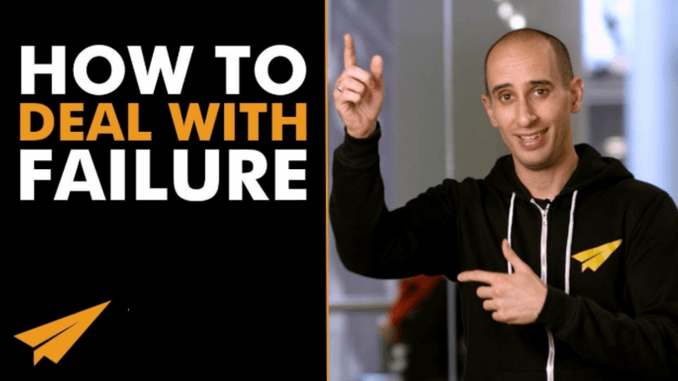 Here's a dose of #entspresso from one of my online mentors, Evan Carmichael!
Evan publishes daily doses of entspresso inspiration every morning on his YouTube channel.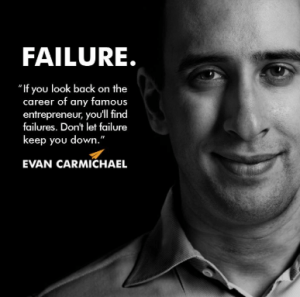 Evan's put together a video inspired by Will Smith's message,
"Fail early, fail often and fail forward…"
Will Smith is an American actor, producer, rapper, and songwriter. According to Forbes he ranks as one of the top ten highest paid actors worldwide. As of 2016, his films have grossed $7.5 billion at the global box office.
Check out Evan's #entspresso video on the benefits of "failure" here:
Video Takeaways
On the theme of "failure" Will Smith says,
Fail early, fail often, fail forward. You know it's always a little bit frustrating to me when people have a negative relationship with failure. Failure is a massive part of being able to be successful. You have to get comfortable with failure. You have to actually seek failure. Failure is where all of the lessons are…

Successful people fail a LOT. They fail a whole lot more than they succeed, but they extract the lessons from the failure and they use that, the energy and the wisdom to come around to the next stage of success. You've gotta take a shot. You have to live at the edge of your capabilities. You gotta live where you're almost certain you're gonna fail. That's the reason for practice. Practice is controlled failure. You're getting to your limit, getting to your limit, getting to your limit… and then [you] make an adjustment and you can do it.

Will Smith
Evan then comments:
I think most people have an unhealthy relationship with failure. I think people see failure as this really bad thing and I think most people are really afraid of failing in front of other people. That's the ultimate judgement. You don't want to be seen as somebody who IS a failure. But failure is only really failure if it's final. Failure only really failure if you don't learn anything from it.

All failure is, is a way to know that this thing that you tried didn't work. That's great learning. If you're never failing you're playing life so safe that you've never taken a risk.

Evan Carmichael
The video also features some bonus insights into the value of "failure" by Tim Grover, Peter McKinnon, and Jay Shetty.
Sources
Channel: DRIVEN: Urban Noize Motivations https://youtu.be/rBUSsP9rDsw
Channel: Vishal Vishwakarma https://youtu.be/f8XSEXrVSrc
Channel: Stefan Kunz https://youtu.be/Jb6KXI12WFk
Channel: Jay Shetty https://youtu.be/s0dJtKtCtKs
Any Thoughts? Post A Comment
What has your attitude to the risk of failure been until now?
I'd welcome your comments below, and will post a reply. 
Or, pop over to Evan's YouTube video and post your comment there.
Buy Our Books, Change Your Life
Some used the ideas in these books to build successful businesses. I'll give you the simple-yet-powerful formula that they used (and you can) to realize your dreams. Get yours.
Evan Carmichael: Your One Word
Evan Carmichael: Top 10 Rules For Success
David Hurley & Alex Nordach: How To Earn A Thousand A Month
Subscribe To Our YouTube Channels
If you want to build a profitable online business, you need to get the right training!
Evan Carmichael: Modelling The Masters on YouTube
David Hurley: Top 5 Programs on YouTube
David Hurley
Top5Programs.com
#InspiredFocus
P. S. Learn how to build a successful online business with Wealthy Affiliate. Click the banner and sign up for your FREE training course PLUS two FREE WordPress blogs to get you started: