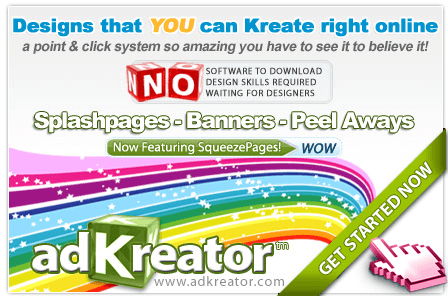 NOTE: This is an old article! Adkreator shut down in 2020. I now use LeadsLeap to create and host my squeeze pages and Canva to create banner ads and other images.
AdKreator is an online ad creator service that makes it easy for you to make your own unique ad pages and banners.
When you log in to AdKreator you can choose to move around the site by clicking the icons on the Quick Start Panel (left), or a set of menu buttons. Either way, it is easy to find your way around the site.
To make a new ad, click on "Browse Templates," choose a template and set to work!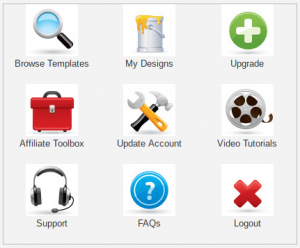 There are online ad creator templates for:
Banner Ads

Peel Away Ads

Buttons

Login Bonus Graphics

Splash Pages

Squeeze Pages

Website Headers

Clickbank Offers

Listbuilding Packages
Each section has a lot of templates to choose from, including blank templates. Blank templates are great for people like me who want to an online ad creator that let's us design from scratch.
You can upload your own images or use the ones on the site. Photos are easy to upload and you can use your mouse to adjust the size of photos and images as you work.
Everything is done by pointing, clicking and dragging items into place.
You Can Add Opt-In Forms And Videos To Your AdKreator Ads Too!
If you want to add an opt-in form, or a video, choose a squeeze page creator template, then click the appropriate button in the icon menu and paste your autoresponder or video code into the box. Then drag the box to the place where you want it to be on your squeeze page.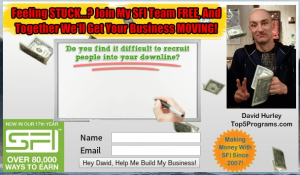 It is very easy to do. Click the screenshot on the left to see one of my squeeze pages. The squeeze page was created on AdKreator's squeeze page creator. It took just a few minutes to make. This squeeze page promotes SFI.
SFI is one of my Top 5 Programs and I use the squeeze page to build a mailing list of people interested in finding out more about how SFI works.
If you need any help with the squeeze page creator simply drop me a line any time and I'll be happy to help you. But really, it is very easy to use all the online ad creator tools on Adkreator!
Host And Share Your Ads On AdKreator!
When you have finished, click the button and your page will be stored in My Designs.
AdKreator hosts your ads for you and gives you a unique link for each ad you make. You can also download your banner ads if you want to.
You can share your ads with anybody in your team who has an upgraded AdKreator account. That means you can make ads for your team or your clients if they also have an AdKreator account.
Sounds Great, But How Much Does AdKreator Cost?
AdKreator is free to join but the free membership level is limited to just one ad.

A basic upgrade to Platinum costs $9.97 per month. A Business upgrade costs $19.95 per month and the Corporate upgrade costs $29.95 per month.
Look out for the discounted annual membership offer that is sometimes available when you log in…
You Can Make Money With AdKreator Too!
AdKreator has an affiliate programme and pays out up to 35% residual commissions.
Commissions are paid via Paypal.
Conclusion: A Useful Online Ad Creator Service
AdKreator is a very useful tool. I use it for my own ads and as an ad creator service for my clients. AdKreator is so easy to use that I am happy to recommend it, even if you do not have any graphic-design or programming skills.
If you want to create your own ads and stand out from the crowd, AdKreator is well worth the investment.
==> Take AdKreator For A Free Test Drive Today!
David Hurley
Top5Programs.com
#InspiredFocus