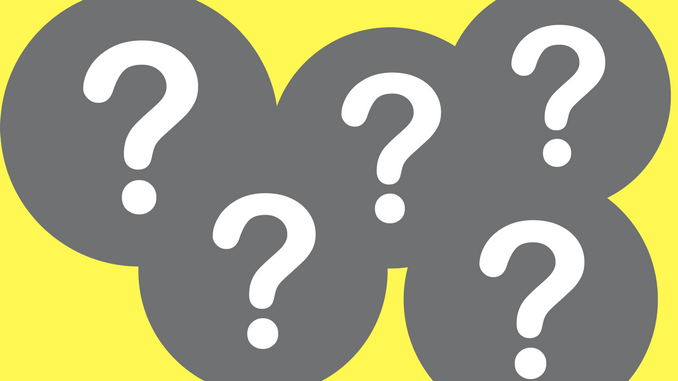 Are you one of those people who makes New Year's resolutions in January and has forgotten them by February?
Though some people are determined enough to carry through their resolutions, most are not.
As an Internet marketer, you should find alternative ways to plan for your success. One of them is to answer some hard questions around your business. This post highlights five such Internet marketing questions.
5 Internet Marketing Questions For Entrepreneurs In 2018
Internet Marketing Question #1. How did I do in 2017?
No matter how progressive or forward looking you might be, there are times when the past shapes the future. You don't have to live in the past, nor soak up in the blood, sweat and tears of past failures. But you must learn from past experiences in order not to repeat them later.
If you didn't make any money, you want to understand why. The first step in solving a problem is admitting its existence. If you decide to bury your head in the sand, the same problems will continue to dog you until you face them head on.
Taking a retrospective look at your 2017 performance creates a clear picture of what you need to focus on in 2018.
Internet Marketing Question #

2. What's Trending In My Niche?
If you don't keep track of market trends, the markets may just decide to turn you into an old dinosaur. And honestly, with the dynamic nature of web marketing, it doesn't take much to make you irrelevant overnight.
Understanding trends is a huge asset to any business. It keeps a marketer in touch with reality and relevance. Recent history has shown an up-surge in social media usage; and this trend still persists. That's just one example of how understanding trends can affect various aspects of an online business.
However, understanding trends doesn't necessarily mean you should jump onto everything that comes along. A lot of times, the industry experiences bubbles which cannot sustain themselves. If you make it your habit to blindly jump on the bandwagon, you may continue to get burnt.
Internet Marketing Question #3. Are My Products Relevant?
The fact that you made a profit selling a certain product is no guarantee that you'll remain on the same success path. New products come up all the time.
Consider how iTunes revolutionized the way music can be sold; from bulky CDs to downloading an MP3 file. Technology keeps improving; and so does the quality of products. Consumer preferences shift to better, newer models offering more functionality for lower prices.
These are some of the factors which may render a product obsolete. And you must be aware of these issues if your business is to remain relevant in the marketplace.
Internet Marketing Question #4. What Can I Do To Improve Traffic and Conversions?
Traffic stats help you understand who your customers are (gender, age, etc) and where they are coming from. With a good tracker, you will also be able to tie up each visitor to a specific ad or campaign. Furthermore, you can easily pinpoint each sale to a particular traffic generation effort.
When you know which campaigns were hits for you, you can easily decide where to spend most of your ad budget. If you didn't do so well, you can learn what not to carry on doing from your own mistakes.
Internet Marketing Question #5. What Help Do I Need?
Finally, after thinking about those five Internet marketing questions, look at what you can and cannot do. By now, you should have a list of what to improve in your business.
If you failed to do those things in 2017, chances are you need some kind of help.
Assess your skills versus the skills and networking connections you need to achieve your goals faster and smarter. You should start thinking about collaborating with other marketers, through outsourcing and joint-ventures, for mutual benefit.
David Hurley
Top5Programs.com
#InspiredFocus