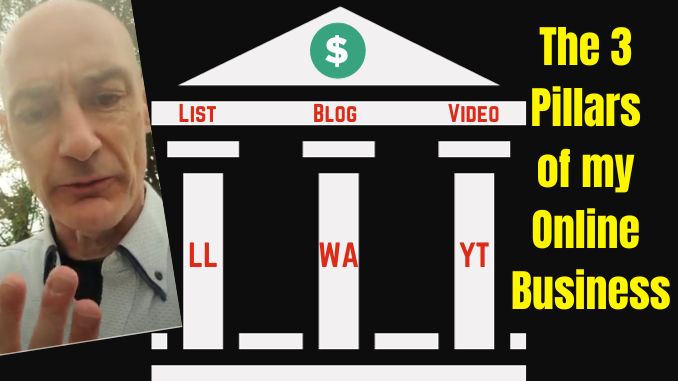 Although the topic of this video about online business is "the 3 pillars" of my online business, I begin by running through my "Top 5 Programs" blog and how those five programs support two of the three pillars:
My Top 5 Programs for 2023
That leads into talking about the three pillars of my online business, which are:
Pillar 1: My marketing funnel, built on Leadsleap and PMS
Pillar 2: My WordPress blogs, hosted on the Wealthy Affiliate SiteRubix hosting service.
Pillar 3: Youtube videos.
My Morning Online Biz Meditation: The 3 Pillars
Video Transcript
Morning everybody, David Hurley of Top5Programs.com here, and in this morning's "Meditation on Internet Marketing Business" I am going to talk about the "three pillars" on which my online business is based.
Now, my blog is called Top5Programs.com and those five programs are the tools I use to build and promote my business.
You've got Click Engine at the very top of the funnel, a low cost traffic offer; the funnel itself is built on Leadsleap and Prosperity Marketing System; and then you have Traffic Zipper, which automates the promotion of my funnel through list-builders and safelists; and
then one that I haven't spoken about very much – but is essential – is Wealthy Affiliate.
Now, wealthy affiliate is one of the three pillars on which I build my online business.
The first pillar is my marketing funnel and autoresponder
email follow-up, the second pillar is YouTube, and the third pillar is Wealthy Affiliate.
Now, Wealthy Affiliate is a blogging platform it also teaches you how to successfully become a business blogger. There's excellent training and also the hosting service is top notch.
You do want to get yourself a high quality hosting service. I made a mistake several years ago of going for an "el cheapo" version – you know, one-time payment, lifetime blogging. It was a disaster! My blogs were hacked, there was no support.
So if blogging is going to be the basis of your online business, go for quality and get the training you need. And that comes through Wealthy Affiliate.
So that's my message for today: I build my business on these three pillars, that is to say my marketing funnel through Leadsleap and the
prosperity Marketing System, and what I'm doing here, YouTube, building a YouTube channel, and blogging on the Wealthy Affiliate platform.
Okay folks, have a good day, and I'll talk to you again tomorrow.
Cheers!
David Hurley
#InspiredFocus
P. S. Check out my Get More Sales marketing funnel here: https://lllpg.com/drs9vyjs
P. P. S. Pop over to my YouTube channel here: https://yt.davidhurley.net