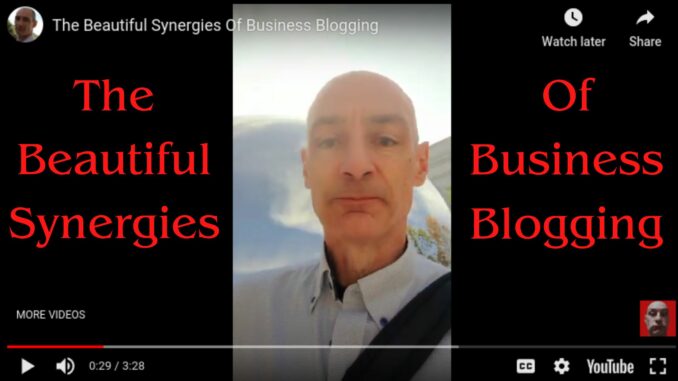 On a beautiful morning in Hiroshima last week, I talked about the benefits of business blogging, how I earn from my blog, and how my blog, my autoresponder follow-up, and my YouTube channel all work together to support the growth of each platform.
In short, if you put in the effort, business blogging can create some beautiful synergies!
Business Blogging Synergies Video
Video Transcript
Hi folks, David Hurley of Top5Programs.com again here today. Lovely day today in mid-October. I'm walking along the river on my way into college, and what I want to talk about today is the value of blogging; because if you've got a blog, it becomes the platform for your business.
And you can start free on Wealthy Affiliate. Start with a free blog built on The Wealthy Affiliate [actually, SiteRubix.com] domain so you'll have a free .siterubix.com subdomain blog and that will get you started.
And then, as you get used to it, you get a feel for blogging, you take the free training, the training that you get for the first few days as a free member. Then when you're ready, you can upgrade, get your own domain name, and upgrade your account in Wealthy Affiliate. Then you'll be good to go.
What are the benefits of blogging?
Ad Revenue
Well, there's a lot of them. And once you've got a Blog, you can earn money by posting ads on your blog. So I make enough money on my blogs to cover my Wealthy Affiliate expenses for the year just through Google ads. I earn several dollars a day now in Google ads. That covers my expenses.
So once that's cleared away any affiliate commissions I get from Wealthy Affiliate is pure profit. So you have a nice advertising platform.
Endless Traffic
Another point is that the traffic you get from well-written blog posts that are on-topic, the traffic just goes on. You get traffic months and even years after you've posted your blog post. And you can always update your blog post and keep it relevant as things change, so that's another big benefit.
Repurpose Video Content
Now, another benefit is how blogs and your email autoresponder can interact, and also, these YouTube videos.
You know you make a video, you post it on YouTube, you send the broadcast to your list. Then you take the video and you turn it into a blog post. You've got your video and the blog post. That's relatively easy to do. You can either talk about your video in your own words or you can take the video transcript and make that the basis for your blog post. So there's a lot you can do with blogging.
Broadcast Your Blog Posts To Your List
Then when you've done that, you can send out another broadcast to your list telling them, "Hey, that video I sent you yesterday, I've turned it into a blog post." And in this way, your blog, your list, your YouTube channel, they all work together.
Build Your List With An Opt-In Form On Your Blog
There's one more thing you can do, which is also build your list on your blog. You post an opt-in form, promote your list on your blog. So people will come to your blog, they'll join your list. Once they're on your list, you can direct them back to your blog. And through both of those, you can direct them to your YouTube channel.
Promote Your Blog In Your Youtube Descriptions
And also on your YouTube channel, you can link through to your blog and to your list. So you get a very nice synergy once you start to do that.
Build Your Personal Brand And Reputation
And finally, the big benefit of blogging, it builds your platform, it builds your reputation. Once you've been blogging for a year or two, you know you've got to think in the long term. Most people are very short-term thinkers. It builds up your reputation,and so it's very good for personal branding.
So those are just some of the benefits of blogging with a long-term and serious online business mindset, which is what you need if you're really going to succeed online.
So that's it for me for today from Top5Programs.com – my blog that is hosted on the excellent wealthy affiliate platform.
David Hurley
#InspiredFocus
Resources Mentioned
Each one can be used to promote the other two to create some "beautiful business blogging synergies."