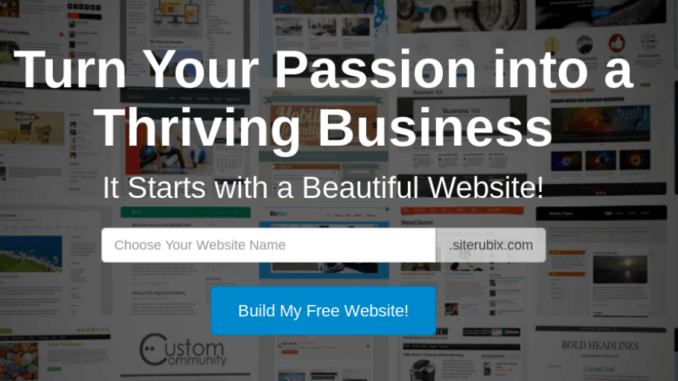 SiteRubix is the only web-hosting service that I endorse for several important reasons. I will explain those reasons in the Site Rubix review that follows.
Please note when reading this Site Rubix review that the reviewer is also a satisfied customer and affiliate. The links from Top5Programs.com to SiteRubix.com are my affiliate links.
Okay, now the disclaimers are out of the way, let's get on with the Site Rubix review.
Here's what I love about Site Rubix
You can start free! Click Here to create a free WordPress blog right now!
Site Rubix specializes in WordPress hosting. I am a big fan of self-hosted WordPress sites. Top5Programs.com and several of my other sites run on WordPress blogs hosted on SiteRubix.com.
Site Rubix has removed all technical aspects of building a website. You can be up and running within minutes, even if you have never set up your own WordPress blog before.
As much as 50% of web browsing happens on tablets and mobile phones, all of which have different screen sizes. SiteRubix builds responsive websites that adapt to any screen size. That ensures all your visitors have an optimal experience on your site.
Your Site Rubix website is not only protected, but kept optimized and functioning behind the scenes. That means your website is protected from hacking, spam, malware, and malicious activity that ALL websites are susceptible to.  (I used to host my sites on a cheap hosting service. My sites were hacked because of the hosting service's inadequate security measures.)
Free SSL Certificates included as an easy toggle on-or-off option with all upgraded accounts. Install your very own Secure Certificate on your website so that all data transferred from a user's browser to the hosting servers is encrypted. Your old http:// URL will be automatically redirected to your https:// secure URL. Also, all of your internal links will be updated to use the HTTPS secure protocol. Conversely, when you turn SSL OFF, Your internal links will switch back to HTTP.
Site Rubix hosts your websites on a state-of-the-art cloud hosting network that has been built entirely around what online business owners need.
You can rely on Site Rubix to keep your website online 24 hours a day, 365 days a year. This is CRUCIAL! My blogs were often down (offline) when I used a cut-price, low-quality hosting service.
Site Rubix Is Linked To The WealthyAffiliate Training Site
SiteRubix is powered by WealthyAffiliate.com which provides you with excellent training, support, and tools. With WA you can turn your blog into a viable business site and attract the following you desire. (WealthyAffiliate.com is one of my Top 5 Programs .)
WealthyAffiliate offers a unique set of blog-related services that SiteRubix bloggers can use to improve their blogs.
For example, you can put a request out into the Wealthy Affiliate community for people to post comments on your latest blog post. Because of the way the community operates, you can expect to receive valuable, responsive, on-topic comments.
You can also request expert feedback from the community about how to improve your blog design and content
Full training on how to monetize and promote your blog, and much more.
Build Your WordPress Site FREE With SiteRubix
The free WordPress web hosting option is available through SiteRubix and powered by WealthyAffiliate.com as part of their free online business coaching package.
You can create a WordPress site 100% free, and launch it in 90 seconds flat! – Here's a video of me doing exactly that! (I made the video back in 2018 – both WealthyAffiliate and SiteRubix have had big site upgrades since then.)
Check out the original blog post for the video here.
You can create two WordPress sites on the SiteRubix sub-domain and keep them free forever.
Premium WordPress Hosting
Whenever you are ready, upgrade to the Premium membership package and run unlimited WordPress sites!
Premium members get:
WordPress optimized servers.
The most secure hosting anywhere.
Freedom to create and host unlimited numbers of blogs.
Thousands of WordPress designs to choose from and implement with a click of your mouse.
Full access to the Wealthy Affiliate online business training community.
Full redundancy (i.e. "duplication of critical components… increasing reliability of the system… in the form of a backup or fail-safe").
Daily backups so that the latest version of your blog is always preserved.
24/7 website monitoring.
Fully managed hosting. (Site Rebux looks after all the technical side of the account.)
Email & forwards.
Site Health analysis. See at a glance whether or not you need to update your blog.
Website auto login.
Easy support system with fast response.
David Hurley
Top5Programs.com
Proudly hosted by SiteRubix.com
P.S. If you enjoyed this Site Rubix review, or have any thoughts or questions, post them in the comments below and I will respond. 🙂