In The Power of Broke Daymond John brands "the power of broke" as a "mindset" and "empty pockets" as a "competitive advantage". He writes:
So here's the big idea at the heart of this book: When you start from a place of nothing much at all, when you're hungry and laser focused on succeeding at whatever it is you're out to do, when you're flat-out determined to get where you're going no matter what… well, then you've got a running start.

~ The Power of Broke, p. 10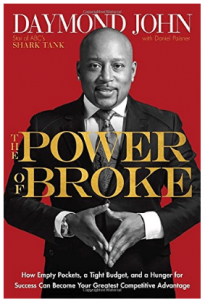 So, the Power Of Broke illustrates how smart people use principles of 'being broke' to their advantage.
Yet broke but unwise fellas still get discouraged by the same difficult situations that led Daymond John to success. Ultimately, they develop fears which hinder them in the pursuit of their dreams. They make excuses and give up.
You see that a lot in the Internet marketing world too. People get excited by  the idea of making money from home on the Internet, yet over 90% of people to "try" Internet marketing fail to make money. I guess most of the "triers" actually LOSE money.
But failing is not an excuse for giving up, if you're "hungry and laser focused on succeeding."
So let's look at some of the excuses people make, and pop those bubbles…
Five Excuses You Would Not Want To Use On Daymond John…
1. I'm No Techie
Gone are the days when HTML and PHP geeks monopolized the internet. Drag and drop applications now make building a beautiful blog a walk in the park.
Internet marketing ceased to be unfriendly to technophobes a long time ago. Instead, it has created massive opportunities for anybody who is hungry and focussed, tech savvy or not.
If you're still using this lame excuse, it's time to face the fear that's standing between you and your dreams.
2. I'm Not Cut Out For "Rise And Grind"
OK, it might be called laziness where you come from, I don't know. But I see it as a mental disease that undermines your true potential.
I often come across people who KNOW how to make money online. Trouble is, they don't DO it because they're too "lazy" to WORK for it.
One of the most common fears is that of responsibility. Successful people work hard for their success. And that scares people. So they let their negative inner voice talk them out of making the effort to start or to persist.
3. I Don't Think I Can Pull It Off
One of the most important business assets is an unbreakable entrepreneurial spirit, or the zeal to achieve. You've probably heard the proverb,
"For as he thinketh in his heart, so is he." – Proverbs 23:7
If not get James Allen's book to catch my drift.
No one ever achieved anything physically before they were convinced in their mind that they could do it. Unless you get over your confidence issues, making money online will remain a scary, insurmountable feat; which it really isn't.
For what it's worth, you should know that successful marketers are no more special than you are. They simply lack a space for such defeating thoughts in their minds. Instead, they cultivate a positive and uplifting self-talk. They shut out distractions and FOCUS on what they can control NOW.
4. Why Even Try If I Might Fail?
I'm yet to meet anyone who made it online right on their first attempt. Many of the dot.com millionaires caught their big breaks after many failures. They all tell stories of overcoming when the odds were stacked against them.
And they all tell stories about how they learnt from their failures. Now, if you're holding back because you don't want to fail, you need to rid yourself of that fear and TAKE ACTION.
If you don't toughen up and give it your best, you'll never know if you have what it takes.
Failing is simply discovering one more thing to avoid in your next attempt. That's what experience is. And that is why failure, with persistence, leads to success.
5. I Don't Have Enough Money To Start…
In my book, this is by far the lamest excuse ever. You can start an online businesses a shoestring budget. Ideas and the energy to act on them are more important than money.
People may start broke, but they are not broken. The broke can get a break and breakthrough like Daymond John did. Broke folk are getting financed every day through services like Kiva and Kickstarter.
If you can concieve of it, someone may like it and finance it. Some ideas are even self-funding, crushing the need for money altogether.
So, no more excuses about being broke. The internet is a hive of free opportunities you can leverage.
Daymond John – The Power Of Broke
Whatever situation you're in, find ways to turn adversity into opportunity. Here's an inspiring video of Daymond John in conversation with Lewis Howes. Daymond John took us through his thought process when he wrote The Power of Broke:
I hope it stimulates a fearless pursuit of your dream of finally making a full time online income.
David Hurley
Top5Programs.com