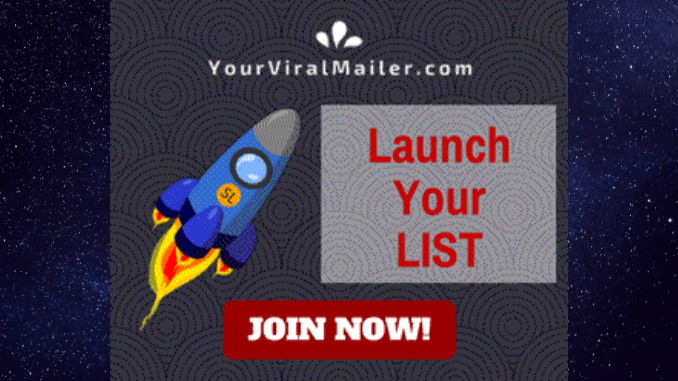 Here's a quick heads-up folks. Matthew Graves has launched Your Viral Mailer. Your Viral Mailer is a safelist that will build your list for you.
It will also help you promote your primary programs, which should always be your single focus.
My blog, Top5Programs, is all about training you to work with just FIVE trusted programs. When you have your TOP FIVE programs, promote them above everything else.
But, here's the catch…
You need to work with other advertising programs to help you promote your Top 5 programs!
(That is why people tend to lose focus…)
These days, I only join new programs if I think they will HELP me promote my TOP FIVE…
And then, only if I know and trust the program owner…
Matthew Graves Launches A Viral Mailer That Offers Something Extra
Last week, safelist viral mailer expert, Matthew Graves, launched a new kind of safelist viral mailer – one that will also BUILD YOUR LIST.
It's called YourViralMailer and I think you should check it out.
Here's why:
Your Viral Mailer Kills 2 Birds With 1 Stone
I have a lot of experience of using safelists to build my list, but I have never been able to COMBINE those two activities into one easy-to-promote system before.
Until now, I have created squeeze pages on (the now defunct) AdKreator and embedded an autoresponder opt in form. Then I promote the squeeze page on various safelists.
But now, with the launch of Your Viral Mailer, I have something I can promote on the safelists… (Safelist users are the obvious TARGET MARKET for new safelists…)
AND it will BUILD my autoresponder list for me. I will then promote my TOP 5 programs to the subscribers on my list.
Your Viral Mailer kills TWO birds with ONE stone, as the saying goes! It means I will be able to build my list and stay focussed on promoting my TOP 5 programs.
Your Viral Mailer Works As A Front End "Funded Proposal"
Your Viral Mailer will work as a kind of "funded proposal" on the safelists and traffic exchanges. That is the "front end" of my business. As it grows my list for me, I will my top programs to my new subscribers. That is "on the back end," which is where the money is.
Why I Took The Lifetime Premium Membership Offer
Also, if you've been following me for a while, you might know that I advocate purchasing LIFETIME memberships.
When I saw what Matthew was offering, and considering that the safelist is designed and promoted by Matthew, I JUMPED into the lifetime membership deal.
I believe Your Viral Mailer is going to be a big hit in the safelist niche. 
As a LIFETIME Premium Member, you earn 50% commissions on upgrades by your referrals.
Premium Members also get 1,000 credits per day and the ability to email daily. Now that is what you call "leverage" – and I LOVE leveraging my advertising resources to bring me MASSIVE amounts of traffic per dollar paid.
What if you can't afford the lifetime offer or the regular upgrade? There is still something in YourViralMailer for YOU… You can EARN your upgrade by passing up referrals to your sponsor.
(NOTE: I don't usually like "pass-up" programs, but Matthew's is different. He's created a way for people on tight budgets to earn their way up the ladder and benefit from the perks that paid members enjoy.)
Follow me into Your Viral Mailer today using the link below to really Supercharge Your Success:
Best wishes,
David Hurley
Top5Programs.com