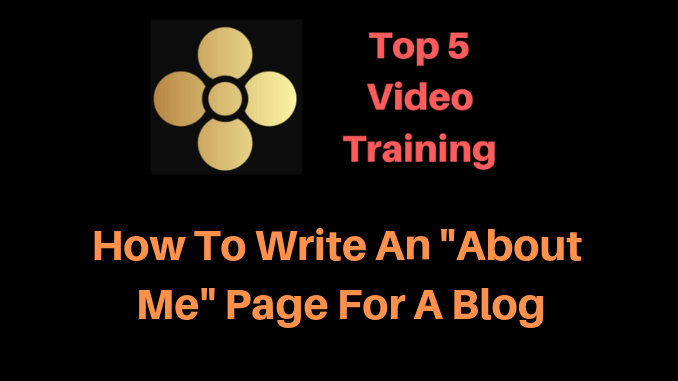 One of my SFI affiliates asked how to write an About Me page for a blog, specifically, a WordPress blog.
An About Me page is the place on your blog where you introduce yourself, say something about your background, and tell visitors to your blog something about what the blog is all about.
I thought it would be useful to make a video to demonstrate how I put together the content of a specific About Me page. The About Me page I describe in the video is one I made for a free WordPress blog that you get with membership of Wealthy Affiliate.
Set Up Your Own Free WordPress Blog Today!
If you'd like to set up a free WordPress blog all you have to do is join Wealthy Affiliate as a free member and they'll give you TWO free WordPress blogs.
How To Write An About Me Page For A Blog
Okay, let's check out what I wrote on the About Me page of my free blog, elitedownlinebuilder.siterubix.com which I use to support my membership site, EliteDownlineBuilder.com by providing tips, resources, program updates and other news for the members.
Video Transcript
Today I'm making this video in response to a message I received from one of my affiliates in the SFI program asking me about what to write on an About Me page on a blog. I've been helping my man Emmanuel Ikekwem set up a free blog with a free membership of Wealthy Affiliate, which I am also an affiliate of.
Set Up A Free WordPress Blog
If you join Wealthy Affiliate as a free member you get two free blogs that you can set up using the Wealthy Affiliate Site Rubix hosting so the blogs will be on a sub-domain of Site Rubix absolutely free. If you upgrade you actually get 25 blogs that you can run self-hosted on your own domains, plus you get 25 free blogs, which is pretty amazing. You get a total of 50 blogs that you can build and do what you like with. So you can use them to test out business ideas, promote specific products and services, or do other non-business stuff – anything you like.
Using My Blog as an Example
So, I think the best thing, Emmanuel, is for me to show you the About Me page of one of my free blogs, as you are setting up a free blog. My free blog is elitedownlinebuilder.siterubix.com – I set up this blog as a support blog for my membership site, EliteDownlineBuilder.com and so the topic of the blog is all about how to work with my program EliteDownlineBuilder. I feel this is the best blog to show you as you're setting up an SFI blog where your focus will be on how to work with the SFI program, so there's some thematic similarity between the two blogs.
A Note About EliteDownlineBuilder.com
Incidentally, EliteDownlineBuilder helps you build your downline in SFI and Wealthy Affiliate as well as three other programs. That is the purpose of EliteDownlineBuilder. So if you're serious about building your SFI business, and if later on you want to work on getting some commissions with Wealthy Affiliate, then I recommend that you check out EliteDownlineBuilder.com because there's a lot of good stuff in this program for you.
What Should You Put on Your About Me Page?
But today's question is, "What should you put on your About Me page?"
Here's the home page of my blog:
So when you click the link [About David Hurley & EDB] you come over and you'll find that I've put quite a bit of information on my About Me page, so let's go through what that information is and why I put it there.
So the first thing we see at the top is "About David Hurley and EDB." I introduce myself. There is a photo of me, where I'm from, and also I'm talking about my experience with Internet marketing.
What If You Don't Have Any Experience?
Now, if you don't have any experience with Internet marketing, that's okay. You can explain that you're keen to make money on the Internet working with a legitimate program such as SFI, which gives complete beginners the opportunity to build a viable online business.
So, you can tell people exactly where you're coming from. There's no shame in being a "complete beginner" because you may feel like a complete beginner yourself but you are ahead of the game. You are ahead of where the people who will be coming to your site are, so you can give them relevant advice to help them.
I'm explaining about how I got started as an Internet marketer. In fact, I used to sell physical goods that I packed and shipped all over the world from Japan, where I live. I used to sell Japanese games, comics and other goods.
So I give a bit of my background. On the About Me page you can give some personal information. The point is that people like to buy from, or to associate and work with real people. So on the Internet it's important to present yourself as a real person. The ONE UNIQUE THING you have as an affiliate marketer where hundreds or thousands of people are promoting the same program is YOURSELF and how you present SFI or any other business.
So, focus on yourself. Tell people who you are and what you can offer them. What I can offer people is my experience as an online business person. I explain my experience with the "packing and posting" model of Internet marketing where you buy goods, you pack them, you take them to the post office and you post them. Now, it made me money, but I was limited by how much I could actually pack and post in a single day. So if I had more than three or four orders coming in per day it really became too much because of my other commitments and so on.
I knew there had to be a better way to make money on the Internet; a way that we could leverage. And by explaining that, I come onto how I developed my own way of making money on the Internet using affiliate marketing. Because with affiliate marketing, which includes SFI, it doesn't matter if you have 3, 10, 100, or 3,000 customers because you do not have to handle the goods.
So I explain then how I developed my own idea of working with five high quality programs which I list here. You can see "Strong Future International," which is SFI.
What my aim is with my site: I explain my aim with EliteDownlineBuilder.com is to build mutually beneficial relationships with my referrals and to help them to build their business.
Tell Them It's Not For Everyone
I am also quite open with people: "This business is not for everyone. I'm not sure if it's for you or not…" You're not trying to hustle people into doing something they don't really want to do. You're presenting what you have to offer and you're leaving your readers to make the choice themselves. You're kind of guiding them but you're not trying to force them.
And then you finish with a Call To Action. So, Join Elite Downline Builder Free Today – and if you click the link, it goes through to the site where you can sign up and become a member. So I recommend that you do that, conclude with a Call To Action; Join SFI Today, or Join My SFI Team Today. And if you have a reward you can offer them – and you can set that up within SFI – mention the reward that is available to them if they join up. And put a banner at the bottom. And there you have a nice little About Me page which covers those points that I mention in the video:
It presents me as a living, real human being
It explains about my background
It talks about my experience as an Internet marketer
Why I'm doing the kind of business I'm doing
How it can benefit my readers
Call To Action
Keep Your Sentences Short and Simple
Your About Me page doesn't have to be as long as this. Another important point is to keep the language simple. Write in short, simple sentences. Don't try to present yourself as a highly intellectual person using lots of "businessy" words. Keep it personal. Keep it simple. Talk to people as I'm talking to you now, face to face, as if to a friend or to somebody you're trying to help.
Okay, those are just some guidelines. I hope that's been useful to you Emmanuel, and to anybody else watching this video or reading this blog post.
If you liked the video, then hit the Subscribe button and click the bell so that you get regular updates from me about how to build a viable and legitimate online business with affiliate marketing.
Okay folks, that's all from me today.
David Hurley
Top5Programs.com
EliteDownlineBuilder.com
#InspiredFocus