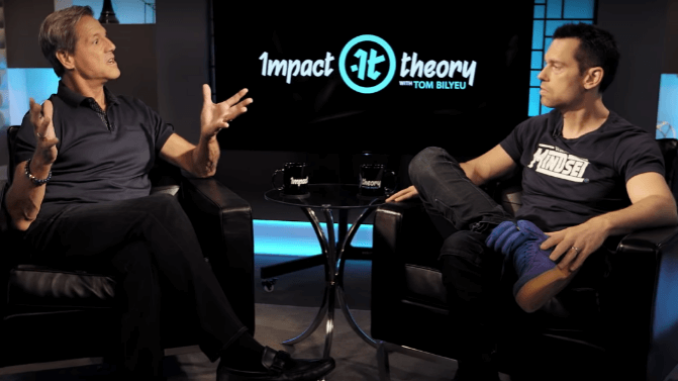 Earlier this week I listened to Tom Bilyeu interview John Assaraf on Impact Theory about his new book, Innercise. Innercise, John Assaraf explains, is all about how to train your brain to work for you so that you can improve your life and achieve your goals.
Clearly, this is highly relevant to aspiring Internet affiliate marketers.
In Innercise John Assaraf offers science-based mental and emotional techniques to help your brain work for you and not against you. The book also includes a package of free resources including brain-training audio and video recordings that can be accessed via John Assaraf's Neurogym.com website.
So who is John Assaraf? Here is a warm-up extract from Tom Bilyeu's introduction to John Assaraf on Impact Theory:
John Assaraf is a wildly successful serial entrepreneur who has built five multi-million dollar companies including one that generated over four billion dollars in revenue.

He is also the multiple-time New York Times bestselling author of The Answer and Having it All and he is widely considered as one of the leading behavioral and mindset experts in the world.

A part of what makes him so extraordinary is that he's had a just crazy string of successes in multiple industries across absurdly divergent product lines. His areas of expertise range all the way from real estate and Internet software to brain research and business consulting.

This broad-spectrum acumen has seen him featured in eight movies including Quest For Success with Richard Branson and the Dalai Lama, and the global phenomenon, The Secret.

He's also a much sought after coach and speaker who's been featured in the New York Times, the Wall Street Journal and on CNN. And additionally, he's been interviewed by Larry King, Ellen and Anderson Cooper.

Tom Bilyeu, Introducing Innercise author, John Assaraf, on Impact Theory https://youtu.be/UMmOQCf98-k
And here is the video of the interview:
The Missing Ingredient of The Secret…
John Assaraf was one of the people who was contributed to The Secret. Now the Secret has often been criticized for focusing so much on visualization and so little on putting in the hard work that is needed to achieve any challenging goal you may have.
Here's what Brian Tracy wrote about The Secret:
"The Law of Attraction," or "The Strangest Secret" that Earl Nightingale recorded in 1955, are true. You do become what you think about most of the time.

But this is not enough. What is even more important is that you accept 100% responsibility for your life, everything you are, and everything you will ever be.

Only then do you set goals, make plans, learn what you need to know to succeed, and work – hard, hard, hard – for a long time to get the things you want.

Brian Tracy, https://www.briantracy.com/blog/brians-words-of-wisdom/the-secret/
The Difference Between The Law of Attraction and the Law of GOYA
It seems that John Assaraf has taken on board the criticisms levelled at The Secret. Here is what he told Tom Bilyeu on Impact Theory:
The Law of GOYA is simply, "get off your arse." So if you think and you believe and you emotionalize and you visualize and you create your plan for, "how am I actually going to achieve this?" So what do I need to do, when am I going to do it? How specifically? How am I gonna tweak it, measure it and iterate it so that I'm consistently making progress?
The superpower of purpose-setting vs destination accomplishment& the distinction between the laws and regulations of allure and the laws and regulations of GOYA. [ 16:47]
Other Key Points
How one man changed John Assaraf's life in one minute. [3:39]
The difference between being interested and being committed. [4:45]
The benefits of forgiveness. [9:38]
The superpower of focusing on progress instead of perfection. [17:14]
The neurochemistry of purpose achievement. [20:31]
Why people don't do what they know they should, and what happens when they do. [21:54]
Your "story" characterizes who you are – and why you need to change it. [24:20]
Maxwell Maltz Psycho-Cybernetics – How some people experienced no improvement in their self-image even after successful plastic surgery and learning evidence-based methods to reset our self-image. [25:10]
Why self-talk is so critical to your success, happiness and the achievement of your goals. [27:38]
Why fear is a "go signal" and not a "stop signal" for John Assaraf. [28:55]
Take 6 deep breaths to get the Einstein part of your psyche and control the lizard intelligence. [31:14]
Why we are biologically wired to hate change and why you need to consciously create positive and healthy habits. [38: 47]
David Hurley
#InspiredFocus