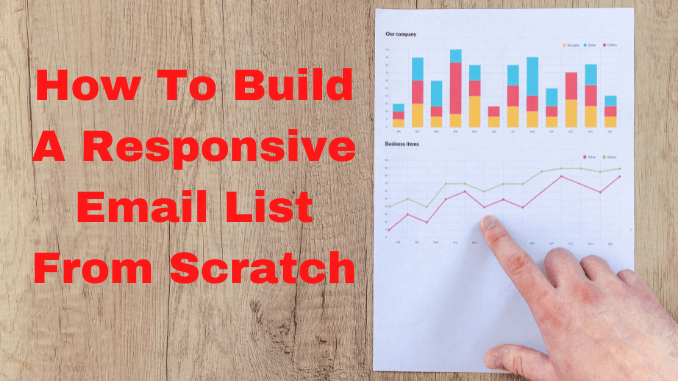 In today's article I will show you how to build a responsive email list from scratch. The good news is, you can build a responsive email list on a very low budget.
With just an autoresponder subscription and your own blog, you might not need to invest any more cash on list building. There are several list building  techniques which you can use for no extra cost.
Here are three methods that will help you get your list building off the ground very quickly. 
1. Leverage Existing Networks and Connections
Many inexperienced marketers never manage to figure out how to build a responsive email list of just 50 to 100 subscribers. Yet, getting this first batch of subscribers can be a huge milestone for someone building a new list. Therefore, it's a major confidence booster if the milestone is achieved quickly and with ease.
Before you spend another dime on advertising to a cold market, why not grab the low hanging fruits within your existing networks? Think about your family and friends, work colleagues, Facebook friends and other social media connections.
These connections and networks are important starting points because they constitute people with whom you already have relationships. They are your "warm market".
It is important to note that NOT all of these people will be interested in your offers. Indeed, your aim at this stage is NOT to sell to them. Simply let them know that you are offering advice, tips, reviews (or whatever) connected to your market or area of expertise and invite your contacts to opt in to your autoresponder newsletter.
As it is free to join your list and only requires an email address, those who are curious will be likely to sign up. They will propel you towards your first list building milestone.
2. Put Your Best Stuff Forward
If you have a blog, you might have noticed how readers respond differently to your posts. Check your traffic analytics and find those posts getting the most views, or where visitors spend the most time. Such information is vital for setting up on-page goals such as subscribing to a list.
When you know that most of your visitors love certain content, why not use that content as a means to attract list subscribers. For example, at the bottom of this and every post on Top5Programs.com you will find a form which enables you to join my newsletter mailing list.
Readers who have enjoyed one of my blog posts may be more likely to opt in to my newsletter mailing list. By placing an opt-in form at the bottom of the blog post, I give them an easy way to do that, without any pressure. (WordPress bloggers can use the dpaBottomofPostPage plugin to add your form to the bottom of every post and/or page of your blog.)
This strategy is not limited to blog post or articles. Even products enjoying good sales or inquiries can be good list building opportunities. I'm sure you've seen ads which invite you to sign-up to receive details of upcoming price cuts.
Even more common is to offer an eBook on a relevant and pressing topic as a freebie upon subscribing. I recommend that you create your own unique ebook for this purpose.
3. Welcome. Please Come Through The Gate!
This strategy is sometimes linked to the strategy just discussed. But instead of waiting until after consuming the content, visitors are greeted by a pop-up subscription form.
There are two ways of implementing this strategy.
– Content Locking, which asks visitors to subscribe before accessing (unlocking) the content. No subscription, no access to content. It is a strategy that will work only if the content is proven to be extremely valuable, unique and scarce. You therefore need to be very sure of the demand for the content you're locking behind that form.
– Welcome Gate, which is just a pop-up form that appears in front of the content your visitor is seeking. Your visitor can either fill the form to access the content, or simply close the form. Because the filling the form is optional, you can apply this on any webpage such as your homepage or a popular content page.
Whichever way you implement this strategy, you leverage the existing popularity of your content to build a list. It seeks to direct the visitor's attention towards the most valuable action very early in the interaction. Remember, some visitors never read articles to the end. So, they won't see your  call to action at the end of the page.
LeadsLeap.com offer a feature rich free pop-up form creator which you can use online to create stunning pop-up offers for your blog.
Start With What You Already Have
You do not necessarily need to spend loads of money to start building a new list. Getting things rolling without extra expense is possible if you have a blog. (Get a free WordPress blog hosted by SiteRubix.com.)
Once you have set up your opt-in forms on your blog you will want to focus on content creation. Regularly create relevant, high quality articles around long-tail keywords that will attract your target market to your blog – and to your opt-in forms. If you are not sure how to do that, Wealthy Affiliate provides excellent, in-depth training for business bloggers.
David Hurley
Top5Programs.com
#InspiredFocus