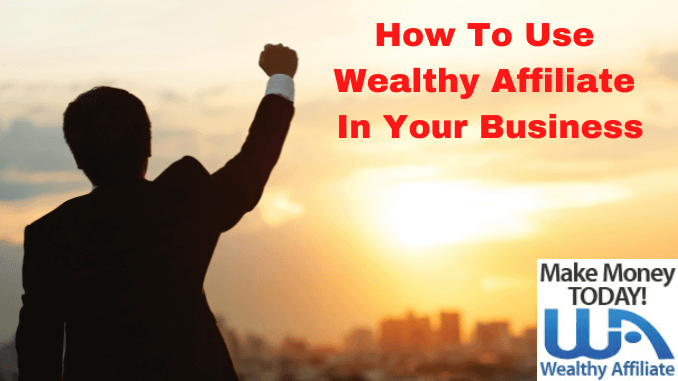 Wealthy Affiliate is an online community dedicated to training you to become a successful business blogger. But before I explain how to use Wealthy Affiliate, I want to ask you, how valuable are your top programs to your online business?
It's a question which helps sift through a lot of trash available online and work with the real gems. But that's only if you objectively analyse each program before jumping onto the bandwagon.
Wealthy Affiliate is on the list of my top five programs. Before upgrading anything to my Top 5 Programs I consider its practical contribution to my business model. The more ways it contributes to achieving my goals, the more interested I become in the program, and the more likely it is to make it into my Top Five.
For some perspective, here's a practical case study of how I analysed Wealthy Affiliate before deciding to get involved.
More Than Just A Fancy Online Coaching Program
When I first encountered Wealthy Affiliate, I thought it was just another online marketing coaching program. And that's how a lot of people see it at first glance. But my first week as a free member showed me how to use Wealthy Affiliate as the motor for my online business.
I had one advantage going into this analysis. It was my experience with another coaching program which shut down a year or two before I found Wealthy Affiliate. I also ran a small membership training site of my own for a couple of years. This experience helped me develop to appreciate Wealthy Affiliate's strong points.
And yes, Wealthy Affiliate IS an online business training program before anything else. It does a magnificent job with excellent step-by-step training videos. What makes the training even more valuable is the live community support and the active participation of Kyle and Carson, the program owners.
But what caught my attention is the Wealthy Affiliate experience beyond the training and coaching. Most coaching programs simply sell information. But Wealthy Affiliate offers practical benefits to any online business in any niche. The program has built-in support structures which help you apply the lessons in real life. Here's what I found when I joined Wealthy Affiliate in October 2015…
How To Use Wealthy Affiliate To Improve Your Business
1. Up To Date Internet Marketing Training
When you join Wealthy Affiliate you can tap into the community's extensive knowledge about what's working now in the affiliate marketing industry. These are not random tips either. They come through the practical experiences (good and bad) of those who care enough to share.
There are five "

Certification Courses

" that take you through the process of setting up your first niche marketing blog, posting content and promoting the blog to get you earning commissions from your referral links. Make studying these courses your top priority. Then actually DO the tasks at the end of each training module to get your online business on the right track, right from the start.
A series of "classrooms" offer training around specific aspects on online marketing.
There are

weekly live video broadcasts

that dive deep into specific marketing techniques and strategies. These are invaluable as they include real-time demonstrations plus live Q&A sessions.
Member-to-member training modules. Experienced premium members add their own training modules to the site. Whenever you need to know how to do a specific Internet-marketing related job, somebody has probably posted a training module about it on Wealthy Affiliate. And the cool thing is, once YOU become an experienced Premium member, you can get paid to post training modules. 🙂

Live Q&A chat feed

. Use the chat feed to ask questions in real time and quickly get answers from fellow members.

Affiliate Bootcamp

. Over 70 lessons that take you from a complete beginner to an affiliate marketing superhero who could earn a free trip to Las Vegas to attend Wealthy Affiliate's annual get-together… 
2. WordPress Hosting Platform
The Wealthy Affiliate package includes website hosting at Site Rubix – Wealthy Affiliate's WordPress hosting platform. Site Rubix provides some of the best hosting for WordPress sites on the web.
Rather than repeat what I have already said about Site Rubix, check my SIte Rubix review to see why I rave about it.
Premium members of WA can build up to 50 WordPress blogs – and it comes at no extra cost to your WA subscription once you upgrade. (Free members can build two free WordPress blogs as sub-domains of SiteRubix.com.)
What's great about Site Rubix is that it provides a platform on which you can put your training into practice. Better still, it's integrated within the same Wealthy Affiliate platform so you can log straight into your WordPress blogs from your Wealthy Affiliate dashboard.
3. How To Use Wealthy Affiliate To Get Site Feedback
There is a system in place on the Wealthy Affiliate platform for you to request feedback on any of the blogs that you host on Wealthy Affiliate's SiteRubix hosting platform.
The feedback must have at least 250 characters before it can be submitted. You earn a credit when you successfully post site feedback for another member.
You can request feedback of your own blog every time you earn two feedback credits. This is a great way to get third-party opinions about your blog. People see things differently, and getting several people's opinions will give you new perspectives and insights into what works – and what doesn't – on your blog.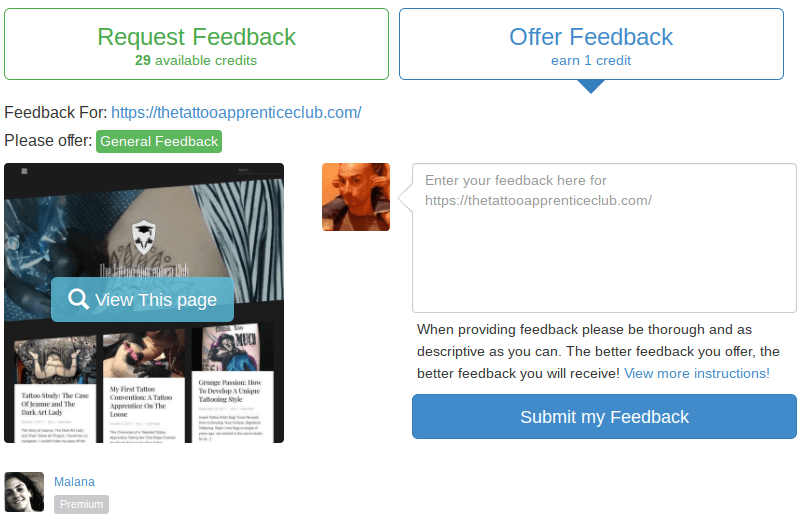 4. How To Use Wealthy Affiliate To Get Great Blog Comments
One of the best ways to give your blog "authority" is to post high quality content AND have a bunch of decent comments responding to every article you post. Getting people to comment on your content can be a tough call however. Wealthy Affiliate helps you step over that hurdle through its "Site Comments" platform.
As with site feedback, you earn a credit for each comment you post on another member's blog. A comment has to have at least 50 words before you can post it. You are encouraged to ask relevant questions to increase opportunities for engagement.
For every two comments you successfully post, you earn the right to request a comment on your own blog. Note, to be "successful," your comment must be approved by the blogger whose blog you are posting it on.
In this way, you can generate a regular flow of relevant, high quality comments on your blog, to which you can reply, adding a stream of additional content and boosting your "authority" with your readers.
5. Build A Lucrative Income Stream
What sealed the deal for me was the compensation plan built into the Wealthy Affiliate program. While it is great to have the above benefits, it's even greater if income potential is part of the deal.
Wealthy Affiliate offers a lucrative affiliate program. It literally rewards affiliates for helping others discover how to build and grow profitable online businesses.
Premium and Premium Plus members earn $23.50 recurring monthly commissions on each upgrade they refer, and $46.50 recurring monthly commissions on each Premium Plus upgrade. Free Members can earn with Wealthy Affiliate too. They can earn $11.75 each time they refer a Premium upgrade and $23.25 per Premium Plus upgrade.
Who Wouldn't Want To Be A Wealthy Affiliate?
Are you involved in any programs just for the promise of a little cash? It's time you looked deeper into what each program you're involved in offers. By looking at how to use Wealthy Affiliate I discovered the real value of the program and it has been on my list of "Top 5 Programs" ever since.
David Hurley
Top5Programs.com
#InspiredFocus