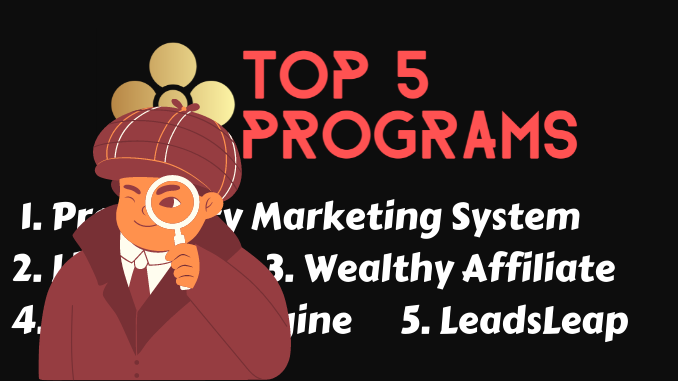 At the beginning of the year I posted a video about the work I had been doing on my blog, https://top5programs.com , and also about how I had made no changes to the "Top 5 Programs" listings for the second year running…
Well, as of today, that has changed!
I made a video explaining what has changed and why I have made those changes (or, if you prefer reading, scroll on down…):
What's In?
I have added The Click Engine , a "buyer traffic" delivery program that also works as a "micro continuity offer". I published a video and blog post about The Click Engine yesterday @ https://ctptalk.com/@hirohurl/the-click-engine-why-i-bought-into-this-n-traffic-generating-micro-continuity-offer
so there is no need to rehash the reasons why I like that program here. Suffice it to say I believe it will work very well with the other four programs, on the front end of the Top 5 Programs marketing funnel.
What's Out?
The program I have swapped out is SFI. I will continue working with SFI, but it has always been a bit of an anomaly or an outlier in the Top 5 Programs portfolio. Actually, SFI works for me as a "stand-alone program".
Also, there was a lot of old SFI-related stuff on my Top 5 Programs blog.
Well, today I took the bull by the horns and set up a new free blog on the SiteRubix domain and moved all the still relevant SFI-related content from Top 5 Programs to the new blog. It's not much to look at right now, but here it is:
I also set 301 redirect links to a lot of old blog posts and have deleted most of the SFI content from Top 5 Programs.
What's Changed?
One other change I made concerns Click Track Profit and Listnerds…
Instead of promoting CTP and relying on the "back end" for referrals into Listnerds, I have flipped it and brought in Listnerds as one of my "Top 5 Programs" in place of CTP.
My thinking is (1) Listnerds, as a traffic generation program, is more closely attuned to the mission of Top 5 Programs, and (2) anybody who seriously engages with Listnerds will be very likely to join CTP – if only so they can get any Listnerd commissions that they earn! Listnerds also offers a direct route onto the Hive blockchain.
Why?
I have made these changes to bring clarity and unity to the Top 5 Programs project.
Now, perhaps for the first time ever, all five programs work well together in the online business tools niche, and there is now a logical progression that can be built into the marketing funnel:
So now all I have to do is get to work pumping out content for my blog and my email series as well as a bunch of videos and what have you!
Cheers!
David Hurley
#InspiredFocus
P. S. If you found this content interesting, hop onto my mailing list for regular updates about the Top 5 Programs project, @ https://lllpg.com/top5programs