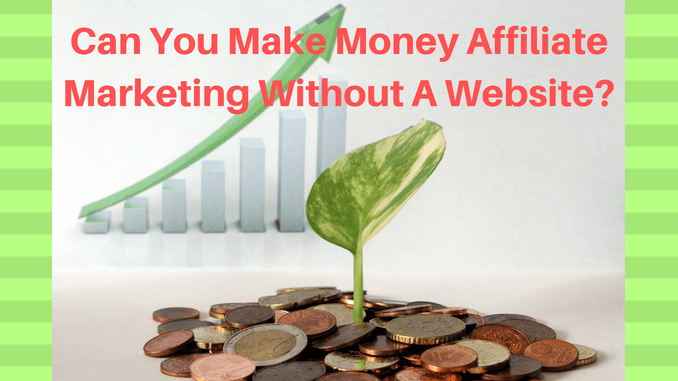 People sometimes ask me, "David, can you can make money affiliate marketing without a website?"
It's usually asked by someone who feels intimidated by the idea of creating a blog and writing blog posts. And my answer comes in two parts…
Yes, you can make money affiliate marketing without a website, but…

Okay, if you really want to skip building a website, here's what to do…
Can You Make Money Affiliate Marketing Without A Website? Yes, But…
Yes, it's possible to earn affiliate commissions without building your own website. But if you don't want to build a site because you think it's difficult to do, think again.
A few years ago, building your own affiliate marketing website was a pain in the proverbial. You needed to know how to use HTML or CSS and laborious build page after page.
Easy Website Creation With WordPress
Then WordPress came along and made life easier for bloggers. Today, anybody can build a beautiful website very quickly and without any technical know-how.
So, if you're reading this because you think it's difficult to build a blog, check out this video I made. In it I show you how to set up a blog from scratch in less than 90 seconds:
You too can set up a free WordPress blog in 90 seconds or less with Wealthy Affiliate. And you can do it just as easily as I did in the video.
Actually, they give you TWO free wordpress blogs, so hop over to Wealthy Affiliate and find out just how easy it is to set up your own website nowadays. It's completely free, so there's no risk involved at all. 🙂
Easy Content Creation With Real Specific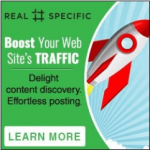 Or, if it's content creation that bothers you, I've discovered a tool called "Real Specific" that can help you.
Use Real Specific to generate a ton of content for your blog without having to write everything from scratch. (I do recommend, however, that you go over every blog post, edit it and add some of your own content.)
Okay, But Can You Make Money Affiliate Marketing Without A Website?
Well, yes you can, and here's how.
What if I told you that you can make money through affiliate marketing with just an autoresponder subscription?
No website to build, and no other web tech involved, no kidding!
If you want to build a simple but effective internet system without any frills, this will interest you.
Let's Cut To The Chase… How's It Done?
OK, this may sound too simple, but really, all you need to do is join Aweber – you can test it out free for 30 days to see if it works.
The rest of the magic happens in the Aweber back-office.
Make Money Affiliate Marketing Without A Website – Thanks To Aweber
The actual process involves creating a simple web presence without having to go through the normal website building process. That means you don't have to buy a domain and pay for hosting.
Also, you don't have to create elaborate content or worry about SEO and ranking in SERPs.
Using a series of independent landing pages created in the Aweber back-office, you present your affiliate offers. All you have to do is promote those pages just as you would promote a real website.
List Building Is The Key To Affiliate Marketing With Or Without A Website
The major part of your business is list building. Essentially, your whole operation is centered around building a list then monetizing the list in one of many ways.
When marketing experts tell you about the value of a list, this is what they're talking about. And many Internet marketing gurus owe their success to this simple business model.
A few recommended list monetization options include:
– Selling solo ads
– Negotiating lucrative JV partnerships
– Promoting your own affiliate links or products
The Steps To Earning Affiliate Commissions With Aweber
Here are the exact steps you can take to start earning affiliate commissions without a website, using this Aweber model:
Join Aweber FREE for the first 30 days.

Set up an autoresponder in your Aweber back office.

Now write or import your campaign email series.

Use Aweber's Hosted Capture Page service to create a lead-capture page.

Once everything is set up, you are ready to start driving traffic to your opt in form.
Those five steps alone will get you up and running with a basic online business that you can promote on traffic exchanges, safelists and other ad sites.
Once Set, The Engine Keeps Running And Earning
The main advantage of building an online business without a website is that it allows you to focus on promoting. Without the pressure of having to create relevant content, it is easy to focus on advertising and list building. 
True, it will take a bit of time to get a perfect set of lead pages and ads. You'll go through the process of building Aweber landing pages, testing, tweaking and testing again.
However, once you find your winners, you're set for some time. That means, you put in the work and then enjoy the benefits well into the future.
Get off to an even faster start with one of my low cost traffic packages.
So, Can You Make Money Affiliate Marketing Without A Website?
Yes, you definitely can. How much will depend on a lot of things. The first step is to subcribe to the Aweber autoresponder service, which is the main part of the business model. Remember, you can try it completely free for the first 30 days.
David Hurley
Top5Programs.com
P. S. In this blog post I addressed the question: "Can you make money affiliate marketing without a website?" I answered in two ways:
First, yes, but it's easier than ever to create a stunning website and use Real Specific to fill it with relevant, traffic-pulling content.
Second, okay, if you still want to skip the website thing, you can do that simply by using the tools offered by Aweber to get started.