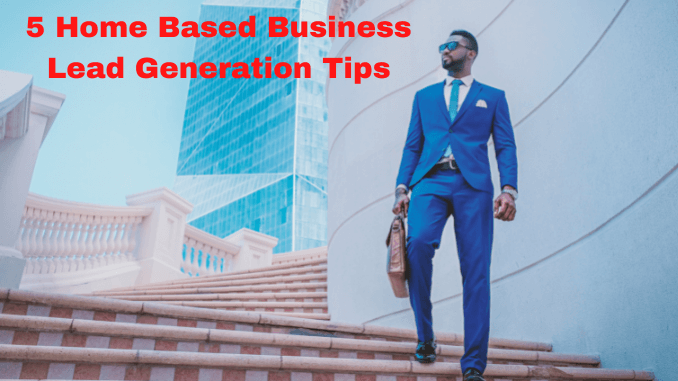 Are your home based business lead generation efforts pulling in enough targeted leads? Is your blog or landing page content successfully converting your leads into subscribers and customers?
If the answer to those questions is a resounding "NO," what follows is for you. Here are five home based business lead generation tips which can help you improve the responsiveness of your leads.
First, What Is Lead Generation All About?
It's well known that people rarely purchase anything online the first time they see it. Before making a decision, most people gather more information about the product. They read, watch or listen to reviews about the product. They also research prices and special offers.
The process of attracting people to your offers is what lead generation is all about. If you are not making an active effort to attract targeted leads, your sales will suffer.
That is especially true for home based businesses that rely entirely on Internet sales for their income. Your website is not like a shop on the high street.
In the case of a high street store, even if they do not advertise they will probably pick up some passing trade. But a home based online business owner must focus on generating leads if the business is to survive.
Two Keys To Home Based Business Lead Generation Online
There are two KEYS to the process. The first is attracting targeted traffic to your site. The second is the quality, clarity and relevance of your site content.
The better your content, and the more targeted your leads, the higher the conversion rate will be.
Then, once you actually HAVE a conversion rate, the more leads you generate the more sales you'll get.
That is what makes home based business lead generation an essential part of your business routine. Most importantly, you need a solid lead generation strategy consisting of the 5 main components we'll now discuss.
My Top 5 Home Based Business Lead Generation Tips
1 Blogging
Of all the types of online presence you can set up for your business, a blog is the most powerful when it comes to generating leads. Blogs (and their video cousins, Vlogs) have the huge advantage of being highly interactive.
Blogs are excellent platforms for personal branding and trust-building, which helps to ease the sales process. A well run blog will also be highly optimized for very specific keyword terms relating to the product or service the blogger is selling.
If you don't own a blog, you will need to spend more resources (i.e. time, skills and money) to generate the same number of leads that a well run blog can.
When it comes to business blogging, a high quality hosting service is much more important than saving a few bucks a year on hosting costs.
2. Targeted Advertising
Although many internet marketers advertise, they often post ads in all the wrong places. Then they wonder why they get hardly any sales. It is not just about advertising in the right spots. It is also about precisely framing the message.
I mentioned earlier that buyers consider several things before making the actual purchase. That means your ads should be aligned to the stage at which your potential customer is in the buying cycle.
If they're researching a product, send them to a review. If they're about to buy one of two good products, offer a coupon, discount or free trial… Never underestimate the power of targeted advertising!
How To Target Your Blog Posts To The Buying Cycle
You may be wondering HOW you know where a potential customer is in the buying cycle. That's a good question!
A business blogger can use SEO and longtail keywords to target different segments of the buying cycle. He can then create a separate blog post for each specific, keyword targeted, segment. Then, he can tailor the offer on each article to the stage of the buying cycle that it deals with.
So, someone who is searching for a product review will be directed to your product review page, and only at the end of the review will they be presented with a link to another blog post which promotes your discount coupon offer.
However, someone searching for a product discount coupon should be sent directly to the blog post that promotes your discount coupon offer.
3. Tracking and Monitoring
Imagine visiting a city for the first time and driving around without a GPS device. You'll likely get lost, unless you stop to ask for directions.
If you're advertising or sending traffic to your affiliate program without tracking it, you are like that driver. I use LeadsLeap and Google Analytics to track and monitor my ads. I like to call them my "GPS for clicks".
Tracking and analyzing your traffic helps you identify where you need to focus your resources. Otherwise, you're simply shooting in the dark or wasting your most powerful ammunition on crumbs.
4 Online Joint Ventures (JVs)
Don't make the mistake of supposing joint ventures (JVs) are reserved for online marketing pros. My SFI Traffic Co-op is one example of a JV. No experience is needed to participate. I work with individual members of my SFI downline to build their SFI team.
JVs can be a lucrative way of leveraging other people's resources for mutual benefit of the JV participants.
They are also great at boosting your online reputation as well as helping you forge important relationships with other marketers.
5. List Building
Whatever you do in your lead generation endeavors, list building must be the most constant activity you should engage in. If you're not using an autoresponder system such as SendSteed to attract  leads to your list, your lead generation process is terribly flawed.
Nothing beats getting your leads' permission to send messages directly to their inbox. Online marketing doesn't get any more intimate than that. If you're not building a list, don't be surprised if your sales are mediocre.
Home Based Business Lead Generation: Just Do It!
Those are five effective strategies for your home based business lead generation efforts. They are especially when you combine them. They will work together to catapult your business to the next level. Do not let a lack of experience stop you. Just get started, then keep going and make corrections as you go.
David Hurley
Top5Programs.com