Success in promoting home business opportunities is not only measured in sales generated. Because most home businesses take on a multi-tier model, building an active downline is key. That's where success eludes many online marketers.
When you put biz op and downline in one sentence, you'll likely find traffic exchange and safelists in the mix, too. They are two of most common sources of biz op traffic. Not surprisingly, they are fertile grounds for effective recruitment promos.
However, many affiliate marketers have dabbled with traffic exchanges and safelists without any success.
That's a pity because traffic exchanges and safelists work for those who know how to use them. So here are some of my best manual traffic exchange and safelist marketing tips…
Why Manual Traffic Exchanges And Safelists Still Work
The web increasingly offers smarter advertising solutions through social media, right? Well, that's true BUT nothing has come close to replacing manual traffic exchanges and safelists as popular hangouts for online marketers.
Here's why…
The vast majority of TE and safelist users are also internet marketers. Obvious as it seems, that statement can be a light bulb moment for many.
The nature of online home businesses is such that multiple income streams are necessary and inevitable. The tools and services you use to promote your business are also biz ops with their own affiliate programs.
Online marketers are always on the lookout for additional income streams. They use TEs and safelists to promote their offers. At the same time, TEs and safelists are where marketers discover and pick up new opportunities as they surf to earn credits. That's because, in order to drive traffic to their landing pages, they need to earn or buy credits. Since most people do not want to buy credits, they will earn credits by viewing other members' ads. In short, they are a highly targeted market for online biz op and website traffic offers…
As a result, three dynamics work to keep these two traffic sources alive:
– They're a particularly healthy source of quality biz op traffic. This traffic comprises both seasoned and newbie web marketers. Best of all, TE and safelist users are all ready to snap up great looking offers whenever they surface. That makes these platforms extremely valuable to internet marketers.
– They're a proven way of building lists in MMO niches. As a marketer, you know that a sale doesn't just happen. It builds up through a process of interaction with prospects. Marketers will subscribe to your list, just to know more about your biz op offer.
– They're a platform for marketing to marketers. Wherever online marketers hang out, they become lucrative business opportunities for each other. Traffic exchanges and safelists are two of the best hangouts of that nature.
4 Tips To Improve Your Manual Traffic Exchange And Safelist Ads
1. Anticipate, don't just participate!
Before you design a campaign for TEs and Safelists, take time to understand the surfers' needs. Knowing this will tell you exactly what and how to package ads. This goes beyond the usual "catchy headers" and "great call-to-action" rhetoric. You need in-depth understanding of this niche in order to anticipate trend changes before they happen.
2. Be precise and concise
You have about 5 to 10 seconds to make sense before your visitor clicks away to earn a credit. Don't blow it away. That's no time to rumble with boring, vague text. Get to the point; pronto! And while you go about it, make it a fun and exciting enough to rouse interest for details.
3. Promote a benefit not a product
You probably have a great opportunity which does marvellous things. But guess what… so does everyone else advertising on TEs and safelists. It's a tempting thing to say in your campaign but leave it for the follow up email series. Your ads must hit hard on major benefits. For example, "Get guaranteed signups for your free-to-join biz op" instead of "Done-for-you marketing campaigns for only $10".
4. Invest in an effective squeeze page
A a squeeze page is like a two edged sword. I use one to promote my top programs and as a source of income in itself. Additionally, my squeeze page builder allows me to collectively market my programs with one self-branded page. Talk about convenience!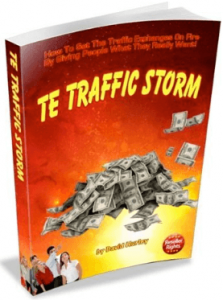 There's no question about the effectiveness of TEs and safelists in promoting biz ops. I wrote about this topic in more detail in my ebook, TE Traffic Storm.
If you haven't seen it yet, check out TE Traffic Storm on the e-books page of my blog. It's packed with all my best manual traffic exchange and safelist marketing secrets.
[December 2021 Note: TE Traffic Storm is currently out of print.]
David Hurley
Top5Prorgrams.com
#InspiredFocus