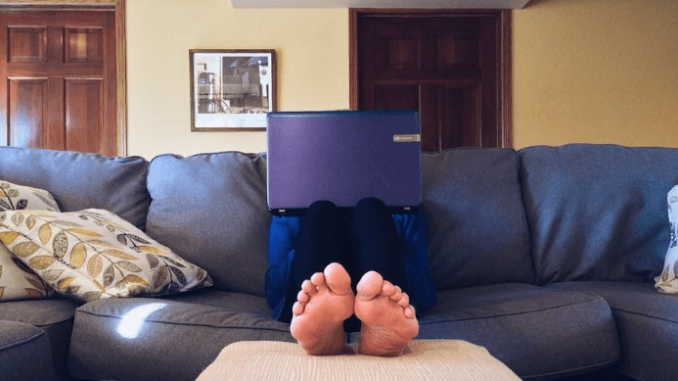 Until quite recently most people doubted that they could get paid to work from home using the Internet. Today, the feasibility of such a lifestyle is no longer questioned. Those seeking financial freedom can find a plethora of opportunities to make money online.
Even so, choosing an appropriate opportunity can be tricky. As well as the legitimate online opportunities, there are also scams and unprofitable programs. If you are not careful, you can easily get roped into something that not only wastes your time but also sets you back financially.
So let's look at 5 ways to get paid to work from home online, and the pros and possible cons of each one…
5 Ways To Get Paid To Work From Home Using The Internet
#1. Affiliate Marketing
Affiliate marketing is perhaps the most popular form of home business you can run from anywhere. It's free to join and it makes you boundless. 
You can sell anything, to anyone from anywhere in the world. The best part is that you don't even need to keep any stock. You don't even do any of the administrative work related to fulfillment of orders.
Affiliate marketing is mainly about sending targeted traffic to a merchant's website. If the people you refer do purchase anything, you get a piece of the action. Usually, it's a percentage of the sales generated.
One of the great things about affiliate marketing is that it gives you the possibility of building multiple streams on online income.
Affiliate marketing & Top5Programs: Affiliate marketing is one of the main ways that I make money online. I focus on FIVE affiliate programs in the "online business" niche to generate multiple income streams. I've found the "rule of 5" helps me to generate income from several sources without losing focus or getting overwhelmed by too many programs.
If you'd like some help in choosing reliable and profitable programs, here is a list of my Top 5 Programs as of July 2018. On that page I explain in more detail why I work with those specific programs.
#2. Blogging For Business
Although blogs started off as personal online journals, they've become a significant part of making money online. 
Nowadays, most blogs are created to promote some form of income generating activity. And that's a great home biz idea that can get you paid handsomely.
A great way to blog for business involves writing about a popular topic which attracts a lot of followers. Often, a blog is linked to social media in order to widen the audience base.
With a big enough following, you open up massive opportunities in online advertising. Such opportunities include selling ad space, lead generation and promoting affiliate products.
Business Blogging & Top5Programs: My blog, Top5Programs.com, is an essential tool in my online business. I recommend business blogging as the best way to build an online presence and generate affiliate sales.
One tip is to choose your blogging platform very carefully. I have found to my cost that the setting up a blog with a "cheap" hosting company can be a disaster. I lost several blogs by going the "el cheapo" route.
Then, in October 2016 I decided to start again, and find a high quality hosting service to work with.
So I began working with Wealthy Affiliate – I host my blog on their excellent Site Rubix hosting service and use their niche blogging business training to grow my online business. I cannot recommend WA highly enough – if you're SERIOUS about making money as an affiliate marketing niche blogger.
#3. Taking Paid Surveys
If you're not a fan of building and running your own website, you can try exchanging your opinion for cash or other cool stuff. This is perhaps the simplest way to get paid to work from home.
Everyone has an opinion about something. And there's a survey for just about everything we use daily. There's also an abundance of survey companies offering to pay you to share your opinion.
However, there is a significant downside to this method. It's that you may have to take quite a few surveys to make any significant income.
Nonetheless, taking paid surveys is a fairly straightforward way of earning some cash online without any special skills.
Swagbucks.com is a paid survey site that is often recommended, but I personally have no experience of using it.
Paid Surveys & Top5Programs.com: Paid surveys is NOT a part of what I do with Top5Programs.com. I do not want to spend my time working for a few dollars here and there.
The only way I would work with paid survey sites is by referring them to others through their affiliate programs (see #1, above). But I do not like to recommend programs that I personally do not or would not use. So I do not promote any paid survey programs.
#4. Doing Freelance Work
If you're really good at something like coding, video editing, graphic design or even writing; you can become a freelancer. The great thing about online businesses is that there's a lot of outsourcing involved. And thriving communities of freelancers have emerged, with sites like Elance and Fiverr becoming increasingly popular.
To get freelance jobs, you can advertise your services to potential clients or join one of many freelancer sites. Most sites will give you a ranking based on the work you do. As you increase in rank, you will get higher pay for your services. Above everything, it allows you to work from just about anywhere you like.
#5. Creating and Selling Digital Products
Information is about the most valuable commodity on the internet today. People search for different kinds of information all the time. When they find it, they are always ready to pay for it. So, why not package information and create products out of it?
E-books, software, mobile apps and games are some of the most popular digital products you can sell online. And there are great marketplaces like JVZoo and ClickBank; where you can list your digital creations for sale. Best of all, there are millions of affiliate who could be sending ready buyers to your sales pages.
It Comes Down To Creating An Online Business
If you want to get paid to work from home using the internet, you're pretty much building an online business. And if you're new to it, you can learn how to turn your passion into a business, step-by-step. It's not that complicated but it sure is unbelievably rewarding.
David Hurley
Top5Programs.com
#InspiredFocus