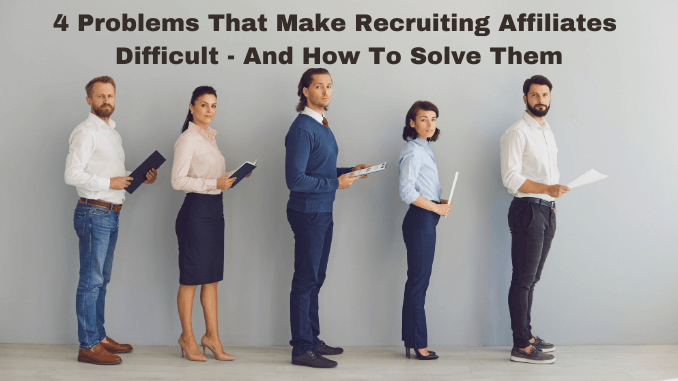 Recruiting affiliates is one of the best ways to make money in an affiliate program such as SFI. But most people struggle to get regular, active, referrals because it takes more than they are willing to give.
It's not that recruiting affiliates into your team is difficult. It's just that there are a stumbling blocks which most marketers trip over. To build a successful team, you must recognise the stumbling blocks and learn  to remove them from your path.
In this post, I will discuss four of the worst problems I personally faced when I started recruiting affiliates. I later realised that a lot of marketers struggle with the same issues. So I decided to share the actual methods I used to break free from each challenge.
4 Problems That Make Recruiting Affiliates Difficult, 

And How To Solve Them
1. Lack Of Resources
Like most beginners, I started off with a limited budget which I had to stretch in order to cover all aspects of my business. Of course, it never stretched that far; and I soon realised that I had to be creative in order to access the same resources I needed to succeed without incurring financial cost.
The solution was to get involved in joint ventures (JVs). Don't let the term JV intimidate you, anyone can participate in them as long as you can play by its rules. I joined a lot of lead generating JVs which either charged me a small fee in order to receive targeted leads over a period (like the SFI traffic Co-ops). Some simply required me to generate a bit of traffic in exchange for leads.
2. Filling Downlines With Duds
Nothing could be more frustrating than recruiting an army into your downlines and then they all go to sleep. Inactive downlines is probably the worst recruiting challenge in this business.
I personally struggled with it for a while, trying everything to get them active. I even threw all kinds of incentives at them but sometimes they'd just grab the freebies and slide right back to inactivity.
That was until I started taking the concept of marketing funnels seriously. I use LeadsLeap to create unique and compelling squeeze pages with opt-in forms embedded. I use SendSteed – the LeadsLeap autoresponder – to keep in contact with my subscribers. SendSteed automatically sends them a regular flow of informative and well targeted email newsletters.
The purpose of the email newsletters is to deliver value to my subscribers, which in turn helps them to "know, like and trust" me and what I have to offer. That process, which works on autopilot once it has been set up (provided you promote your squeeze page), is how I get most of my referrals and sales.
3. Not Enough Of The Right Traffic Visiting My Landing Pages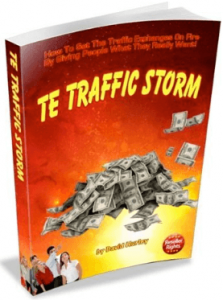 Just like in any other internet business, driving traffic to my pages was a difficult feat for me. I was either not getting any traffic or when I did get some, it was so badly targeted that it could never convert.
I discovered how to generate traffic through safelists (also known as viral mailers) and traffic exchanges.
But I never profited from it all until I discovered the secret to real success on such platforms, which I share in my e-Book, TE Traffic Storm [currently out of print – 2021].
Although the focus is on traffic exchanges, the advice I give on what kind of offers to promote works just as well for safelists.
4. Never Getting Into Profit
When you're starting out, two choices stand before you. The first is to learn everything on your own, the hard way. The second is to follow what's working now and use it to your benefit. Most people's pride tricks them to take the former in the hope of being unique and independent.
The whole aim of starting a business is to generate extra money. The faster you do so, the greater chance of success you will have. I think nothing beats receiving paid signups straight into your downline. It's the quickest way to profit.
The problem is that most programs have lame landing pages that everybody has already seen – and rejected – a thousand times before. Yet your success relies on recruiting affiliates into your programs.
The best way to do that is to learn how to create marketing funnels that pull in and convert leads into active affiliates for you.
To do that, I create highly targeted marketing campaigns for each of my Top 5 Programs. LeadsLeap is where I create personally branded, unique and EFFECTIVE squeeze pages. Those pages pull new subscribers into my SendSteed mailing lists. Once I have written an email letter series, SendSteed follows up with those subscribers on autopilot.
Once everything is set up, I KNOW my campaigns will be recruiting affiliates on autopilot for me, for as long as I promote them.
The gap between success and failure in recruiting affiliates is often very narrow. Yet 95% or more of online marketers fail to make it across the divide. Most people simply never learn how to recruit active affiliates. Or, they never put what they have learnt into action.
You do not have to remain in the 95%.
Once you know what the best tools are and how they can help you, perhaps you will stop trying to do everything yourself. That is why I created this blog; to show you what the best programs are for building an effective online business. Click Here to review my Top 5 Programs.
Stop trying to do everything free, and work with the pros to build the successful online business of your dreams.
David Hurley
Top5Programs.com
#InspiredFocus