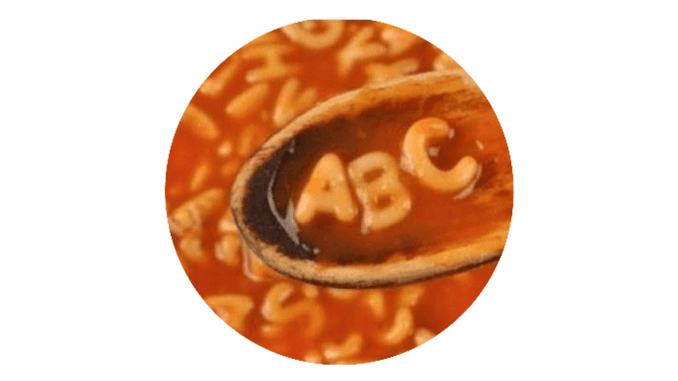 If you want to make money as a business blogger you need to use a keyword research tool. But, what is a keyword research tool for?
And…
How can it help you to make money with your blog?
And which keyword research tool do I recommend?
Those are the questions I will answer for you in this blog post.
What Is A Keyword Research Tool For?
One of the best ways to get the right people to visit your blog is to use the right keyword phrases. Keywords are what people type into Google and other search engines when they want to find something on the Internet. A keyword research tool will help you find the best keyword phrases for your topic, product or service.
As a business blogger, you want to get the right people to see your blog. Those are the people who are looking for the kind of product or service that you sell on your blog.
Here is the problem you and every blogger faces:
How do you attract the right people if you don't know what they're looking for on the search engines?
When you write a blog post you are trying to do two things (among others).
First, you are trying to get it ranked in the search engines for specific "keywords" or "keyword phrases." This is known as "Search Engine Optimization" or SEO for short.
Those keywords are what people type into the search engines when looking for what you offer on your blog.
Second, you are trying to get people to click your links when they appear in the search results. They are more likely to click YOUR link, and not somebody else's, IF it matches what they're looking for.
And that is what a keyword research tool is for. A keyword research tool helps bloggers find phrases that people put into the search engines.
Here's How It Works
Enter a word or phrase into the keyword research tool. It checks the search engines and pulls up  keyword phrases that include those words, or are similar to them.
A good keyword research tool will give you some useful data about the keyword phrases to help you find the best phrases for optimizing your blog posts in search engine rankings.
What else is a keyword research tool for?
Quite a lot actually.
A good keyword research tool will show you a lot of useful data. Here are three useful pieces of data a good research tool will show you:
the number of times the target phrase is searched for in a month on average…

how many visits to your website if you get onto the first page of google…

the number of other websites that are competing for the same keyword phrase.
Once you have found a few promising keyword phrases, it's time to refine your research.
You do that by using the keyword tool to research some of the keywords from your first search.
That will quickly give you several keyword phrases that you can use in your blog posts. They are called "long-tail keywords" because they are usually several words long.
Enter, A Ham Sandwich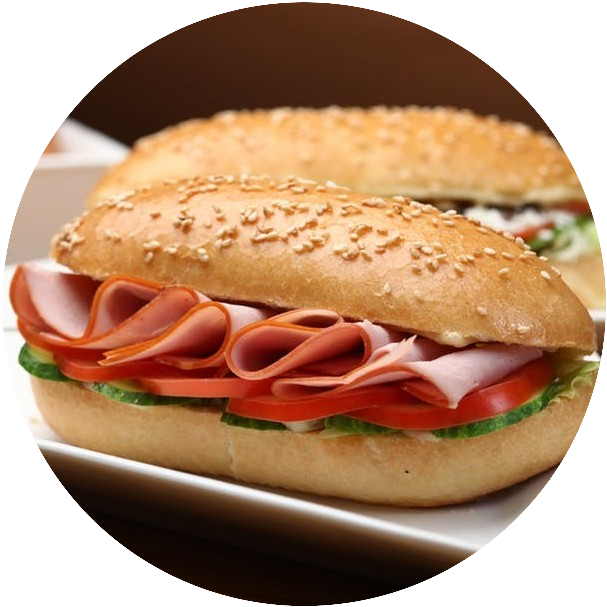 For example, if you have a blog that sells ham sandwiches… (!)
You might look for keyword phrases that ham-sandwich-eaters would be likely to use when searching for a blog about ham sandwiches.
You are trying to find keywords that:
attract several dozen or more ham-sandwich-related searches every month

have few competing websites fighting for ham sandwich traffic.
Here's how you can do that. First enter a general keyword phrase into your keyword research tool. For example, "ham sandwich."
Now run the search and see what you get.
As you can see, below, the top two results are good examples of how a keyword research tool can quickly help you find useful keyword phrases to blog about: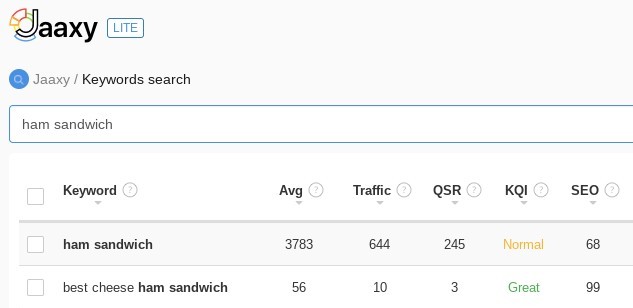 The phrase was "ham sandwich" and a quick search pulled up a bunch of keyword phrases. The top two were:
ham sandwich (obviously!)
best cheese ham sandwich (a nice long-tail keyword for a ham sandwich blog!)
The keyword "ham sandwich" attracts and average of 3,783 searches per month.
Go For A Long-Tail Ham Sandwich Keyword Phrase!
So, if your blog post about ham sandwiches got onto the first page of the search engines, you'd get around 644 visits per month. BUT, how likely is it that your blog post will hit the first page of Google when there are 245 competing blog posts about ham sandwiches?
That kind of competition is "normal" and you get an SEO score of 68 for the keyword phrase. (The higher the score, the better the chances of your blog post ranking on the first page of the search engines.)
However, the keyword tool also threw up the long-tail keyword phrase, "best cheese ham sandwich."
That phrase has only 56 searches on average per month, BUT only three other sites are competing for the traffic.
So, you could expect to receive 10 visits a month. Not many, but easy to achieve when the competition is so small. That's why it's a "great" phrase with a high SEO score of 99.
How Does A Keyword Reasarch Tool Make You Money?
If your blog post is well written, they will be likely to rank well in on the first page of the search engines. And that will help to attract your target audience to your blog.
But ten visits a month is not a lot. You won't make much money out of ten visits a month!
The key is to keep on researching keyword phrases and carry on blogging!
Rinse And Repeat, Repeatedly…
Create 100 blog posts with long-tail keywords that attract 10-100 visits a month you could expect between 1,000 and 10,000 visits per month, month after month.
So, the more you do keyword research and create good quality blog posts, the more your traffic will grow.
And as your blog increases in authority you can begin to target more competitive keywords that bring in even more traffic.
Also, as you get better at doing keyword research, you will be able to find some hot long-tail keywords that attract a lot of traffic but have few sites competing for it.
Okay, so you get the picture.
But you might still be asking,
"What is a keyword research tool for when it comes to actually MAKING money?"
Good question.
A keyword tool helps you drive targeted traffic to your blog. Traffic that will be LIKELY to buy from you IF you create relevant, good quality, benefit driven content with a strong Call To Action.
You could have all the best blog in the world, but without any targeted traffic, your blog won't make you any money. So what is a keyword research tool for? In the end, it's all about driving targeted traffic to your blog from the search engines.
If you have a good product, driving traffic through Search Engine Optimization is one of the most reliable ways to earn a consistent income from your blogging efforts. And a good keyword tool will help you do exactly that.
What Is The Best Keyword Research Tool For Bloggers?

Without hesitation, I recommend the Jaaxy keyword research tool. It was the tool I used to quickly find a nice keyword phrase in my crazy "ham sandwich blog" example earlier in this post!
Jaaxy will give you an edge over the competition in your market niche. It's the only keyword research tool created for affiliate marketing bloggers by affiliate marketing bloggers.
Here is an easy to understand video about how to use Jaaxy by another satisfied subscriber:

Simple And Easy To Use
Jaaxy is easy to use and cuts out all the useless "numbers" that other keyword tools befuddle you. When you work with Jaaxy, you quickly see which keywords to go. It uses five very clear metrics:
Likely traffic if you're on the first page of the search engines.
QSR, or Quoted Search Results. The number of competing sites.
Keyword quality (Green = Great, Yellow = Okay, Red = Poor).
SEO score from 1 to 100. 100 is the best!
That makes it very easy to identify the best keyword phrases to create blog posts around.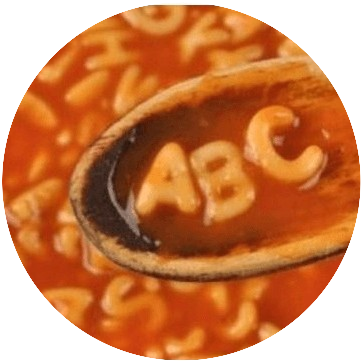 Finding Keywords In The Alphapet Soup
Did you ever eat alphabet soup as a kid? I know I did.
Well, Jaaxy has a tool called "Alphabet Soup."
I use it to find some completely unexpected keywords, often with lots of traffic and little competition.
Here are some more long-tail keyword phrases I found when I put "ham sandwich" into Jaaxy's Alphabet Soup and scrolled to "b":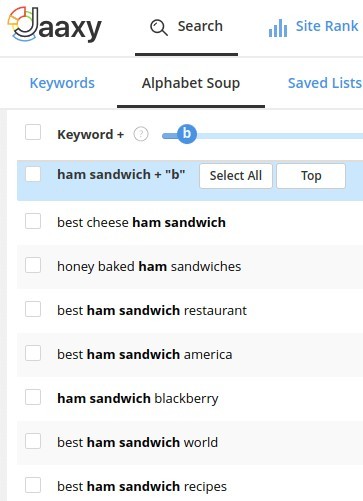 Of those on the list in the screenshot on the right, three phrases would be worth checking for traffic and competition:
"honey baked ham sandwiches," 
"best ham sandwich restaurant," and
"best ham sandwich recipes."
Those three keyword phrases all make sense and are easy to integrate into "natural" English.
The other phrases, such as "ham sandwich blackberry" sound unnatural.
When doing keyword research keep in mind that you are writing for your target audience, not for the search engines.
Also, Google and other search engines are getting better and better at reading natural language processing, but that is another story.
What Is A Keyword Research Tool For Apart From Researching Keywords?
With Jaaxy you can do much more than discover great keyword phrases for your blog posts.
Site Rank lets you track your site ranking and monitor your website authority. You'll know if your blog posts are gaining traction in the search engines.
Use the Search Analysis to spy on your competition and discover SEO trends.
Need some inspiration? Brainstorm HQ helps you uncover new, popular and profitable ideas.
Instantly search & find juicy affiliate programs in your niche with Jaaxy's Affiliate Program finder.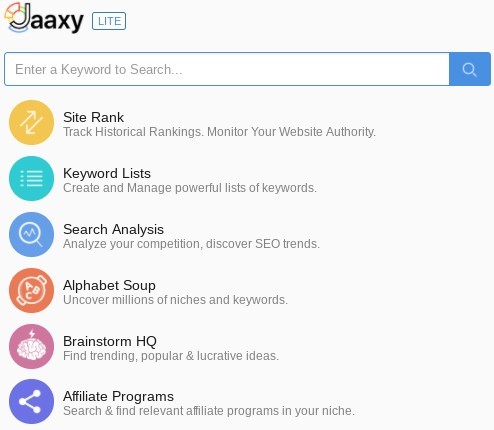 Go On, Give Jaaxy A Try Right Here And Now
Yes, you can go ahead right now and see for yourself how good the Jaaxy Keyword Research Tool really is. You'll quickly see why it's the favorite tool of so many affiliate marketing bloggers:
Choose A Jaaxy Plan To Suit Your Needs And Budget
Once you've seen how good it is, set up a FREE account with Jaaxy and continue testing it.
Here are the plans:
Jaaxy Starter is a FREE introduction to Jaaxy. You can search for up to 30 keyword phrases. You will have access to QSR, Domain Search, SiteRank, Keyword Lists, and the Alphabet Soup tool.
Jaaxy Lite (Exclusively for Premium Wealthy Affiliate accounts). This is a FREE upgrade for Premium members of Wealthy Affiliate. It includes unlimited keyword searches, Site Rank research, Keyword Lists, Competition Analysis, Alphabet Soup, Brainstorm HQ and Affiliate Program Finder.
Jaaxy Pro is the most popular upgrade. $49 per month. You get unlimited keyword searches and access to all the tools mentioned in Jaaxy Lite. It delivers results at twice the speed. You get more search results than Lite and "multi-threaded" search functionality which lets you search for multiple keyword phrases at the same time.
Jaaxy Enterprise is the elite of the elite. $99 per month. If you are a professional online marketer of any kind, this is the go-to package for you. It lets you automatically track all your rankings in Google, Bing and Yahoo and see how they develop over time. You get a global picture of your SEO and quickly KNOW what works and what doesn't. Enterprise is the fastest, most efficient, and best value keyword research platform on the Internet today.
I Recommend Wealthy Affiliate Premium Membership With FREE Jaaxy Lite
Wealthy Affiliate Premium membership costs just $49 and now includes the Jaaxy Lite package as a FREE and fully integrated part of the WA membership area. ( Find out more about Wealthy Affiliate here. )
You can do all your research right on the WA membership site while using their Site Content Tool to create your blog posts (as I have been doing with THIS blog post).
Since the Jaaxy Pro also costs $49 a month, grabbing the Jaaxy Lite package as part of your WA membership is an excellent deal.
And even better, you can get started for FREE with Wealthy Affiliate and try out the Jaaxy Starter for free too, right inside the WA membership area. If that sounds too good to miss out on (it is!) click here to get started today!
David Hurley
Top5Programs.com
#InspiredFocus

P. S. If you're like me and scroll down to the bottom of long articles like this one, here's the juice. This article seeks to answer a question that a lot of bloggers are asking: What is a keyword research tool for? If you pick the right keyword tool, you will see that what it is for is a lot more than keyword research.
In my experience, Jaaxy is without doubt the best keyword research tool for business bloggers and affiliate marketers. But don't take my word for it. Test it out right here and now and see what you think: