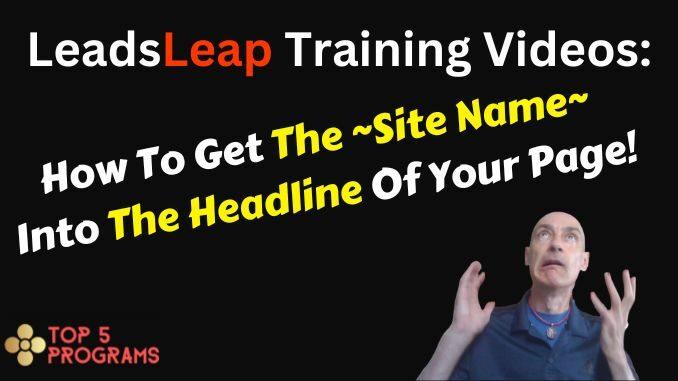 In this Leadsleap training video I show you how to use a placeholder to create more personalized headlines and to track your landing pages more effectively. It may sound a bit technical, but it's actually pretty easy to implement.
So, here goes…
Video Transcript (First Part Only)
OK, this is David Hurley of Top5Programs.com bringing you yet another exciting Leadsleap training video. 
In this video we're going to have a look at what a recent blog post by Kenneth Koh means and how to apply it to your advertising pages – the ones that you build on the Leadsleap page builder.
Kenneth Koh's Blog Post
Kenneth Koh's blog post is titled, "How to Pass Traffic Source as a Variable." Now what it means is that with this new snippet of code (the "variable") you can show the website address of the advertising site where you are promoting your landing page in the title of the landing page that the surfer happens to see…
Does that make any sense? Maybe not. 
Okay, the best thing to do is to show you an example and I have a page especially prepared.
I have logged into my Leadsleap site which is where I am viewing this page, and you can see here it says "Attention "leadsleap.com Member" now I didn't type "leadsleap.com" in the title I entered this snippet of code: "~source~".
If I show this page on EasyHits4U.com it will magically say, "Attention easyhits4u.com Member," so it directly addresses the surfer on the advertising site where the surfer – or the visitor to your page – is surfing, and so it helps to make the headline stand out:

Likewise, if you're surfing on trafficg.com and you land on this page it will say "Attention trafficg.com Member."
How To Use The Source As A Tracking Placeholder
So how do you do it?
Well, I'm going to show you in a minute because there's a second thing that you can do with this little snippet of code, and that is you can place it in the URL of your destination page.
I made a demo page with no opt-in, just a (blue "Click Here") hyperlink. We're just saying, "You can get this great thing by clicking here" for demo purposes.
The Click will send you over to Freebitco.in via a tracker link that I set up in Leadsleap already, and you can see here "easyhits4you.com" in the URL. It's showing us that the surfer came to Freebitco.in from EasyHits4U.com: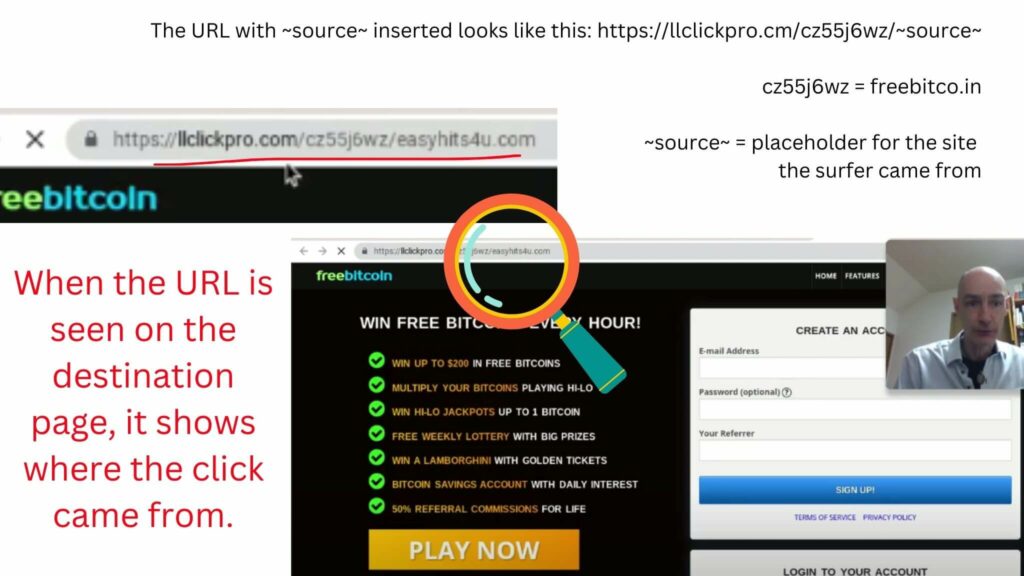 So we can see that the surfer came from EasyHits4U.com. This will show up in your Leadsleap tracking stats so you will know where traffic is coming from, which will help you decide which are the most effective places to advertise your landing page.
In short, the Leadsleap ~source~ placeholder is a very handy bit of code to use when building and promoting your landing pages.
Cheers!
David Hurley
#InspiredFocus
P. S. I invite you to subscribe to my Leadsleap Training Videos newsletter for more free Leadsleap training tips and videos.