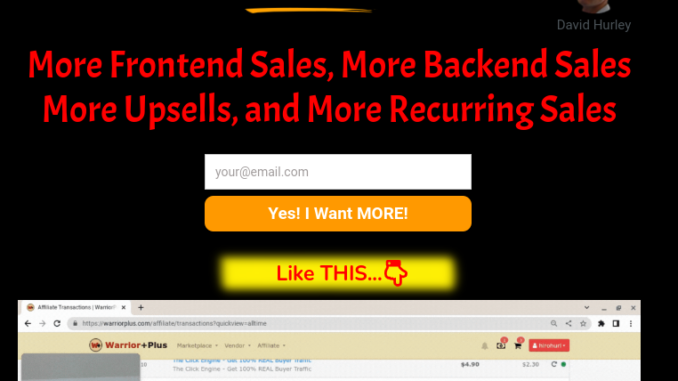 What if I told you there was a proven way to consistently increase your sales? Today, I'm proud to launch my powerful Get More Sales marketing funnel that does just that. It's designed to help you "get more sales" on the front-end and on the back-end, as well as upsells and recurring sales.
I know from long and painful experience how difficult it can be to turn your hunger for success into reality, and start earning big bucks online. What you need is a proven system and a helping hand. If you know anything about me, you'll know that I only promote programs that I work with and make money with. Now I've put together my top-performing programs and am giving you the keys to the system and the back-up you need to succeed.
You Deserve More
I believe you deserve more than you're getting right now from Internet marketing. That's why I've designed this funnel, so you can achieve more. On the front-end it offers Internet marketers what they need (more traffic and better-quality traffic) at a price-point that is difficult to refuse, so the barrier to referrals and sales – and recurring sales – is set very low.
As you build your list you can earn 100% recurring commissions on your next offer and quickly build multiple streams of online income on the back-end.
I'm pretty stoked about the Get More Sales funnel, as you can see in this quick celebratory video I bashed out today!
Start maximizing your sales today. Click the button below the video to get started…