Welcome to my free "Fill Your
Funnel" email training course.
In this course you will learn
what a marketing funnel is
and how to profit from it.
I'll show you how to position
your follow-up offers in your
marketing funnel so you can
start getting bigger sales and
commissions…
As those biz-op seekers join
your mailing list I'll show you
what to offer first to turn them
into first time buyers to get you
earning your first commissions.
You'll learn how a "micro-
continuity offer" can quickly
generate follow-up sales and
recurring commissions from
those same first-time buyers.
Next we'll look at a powerful
way to unlock more sales and
larger commissions with a
"funded proposal" and an
embedded "Primary Program."
Lastly, I'll explain how to use
the power of "leverage" to pull
biz-op-seekers to you like a
magnet without burning a hole in
your pocket.
If you have been struggling to
grow your online income, this
course will help you change
that for good!
But just one thing before we go
any further…
I Want You To Join My Programs!
I don't know about you, but I
like it when people are up-
front about their intentions. If
I joined your training course
I'd want you to be upfront with
me about your intentions.
Because of that, I'm going to be
really up-front with you about
mine.
In this email training series
I'm going to show you how to
build a marketing funnel for
affiliate marketers in the make
money online and biz-op traffic
markets. When we're done, you'll
know what kind of programs to
put in your funnel, and where to
position them.
I've tested a lot of programs
over the years and I'm going to
recommend specific programs to
you in each part of this course.
I'm NOT going to be a jerk and
try to sell you some Clickbank
junk that I don't personally use
in my own marketing funnel just
so I can scrape a commission out
of you. That is pretty obnoxious
in my book.
Instead, I'm going to do my best
to show you what has worked for
me and how valuable each
program is so you'll want to try
it for yourself and in your own
marketing funnel.
Then, at the end of the course,
I'll offer to set up this exact
same marketing funnel for you,
the same one that I use to get
new referrals, sales, and 
recurring commissions every day.
Now some people won't like that.
That's okay. I understand. I'm
not here to please everybody. If
you're one of those people, then
just go ahead and unsubscribe
right now. (Scroll down for the
Unsubscribe link.)
Still here?
Great! Then I look forward to
working with you on this
training course.
All the best,
David Hurley
#InspiredFocus
P. S. Check out my YouTube "Shorts"
(1 minute) video on this topic:
https://youtube.com/shorts/qkXPMDiNTdk?feature=share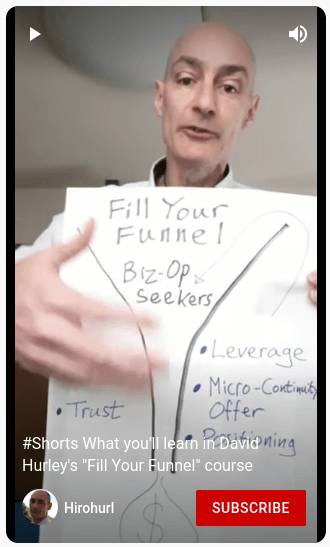 P. P. S. – Feel free to drop me a
line and say hello; I'm a real
person just like you 🙂
You can catch me by dropping
a line via the contact form on
my blog.