Got a nice little nugget for you
today!
Forget what all those business
bloggers blather on about – you
know the ones: they want to
flog you stuff without appearing
to be selling anything because
selling is a dirty word in their
book.
For them, sales magically
appear at the bottom of the
funnel. Without any selling.
Yes, I get it.
We all like to buy stuff but we
hate being sold to. And we
really like to buy stuff from
people we know, like, and trust.
But here's the thing…
People who want to make money on
the Internet are often in a hurry.
Also, if you are doing a good
job of promoting yourself on
safelists and traffic exchanges,
they probably feel like they
"know" you already.
So that gives you a head start
already.
Now here's how you can profit
from that by using the "Top of
Funnel" model that I explain in
this 1 minute "Shorts" video:
https://youtube.com/shorts/FmKt3-vsoZk?feature=share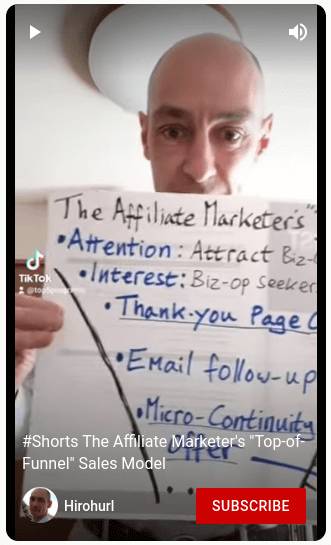 First, attract ATTENTION by
promoting your email training
course to your target market.
You can do that by using
safelists, traffic exchanges,
and other advertising sites
that attract "biz-op seekers."
Next, arouse their INTEREST with
your offer on your squeeze page.
This pretty much follows the
usual "marketing funnel" steps,
but the next step disrupts the
usual process…
When they opt in, have your
autoresponder automatically
redirect your subscriber to a
"Thank You Page."
The Thank You Page does 4
things:
1. Thanks them for opting in!
2. Tells them what to expect.
3. Builds your brand – be sure
to include your name and
photo, or a video of you.
4. Shows them a special offer.
Yes, your Thank You Page is a
good place to try and get a sale
at the top of your funnel.
Actually, it could be a sale or a
"free offer" – an unadvertised
"bonus."
The important thing is that it is
low cost (or free), high value
and relevant to the theme of
your mailing list.
If you do it right you will get
find that your Thank You Page
has one of the best conversion
rates of all your sales pages.
Did you see the offer I made you
on my Thank You Page for this
marketing funnel training course?
Check it out and see if it does
all 4 things I mentioned in this
email: Thank You Page .
Okay, in tomorrow's email we'll
dive deeper into the funnel…
Best wishes,
David Hurley
#InspiredFocus
P. S. I made the Thank You page
on LeadsLeap – the tool suite for
Internet marketers and home of
the SendSteed autoresponder.