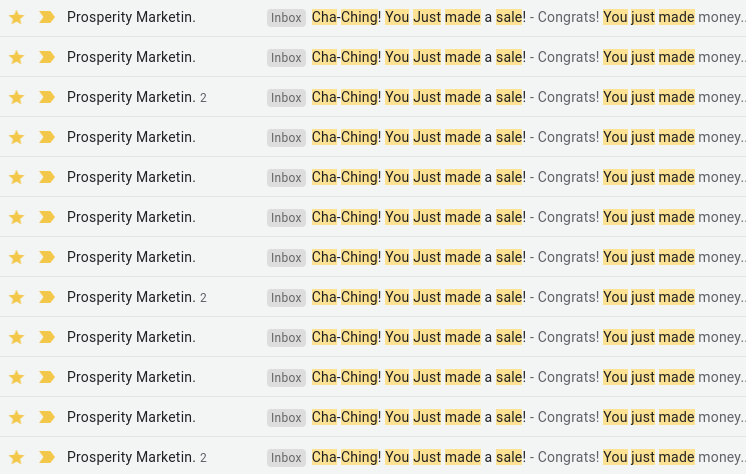 Let's work together to stuff your inbox with "Cha-Ching!" emails
from the Prosperity Marketing System!
I've been working behind the scenes to deliver extra value to my Prosperity Marketing System downline members. I've put together some bonuses that will get your inbox pinging!
The bonuses listed here are exclusive to Student members of my Prosperity Marketing System downline. It doesn't matter if I'm your sponsor or not. You will get these bonsues if your sponsor is in my downline, and YOUR downline will also get these bonuses if YOU are in my downline. Everybody in my team qualifies for these bonuses.
The Prosperity Marketing System is already an excellent program – low cost, great value, and massive profit potential. Add in my exclusive bonuses and you'd be crazy not to join us!
Bonus 1: Personally-Branded 3-Step Viral Splash Page
I just made a new 3-Step VIRAL Splash Page for my student-level members.
This is what the first step looks like. If you're a student member in my downline, I'll rebrand it with your name and photo: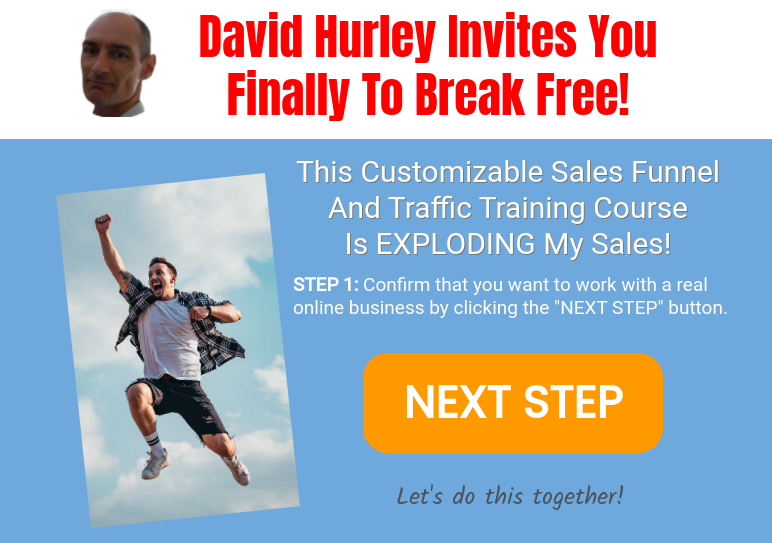 Check it out here to see how it works: https://llpgpro.com/1cf0c704
When people follow the instructions in Step 2 they help YOUR splash page go viral on social media…
When they get to Step 3 they see that they can also get the same 3-step splash page, giving them an extra incentive to join your PMS downline when they click through to the sign-up page. 🙂
To get YOUR FREE splash page, join me in the Prosperity Marketing System and I'll set it up for you.
This is just the first of a series of new marketing resources I'm going to provide my team to boost our PMS referrals…
Bonus 2: Give Your Marketing A Boost With 40,000 Ad Credits
Take the Student upgrade and I'll send you TWO ad credit packages:
First, I'll give you a boost with 20,000 free Banner ads and 20,000 free text ads on a huge and well established ad platform.
Second, I'll send you 1,000 free Banner ads and 1,000 free text ads so you can strut your stuff on EliteDownlineBuilder.com – my own hybrid traffic exchange and safelist site, now with over 1,000 confirmed members.
Bonus 3: Free Done-For-You Safelist Mailing Campaign
When you take the Student upgrade I will send a promotional email with your Prosperity Marketing System affiliate link to the members of these safelists for you:
Elite Downline Builder
Herculist
Leased Ad Space
Viral Mail Profits
European Safelist
List Surfing
Bonus 4: Monthly Solo Ads For You
From the second month of your Student subscription I will send you a PROMO CODE for TWO  EliteDownlineBuilder solo ads every month for as long as you remain a PMS Student.
My guess is that you're pretty excited right now – I know I am!  My only aim here is to encourage you to try out this amazing marketing system because I'm sure that once you start working with it you won't want to stop. You only need one Student referral to cover your subscription, and it's pure profit after that.
So let's rock this together!
All the best
David Hurley
#InspiredFocus