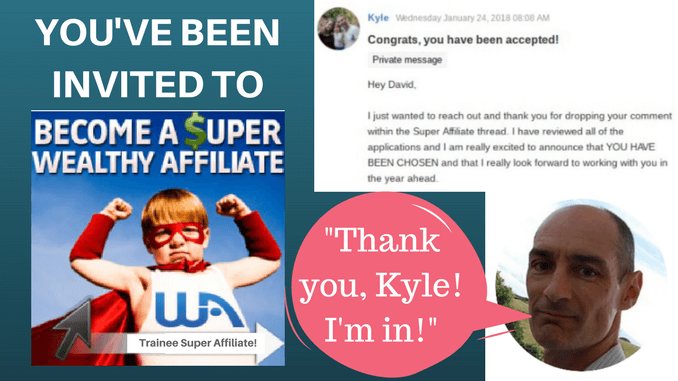 A few days ago I received a message from Kyle, one of the owners of Wealthy Affiliate, letting me know that I'd been accepted onto his new Super Affiliate training course.
The Super Affiliate training program is free for selected Premium members of Wealthy Affiliate – the best Internet business training program on the Internet.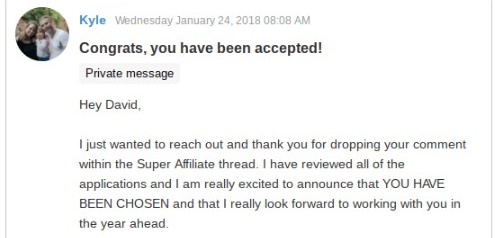 Kyle will be working closely with us to create a group of committed and effective Wealthy Affiliate super promoters who can expect to refer 300 new members each per year.
Not a bad goal to aim for. My personal "Monthly minimum" target was simply to refer one Premium member per month, or a total of 12 during the year. Kyle has already been on my case telling me I should set my sites higher.
I can feel now that there has been a gap between my income goals and my referral goals for my online business. The idea of referring 300 upgraded members of WA in the next eleven months does seem difficult to comprehend at present. It's a big jump from where I am at the moment.
Coming Soon! A New e-Book On How To Make $1000 A Month On The Internet…
Actually, I am getting ready to launch a new e-book in collaboration with a business partner of mine here in Hiroshima. The e-book lays out how to earn $1,000 a month online and will promote SiteRubix, Wealthy Affiliate's excellent WordPress hosting service, as well as the Wealthy Affiliate training program.
That is one way in which I am hoping to be able to raise my game this year and refer between 12 and 300 premium Wealthy Affiliate members.
I'll be posting more new on that project shortly, most likely in the first half of February.
One Of My PSAs Wins This Week's $50 Tripleclicks Gift Certificate Prize Draw
Meanwhile, my weekly Tripleclicks Gift Certificate Prize Draw rolled over last week, making this week's draw a $50 prize pot.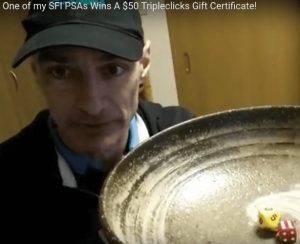 Forty-three active members of my SFI downline managed to qualify for automatic entry into the prize draw. Here's how members of my SFI downline can qualify for automatic entry into my weekly draws.
I used a six-sided red die to find the "tens" and a yellow ten-sided die to find the "units". The "six" on the red die would count as zero so that the top nine members of my downline would also have a chance of winning the prize draw.
As it turned out, the dice rolled 63, and as the six = zero, the result was "03." So the third person in my SFI genealogy was the winner.
That was one of my more recently recruited PSAs, Mcruben Ehitayo. Although Mcruben has not yet advanced in rank, he is very active in the SFI forum and is one of SFI's "Rising Stars."
Congratulations Mcruben! There is one more step you need to make to CLAIM your $50 Tripleclicks Gift Certificate: Post a constructive comment in the comments below this blog post. As soon as I see and approve the comment, I will send you your $50 Gift Certificate.
By the way, here's the video of the prize draw:
All the best,
David Hurley
Top5Programs.com
#InspiredFocus
P. S. You Too Can Be A Winner If You Join My Winning SFI Team!