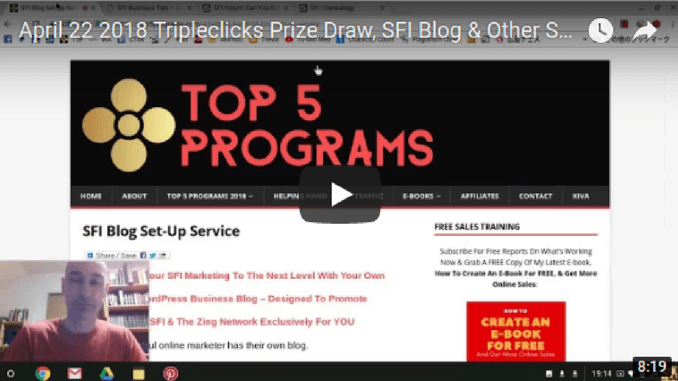 Today's video covers four topics including this week's $50 Tripleclicks Gift Certificate Prize Draw:
1. My new SFI Blog Set Up Service for SFI affiliates who want a platform to promote their business on.
2. My recent blog post, How To Make Money With Online Games including Eager Zebra Games. 
3. My personal record in completing Eager Zebra's new Brain Sprint game in 1 minute 26 seconds, without spending any TCredits!
4. Today 38 people qualified for the $50 Gift Certificate prize draw, but the dice app rolled high again and 48 came up.
So the prize pot rolls over once again. Next week's prize draw will be for a $75 Gift Certificate.
Make sure you qualify by earning VP, logging in and setting your goals for the month (if you haven't done so yet).
Here's the video and the transcript below:
Video Transcript
Hello folks, this David Hurley of Top5Programs.com talking to you on Sunday 22nd April 2018.
I've just finished my workout for today. It's only the second time I've done it this month. I've fallen behind with my physical workouts so I'm feeling quite pleased with myself today. I'm celebrating with a nice gin and tonic as it's now early in the evening here in Japan. Mmm.
I have some two or three pieces of news before we get on with the prize draw for today.
How To Make Money With Online Games
The first is that I have written a new article on my blog which might be worth checking out. It's How To Make Money With Online Games and the main focus as you can see is Eager Zebra but I give some other examples of how to make money online through playing games.
But it might also give you some insight into how the games we have – the Eager Zebra suite of games – they're not just for fun, they're not just for us to earn TCredits, Rewardicals, badges and all the rest. They are part of our business suite and learning how to use those games to introduce other people to SFI and to make money through those games is well worth doing.
So if you hop over to my blog it's How to make money with online games. There may be some insights there that you'll find useful. There is actually a lot of money to be made in these online games through the sale of TCredits.
Anyway, that's enough of that, check it out on my blog: How To Make Money With Online Games
SFI Blog Set Up Service
The second point I want to make while I'm on my blog is that this morning I finally got round to launching one of my products under A Helping Hand for SFI affiliates and that's my SFI Blog Set Up Service.
I used to run an SFI blog set up service on a different blog of mine a couple of years ago. Since running Top5Programs I haven't got around to doing it until today. 🙂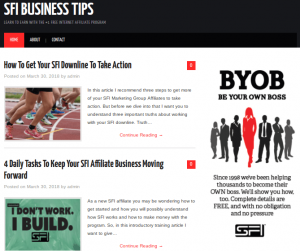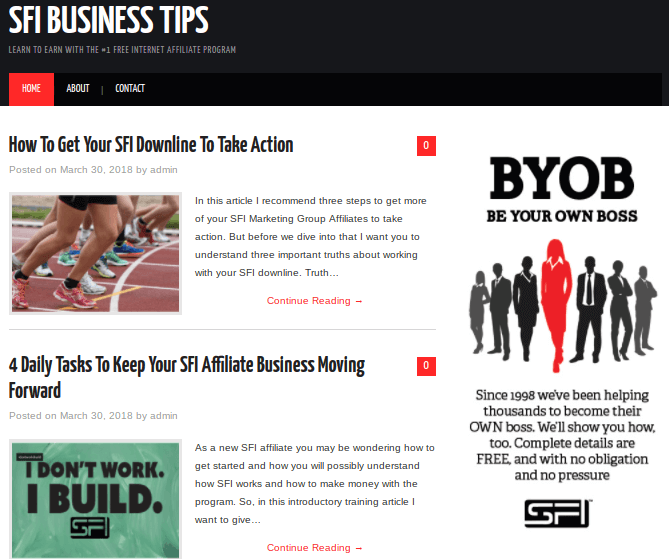 So here it is, an SFI blog set up service. If you would like to run a WordPress blog, something like the one I'm running here on Top5Programs, but you're not too confident in setting up your own blog, I have this service where I can set up a blog for you on a very stable hosting platform.
And it comes with a really good free package of training goods and so forth as well as a bunch of Rewardicals.
$24.95 one time only for me to set up a blog that looks like this – let me show you the blog here.
So, this is what the blog looks like. It has several articles on, it all ready to go, about SFI. And when you take over the blog you'll have complete control over it. You can make all the changes you want using the WordPress platform.
And of course, I will be available to offer support for you if you any questions.
So there we are, that's my news from the point of view of Top5Programs.
My Brain Sprint Speed Brag… Can You Beat My Record?
Now let's move on to… Ah, a little brag. Allow me a little brag. I've been playing my favourite game with Eager Zebra, and that's Brain Sprint. Now, I'm not a trivia fanatic. I'm very patchy in my ability with trivia.
In pub quizzes I'm a good team member but I rely heavily on other people for stuff like pop music, popular culture, American culture – I mean American pop culture – and things like that.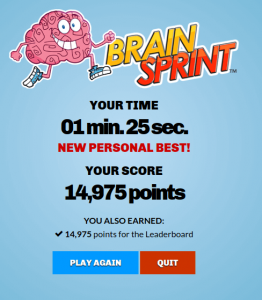 But with this Brain Sprint, if you strike lucky, you can get quite quick times.
So I achieved… I finished the sprint in 1 minute 36 seconds yesterday. That was my personal best score and I did it without needing to spend any TCredits. I did it just using two 50/50 options to cut out a couple of the extra [answers].
And then, later in the same day, to my amazement, I actually beat my time. I did it in 1 minute 25 seconds, my new personal best. I earned 14,975 points and again, that was only using two 50/50 options and no TCredits.
So, there's a challenge my friends. Can you beat my time? 1 minute 25 seconds on the Brain Sprint. Give it a go and let us know if you can beat my time.
It's all good fun. It's good fun, and it's good business.
Today's $50 Gift Certificate Prize Draw
Okay, so now let's move on to today's prize draw, which is a $50 Gift Certificate Prize Draw as we had a rollover last week using the new dice app…
…
I asked people a question: What do you prefer?
Now we have this dice app we can set it so that the number of "sides" on the virtual die is the same as the number of people in the competition, which means that we would have a $25 Gift Certificate winner every week, four winners or five winners a month depending on the number of Sundays in the month.
On the other hand, I've set it to 50 sides here today, the same as last week. And today we have 38 people who have qualified, which means that 12 of those sides would cause a rollover – if it lands on 39 to 50 then there will be a rollover and the pot would go up to $75.
So, the question is, do we want rollovers, or do we want more $25 winners? Now, I think rollovers are quite exciting. On the other hand I'd also be quite happy to see someone winning every week.
And of course the same person could win more than once a month. With the virtual die, just as the dice I throw in the bowl, you never know what's going to come up; the same person could win more than once.
But now I can set the same number of sides as there are people we have this option. So let me know what you think. If you have a preference, let me know. At the moment the responses I've got are 50/50. They're equal between having a winner every week and the excitement of the rollover and the possibility of bigger prizes.
Anyway let me know about that. Drop me a line in the comments and let me know what you think.
And let's get on with today's prize draw. 38 people have qualified using the usual four metrics. And so, without further ado let us roll the dice.
Gift Certificate Prize Draw here we go… We should really have some music breaking in here…
So…
[Rolls the die]
Another Rollover: Hang In There For Next Week's $75 Prize Draw
Look at that! 48. Is this dice going to roll permanently high? 48, with only 38 in means we have another rollover, which means that next week's prize pot will be for $75.
So, until then, this has been,
David Hurley
Top5Programs.com
#InspiredFocus