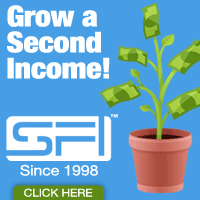 I joined the SFI Marketing Group affiliate program in 2007 as a rookie affiliate marketer. It was one of the few programs that I had any success with in those early days.
Over the years, SFI has developed into one of the most innovative and exciting affiliate business on the Internet.
SFI launched their Tripleclicks store site on 5th January 2009. Since then Tripleclicks has become an integral part of SFI.
Read more about Tripleclicks here.
And because SFI is free to join, it is a safe business for inexperienced affiliate marketers to join as they learn the ropes of Internet marketing.
I am now a Silver Team Leader with a growing team of committed affiliates in my downline. I support my team by running monthly competitions and weekly prize draws.
Click Here to find out more about my monthly competitions and prizes.
A Brief History Of The SFI Marketing Group Affiliate Program
SFI Marketing Group is an Internet marketing company based in Nebraska, USA. SFI was launched by Gery Carson in 1998. Between 1985 and 1998 Gery had been a leading marketer for several direct sales companies and a successful business magazine publisher.
SFI (which stands for Strong Future International) launched with just one product, which was only available in the USA.
Today, SFI sells thousands of commissionable products & services in over 190 countries around the world through its Tripleclicks e-commerce site.
Click Here to find out more about Tripleclicks.
SFI is one of the fastest growing Internet marketing companies in the world. Several thousand new affiliates join SFI every week.
How Do You Join SFI?
SFI is free to join. All you need is a computer and Internet access. Simply fill in this free sign up form to join.
You don't have to buy anything to join or to maintain your membership.
Also, when you join SFI you automatically receive a free Tripleclicks membership
How Do You Make Money With SFI?
There are four ways to make money with SFI:
Direct Commissions on Tripleclicks sales

Co-Sponsor Affiliate Commissions on Tripleclicks sales

Team Override commissions for SFI  Executive Affiliates and Team Leaders

Rewardical digital reward tokens
Let's look at each one in more detail.
1. Direct Commissions
Qualification: Affiliate
Each time one of your Personally Sponsored Affiliates (PSAs) or Tripleclicks referrals buys something from the TripleClicks store, you earn 20% of the Commission Volume (CV) of the product.
2. CSA Commissions
Qualification: Executive Affiliate
Each time one of your Co-Sponsored Affiliates (CSAs) buys something at TripleClicks.com you earn 8% of the Commission Volume.
3. Team Override Commissions
Qualification: Executive Affiliate
Earn 4% on up to 12 dynamically-compressed levels!
Dynamic compression means any generation in a line not represented by an Executive Affiliate is automatically passed over ("compressed") and the 4% commission passes up to the next EA or Team Leader.  So even though the maximum number of levels you can earn on is twelve, if anybody in those levels is not at least an EA, that generation is omitted from the count. In effect, you could be earning from 15, 20, 25, 50, or even more generations deep into your organization! 
Here's how many compressed generations you can earn from:
EAs earn 4% of all CV on 3 compressed generations

Bronze Team Leaders earn 4% of all CV on 6 compressed generations

Silver Team Leaders earn 4% of all CV on 8 compressed generations

Gold Team Leaders earn 4% of all CV on 10 compressed generations

Platinum Team Leaders earn 4% of all CV on 11 compressed generations

Diamond Team Leaders earn 4% of all CV on 12 compressed generations
4. Rewardicals
Rewardicals are digital reward tokens. There are several ways to earn with Rewardicals:
Collect Rewardicals when shopping at participating online and offline stores and on TripleClicks, and then redeem them for Bitcoin, gift cards, silver bullion and more.

Use Rewardicals as incentives or rewards whenever somebody buys one of your products or services.
Understanding The SFI Commission Structure
Every product on the TripleClicks website has a Commission Volume (CV). CV is the amount of the product price that is taken by SFI and shared out in commissions.
When a product is sold, the CV is divided into three parts:
20% goes to the SFI affiliate who directly referred or sponsored the customer.

48% goes to Team Overrides.

32% is shared among the 4 co-sponsors of the SFI affiliate who made the purchase.
For example, product X sells for $30, with a CV of $10.
When an SFI affiliate buys product X, $10 from the sale of product X is set aside as CV:
The SFI affiliate's sponsor gets $2 (20% of CV)

$4.80 goes into Team Overrides (48% of CV) and is shared among the qualifying upline generations.

$3.20 is shared among the 4 co-sponsor, each of whom gets $0.80 (8% of CV).
Team Overrides are the key to making massive profits from SFI. And the key to building Team Overrides is to build a team. I have been building an active and engaged team on SFI for several years now. Join my SFI team FREE today and we will help you build a profitable online business with SFI for years to come.
If you have any questions about SFI and Tripleclicks, feel free to drop me a line any time.
Thanks.
David Hurley
Top5Programs.com
See Also: